There was an opening-night feeling in the air at the performing arts center in Oak Bluffs Tuesday night, as regional high school bands and choirs took the stage for the first time in nearly two years.
"I am so thrilled that we finally are back here, and we can be doing live music for you again," said performing arts department chair Abigail Chandler as she welcomed audience members to the theatre, where seating was limited to every other row.
Ms. Chandler gratefully acknowledged the parents in the audience for their support of the music program.
"Thank you for letting us have these lovely students," she said. "The last 18 months proved, to me at least, how important music in our young people's lives really is, so thank you, thank you, thank you for bringing them to endless rehearsals and listening to them practice," Ms. Chandler said.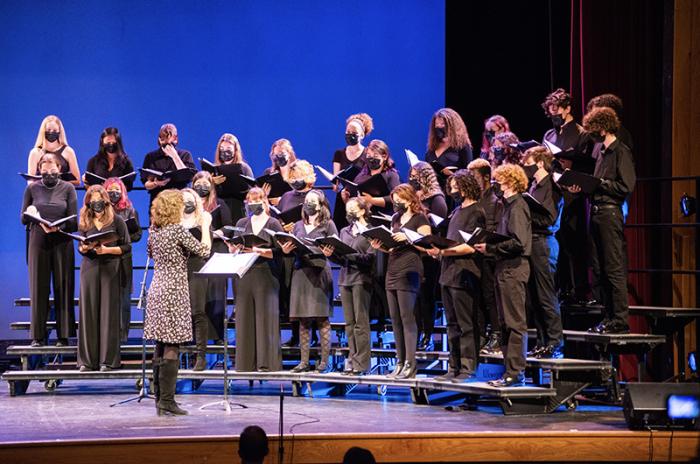 Tuesday's concert — rescheduled from last Thursday due to the northeaster — spotlighted the high school orchestra, concert band, vocal ensemble and Minnesingers choir, along with the school's new big band.
The show also introduced new members of the teaching staff, including Rebecca Laird, who conducted the orchestra through a spirited set that began with a Mozart tribute and continued through music by film-score stars Ennio Morricone and Danny Elfman and contemporary American composers Soon Hee Newbold and Brandon Bangle.
Guest musicians with the orchestra included bassist Brian Weiland, longtime music teacher at the Oak Bluffs School, and oboist Kathleen Cadorette, the Tisbury School's new music teacher, who soloed on the Morricone piece Gabriel's Oboe.
Violinists Amy Wood and Cassidy Kirchenbaum, cellist Jan Hyer and pianist Nancy Rogers also performed with the student musicians.
There was even a light show, designed by performing arts center director Charlie Esposito with students Emma Burt, Ellie Tomkins and Tayna Silva. During the Newbold work, Mythos, the stage backdrop glowed with intense colors and a projection of the moon appeared.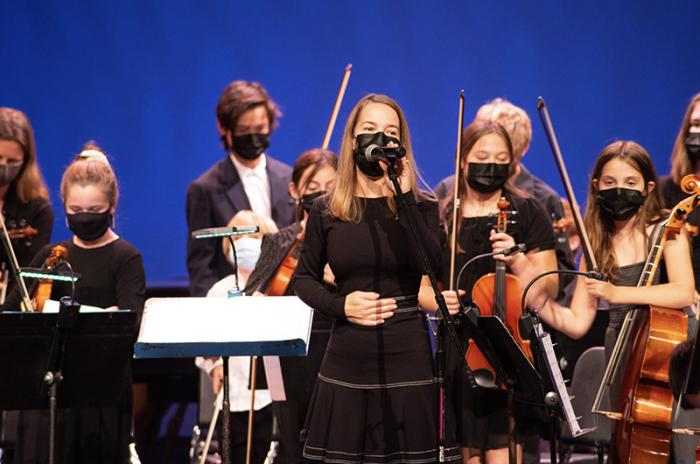 For their last piece, Fire Star (The Planet Mars) by Mr. Bangle, orchestra members welcomed a throng of instrument-toting middle school performers to the stage as the backdrop turned a vivid orange.
"One of our goals here at the PAC. is to get more kids into the performing arts," Ms. Laird said as the youngsters joined their high-school counterparts, some of whom she said had been "practice buddies" with middle-school musicians over Zoom during the pandemic.
Band director Ray Fallon, another new face at the high school, led the 11-member concert band in Alarm, by Russell Standridge, a lively and programmatic piece bright with brass; David R. Holsinger's meditative On A Hymnsong of Philip Bliss and, in a crowd-pleasing finale, Ramin Dhawadi's rousing theme for Game of Thrones, with plenty of action for percussionists Connor Graves and Gabriel Walters.
Nearly 30 singers strong, the high school vocal ensemble performed a Polynesian folk song, madrigals by Henry Purcell and Linda Spevacek and a contemporary love song by Allan Robert Petker as Ms. Chandler conducted.
Returning to the stage with the 12-piece MV Big Band, Mr. Fallon credited Ms. Cadorette and two other new teachers, Ian Lisi and Katie Cademartori, with helping the new, extracurricular ensemble. The group rehearses Tuesdays from 6 p.m. to 8 p.m., Mr. Fallon said, and is still looking for a trombonist and another trumpeter. Switching to electric bass, Mr. Weiland joined Mr. Graves, Mr. Walters and pianist Jack Crawford in the rhythm section.
Guitarist Mason Mercier was featured on the big band's opener, Carl Strommen's tune Change Up, based on the chords from George Gershwin's foundational I Got Rhythm.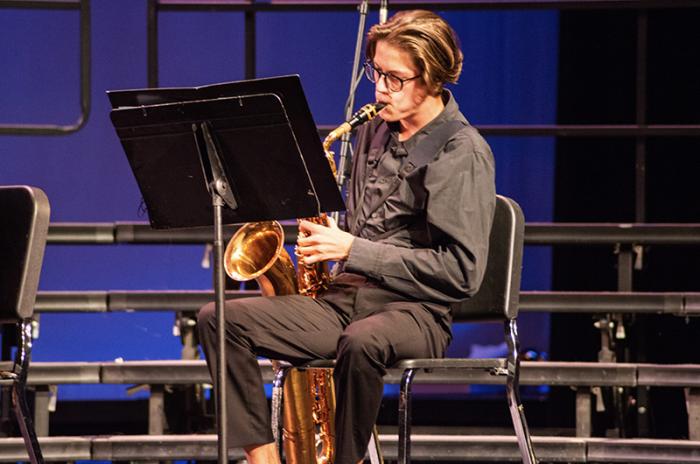 Jacob Glasgow and Eli Friedman, on tenor and alto saxophones respectively, shared the lead on an instrumental version of Van Morrison's slinky, swinging Moondance.
Capping the evening, Ms. Chandler led the Minnesingers in a brief set to whet the public's appetite for their upcoming Christmas in Edgartown concerts, Dec. 10 and Dec. 11 at the Old Whaling Church, a holiday tradition that was canceled last year.
Showing the Minnesingers' depth, they performed How Long?, a yearning plea for peace by contemporary choral composer Pepper Choplin, followed by Gaudete, a 16th-century Latin carol that became a hit single centuries later for the 1970s British folk-rock group Steeleye Span.
Audience and performers alike remained masked throughout Thursday's show, though brass and woodwind instrumentalists uncovered their faces to play.