It's a peculiarity of the popular-music world that pianists often must perform in public on portable keyboards that electronically mimic the sound of an actual piano.
So when the Edgartown library booked Jeremy Berlin to lead his jazz trio on the Mason and Hamlin grand piano donated by David Crohan, Island fans took note: This would be the real thing, unmediated by circuits, chips and cables.
"It's such a joy to play on a piano," Mr. Berlin told the Gazette after Saturday afternoon's concert, which had been rescheduled from February.
More than 30 listeners, both masked and unmasked, turned out to hear Mr. Berlin, percussionist Taurus Biskis and string player Eric Johnson, who switched between acoustic bass and electric guitar.
A fluid improviser known for his all-occasions versatility, Mr. Berlin is a core member of the Island dance band Johnny Hoy and the Bluefish, who perform on Wednesdays at the Ritz, and for more than 10 years has played jazz duets with Mr. Johnson at the Offshore Ale Company in Oak Bluffs, currently on Tuesdays.
Mr. Berlin also has a duo with singer-songwriter and guitarist Rose Guerin, with whom he performs jazz standards on Thursdays at the Sweet Life Café in Oak Bluffs.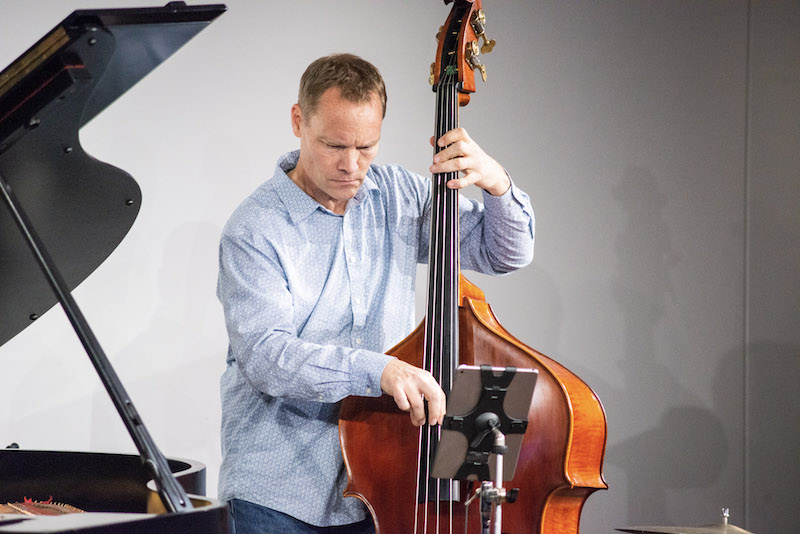 Saturday's audience heard yet another side of Mr. Berlin, as the leader of an instrumental trio that transformed the library's community room into a jazz loft for an hour and a half.
The three Islanders played a baker's dozen tunes, ranging from originals like Mr. Berlin's wistful, contemplative Where Did The Time Go — "my mournful pandemic composition," he said — and Mr. Johnson's gently swinging Not Far to Fall to composer Clare Fischer's Latin-flavored Pensativa, from 1962, and "queen of Tin Pan Alley" Bernice Petkere's Close Your Eyes, first recorded in 1933.
Among the concert's surprises were a lilting exploration of the Irish traditional ballad Danny Boy, in honor of the upcoming St. Patrick's Day holiday, and a meditative rendition of the complex Charles Mingus composition Duke Ellington's Sound of Love, commemorating the Mingus centennial this year.
Another joy of Saturday's performance was Mr. Biskis's drumming.
While he's also known as a bass player with his wife Ellen's band Missis Biskis, Mr. Biskis is originally — even elementally — a percussionist who can draw not only many rhythms but a wide range of tone colors from his kit.
Though he's clearly capable of filling a room with sound, Mr. Biskis took a restrained approach during the set, using brushes extensively.
At times he played only with his hands — delivering an entire solo with his index fingers, or raking a drumhead with his nails — and at another, kicked the bottom of his hi-hat cymbal with the toe of his boot.
Finger snaps, stick clicks, a cowbell and the occasional vocal sound rounded out Mr. Biskis's arsenal of beats.
Mr. Johnson, a rock-solid accompanist on upright bass, alternated tunes on his mint-green Fender Telecaster guitar, drawing thoughtful solos from both instruments.
Audience members, most of whom were attending their first masks-optional concert in two years, listened eagerly and applauded with delight throughout the show, which was sponsored by the Friends of the Edgartown Library and hosted by library events coordinator Virginia Munro.