TJ Reap moved to the Vineyard last summer to begin work as assistant football coach at the regional high school. It didn't take long, however, for him to add another title to his Vineyard resume: chess club coach.
In addition to specializing in tactics on the gridiron, Mr. Reap has long been a student of pawns and rooks, bishops and queens. He quickly revitalized the high school chess club, making room 322 the place to be after school. The season began in December and the Vineyard team tied for second place in league play, which included Wareham, Plymouth, Dartmouth and Sturgis high schools.
Last week, team members Nikola Nikolov, Kestutis Biskis, Calebe Dos Santos, Legend Silva and Finn Robinson traveled to Dartmouth High school to compete in the South Cape Interscholastic Chess League finals. They emerged as co-champions, earning a tie with Dartmouth.
"No two chess games are alike," Coach Reap said during the bus ride to Dartmouth. "Each game is unique, but experience definitely has its privilege."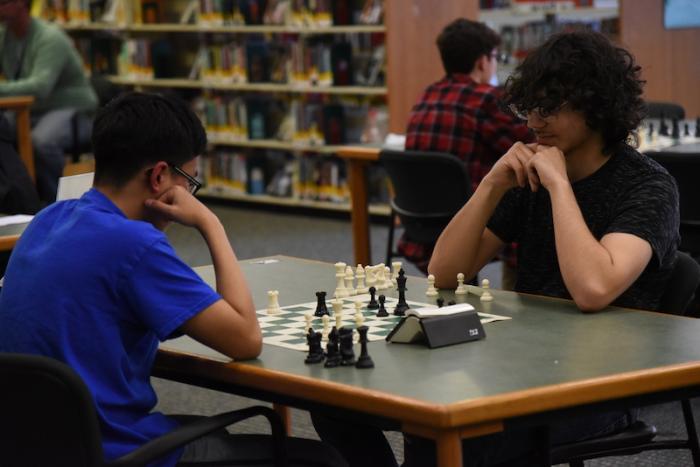 On the bus, team members practiced strategy by completing chess puzzles through chess.com.
"I started playing freshmen year," said junior Nikola Nikolov. "A philosophy teacher and an English teacher came up to me and said, 'you want to play?'"
In the tournament, each match included three rounds of five games played simultaneously. Checkmates earned one point, stalemates a half point.
In the championship match against Dartmouth, the Vineyarders started strong in the first round, earning quick points with wins by Nikolov, Biskis, Dos Santos, and a draw by Silva putting the Vineyard up 3.5 to Dartmouth's 1.5.
But Dartmouth roared back in the second round, sweeping chessboards 1 through 4, resulting in a 4-point win. Freshman Finn Robinson earned a checkmate on chessboard 5 to keep the Vineyard from being shut out.
In the deciding third round, Dartmouth won on boards 3 and 4, with Silva winning on board 5. Nikolov dug in for a long game at board 1, eventually emerging victorious and putting the match at two points apiece. Biskus had been down for much of his game on board 2, but staged a late comeback forcing a stalemate, and a final score of 2.5 for both the Vineyard and Dartmouth.
"I am ecstatic. It was a wonderful event for our chess team," said Coach Reap after the tournament.
Coach Reap added that even though league play has ended, chess games will continue to take place in room 322 during the high school's flex period. In addition to recruiting more high school students, Coach Reap said said he is also looking to build feeder programs by creating chess nights for the K through 8th grade schools around the Island.