Three dozen young dancers from Rise Vineyard Performing Arts got their chance Sunday to show a rapturous audience what they've been working on since September — dance moves and acrobatics alike.
Parents, grandparents and siblings, many with flower bouquets ready at hand, filled much of the orchestra section of the Martha's Vineyard Performing Arts Center in Oak Bluffs, while independent teens and tweens flowed into the balconies to watch the fast-paced show from high above.
Along with delighting the audience with ballet, jazz, tap and modern dance steps, many of the Rise performers stunned their viewers with handsprings, front tucks and back whips that sent them flying through the air to cheers from the crowd.
With 27 individual pieces, ranging from solos to an ensemble of 14 — the latter a delightfully glam showpiece to the Sweet's Ball Room Blitz — the entire performance took place in less than 90 lively minutes.
Solo standouts included Grace Voshell's ebullient anthology of dance moves, from ballet to modern, choreographed by Pandora Bassett to Brenna Whitaker's ska-pop cover of the Peggy Lee song It's a Good Day.
Ms. Bassett also created Addison Blake's soaring solo for Money, Money, Money, to the Mamma Mia cast recording of the ABBA song.
Soloist Josey Silva embraced hip-hop in her solo, Reboot, choreographed by Josey Silva to a percussion-heavy recording by BDASH.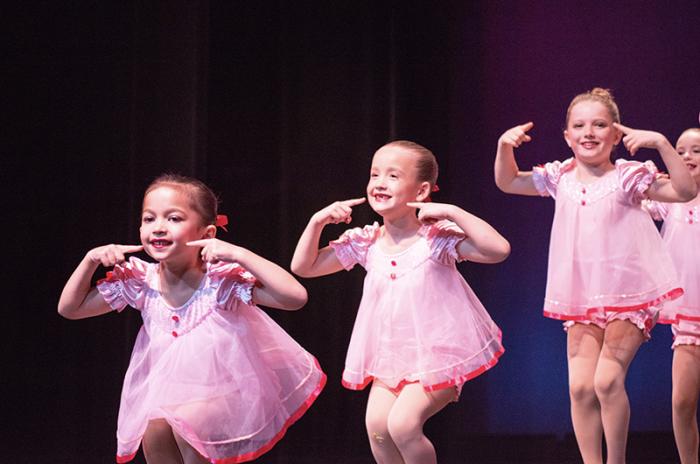 Among the two-somes that performed, Avery Conley and Isla Gregory earned applause for their countrified duet Muddy Water, choreographed by Rise leader Jil Matrisciano Loughman to the theme song from the Broadway show by that name.
Ms. Matrisciano Loughman also choreographed tapdancers Emily MacMillan and Grace Bennett-Rock in their duet to the Puppini Sisters' retro-swing rendition of Blondie's Heart of Glass.
Ms. Matrisciano Loughman teamed with Tiffany Marshall to create Marlena Gale and Isla Story's acrobatic duet, to a remix of Marvin Gaye and Tammy Terrell's Ain't No Mountain High Enough.
Larger ensembles, for both younger and older dancers, also wowed the PAC audience, which included at least one very little girl who occasionally slipped into the aisle to practice her own moves.
Eight young girls in shiny red jumpsuits made a joy of the stage to German singer Nena's club mix of her hit 99 Red Balloons, another work of choreography by Ms. Matrisciano Loughman.
The very smallest dancers won cheers for Mr. Sandman, with eight little girls in baby doll pajamas choreographed by Melissa Petrosinelli, and Digga Digga Doo, a Big Bad Voodoo Daddy song choreographed for six by Ms. Matrisciano Loughman.
Older teens, including two graduating from the program this year and a 2021 graduate who returned for the spring show, dazzled the audience with their ensemble work, concluding with the electrifying 11-member Water Fountain, choreographed by Daryl Owens to a tune by the art-pop group Tune-Yards.
Rise, which celebrates its 15th anniversary this year, teaches Island dancers aged 6 to 18.