On a recent morning, a pickup truck, a Subaru, a Honda and a Maserati were parked along Circuit avenue in Oak Bluffs — the range of vehicles not unusual for the Vineyard. What was out of the ordinary, however, was that the cars were parallel parked, taking up four of the newly created 15 spaces at one end of the avenue.
The length of Circuit avenue has been transformed by the new streetscape design, but the change to parallel parking only runs from Giordano's up to Healey Square. After that it is back to diagonal parking.
The entire $2.7 million downtown improvement project will eventually incorporate changes along Kennebec avenue and Healey Square. But just in time for the 2022 summer season, the $1.64 million Circuit avenue portion of the project is open for business.
"The project is functionally complete well ahead of schedule," town administrator Deborah Potter said in an update to the select board Tuesday night.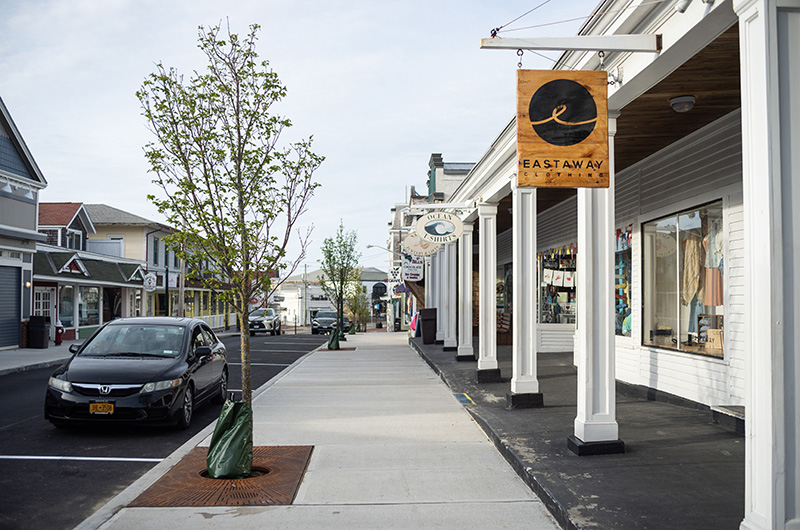 All that's left to do is the addition of signs, benches and the completion of streetlights, she said.
Ms. Potter said much of the credit for a job well done is due to contractor Lawrence-Lynch of Falmouth, who dug up and replaced sidewalks, crosswalks and tarmac throughout the winter. Ms. Potter said when all was said and done, change orders on the Circuit avenue portion of the work came in under $20,000.
"Which is another testament to Lawrence-Lynch and the work they did," she said.
Early on, the project faced pushback mostly due to the change in parking, with many worried about the loss of 12 parking spaces due to the switch from diagonal to parallel, and the potential difficulty of drivers navigating parallel parking during the high traffic summer season. But for now, many on Circuit avenue are in favor of the result.
"I like it, but I've been in favor of it the whole time," said Scott Patterson of Craft Works, placing flowers in a planter outside the store last week. "I was in favor of them making this entire thing a pedestrian mall."
In addition to changing up the parking patterns, the sidewalks along the same stretch of the avenue are now several feet wider, allowing more room for pedestrian traffic.
Speaking with the Gazette by phone, highway superintendent Richard Combra acknowledged the concerns and complications for both drivers and businesses that may come with parallel parking on the street, but said he thinks the added pedestrian safety that comes with a larger sidewalk is well worth a loss of parking spaces. Mr. Combra added that he thinks the street's new layout is something that will begin to feel natural as time goes on.
"I think people are adapting to [parallel parking] really well," he said. "They're plenty big enough for most cars to fit into."
Another change is the replacement of the street's longstanding Callery Pear trees, an invasive species. Now Ivory Silk Lilac trees line the street, standing in their infancy much thinner and shorter than their predecessors. Fully grown, the trees will top out at around 20 feet, and resemble lilac bushes in bloom with large, flat green leaves and bearing large bunches of small white flowers on their branches.
"Love them. Wish they were bigger, but they'll grow," said Laurie Welch, founding partner of Eastaway and Basics Clothing Company, looking out at the freshly planted trees from her storefront last week. "And I'm glad they're putting the light posts in."
Gearing up for an anticipated increase in visitors this summer, Ms. Welch said she's fully confident the street will be able to handle the thousands of pedestrians who will soon be walking the new sidewalks.
"I don't have any fear that it will not be completely perfect," she said. "Feels like it's going to be very busy."
In the coming weeks, parking spots along the harbor will be repainted to accommodate diagonal parking, adding around a dozen spaces to the current parallel parking design and largely offsetting the parking spaces lost on Circuit avenue. Ms. Potter said that work is slated for completion by Memorial Day Weekend.
Up next for the wide-ranging streetscape project are changes to Healey Square and Kennebec avenue. Ms. Potter said Tuesday night it's unclear when that portion of the project will go out to bid, but select board member Brian Packish said the work is less intensive and well suited for the fall.
"I think the scope of those sections is much smaller," he said.
For now, adjusted parking, new and expanded sidewalks, brick crosswalks and Ivory Silk Lilac trees will welcome Islanders and visitors alike this summer.
"I think we've really accomplished a great project," Mr. Combra said.