It was a busy weekend at home for Vineyard spring sports teams with baseball and softball and boys tennis playing at home on Friday, followed up on Saturday with home games for baseball and boys lacrosse.
The boys tennis team swept Sandwich 5 – 0 on Friday putting them at 6-1 for the season. On Saturday they improved their record to 7-1 with a win over Nantucket.
"It was a great match today, especially for first singles where we were able to win 6 – 4, 6 – 4," said coach Jonathan Bates after the match against Sandwich. "We had a pretty easy time in the other matches, but our kids played well they were all focused and got the job done."
Against Nantucket Coach Bates played three freshmen at first, second and third singles: Zak Potter, Caleb Dubin, and Kert Kleeman, all of whom won in straight sets.
The girls tennis team beat Nantucket in an away match on Saturday to stretch its undefeated season to 6-0.
Girls softball defeated Rising Tide Charter School 26-13 on Friday for its second win of the season.
"Today, we're doing pretty good for a team that's very young and very inexperienced, but I've seen so much energy and so much improvement," said coach Bethany Cardoza after the game. "This is only our fifth or sixth game. I've seen a lot of positive energy and a lot of great effort from everyone."
Girls softball lost the next day to Nantucket 2-27.
The baseball team suffered its first defeat of the season on Friday losing 3-8 to Sandwich.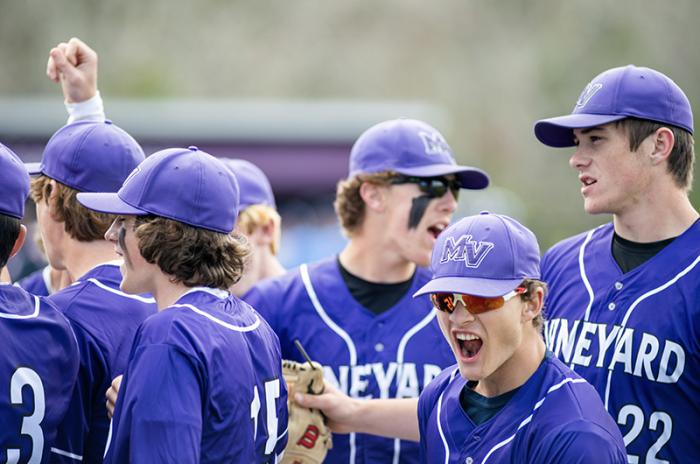 "Sandwich came in and they played a really nice game," coach Kyle Crossland said after the game. "We had a couple of errors in the third inning that set us back early and it was kind of hard to recover from."
The next day the baseball team bounced back defeating Nantucket 12-2.
Boys lacrosse lost on Saturday to Nantucket 2-13 to put its record at 2-4.
"Obviously, the score didn't reflect some of the good things that we saw on the field," said coach Chris Greene said after the game on Saturday. "All year has been a growth process. I have six seniors, and the rest of my team is pretty much freshmen and sophomore with a couple juniors, so we're very young."
"We're so young that the future is bright for us, we learn from each experience," Coach Green added.
Girls lacrosse looks to earn its first win with a home game against Sandwich on Tuesday.