A sizable crowd gathered on the steps of the Edgartown courthouse Tuesday afternoon to protest the draft Supreme Court ruling overturning Roe v. Wade that had been leaked the night before, reverberating around the nation and sparking protests.
Women, men and children joined the protest on the steps of the brick courthouse.
"I'm not going to let some old wrinkled man in a robe tell me what I can do with my body," Carla Cooper said through a megaphone, drawing cheers from the crowd.
The protest was organized via social media Tuesday, and dozens answered the call, arriving at the courthouse at the end of the day.
Passersby clapped and drivers honked. Protesters held an array of signs, many bearing a version of the familiar slogan of abortion rights advocates: "My body, my choice."
"We all need to come together and grieve for what we're about to lose," Ms. Cooper told the crowd.
Aquinnah select board member Juli Vanderhoop held a banner that said: "Bans off our bodies."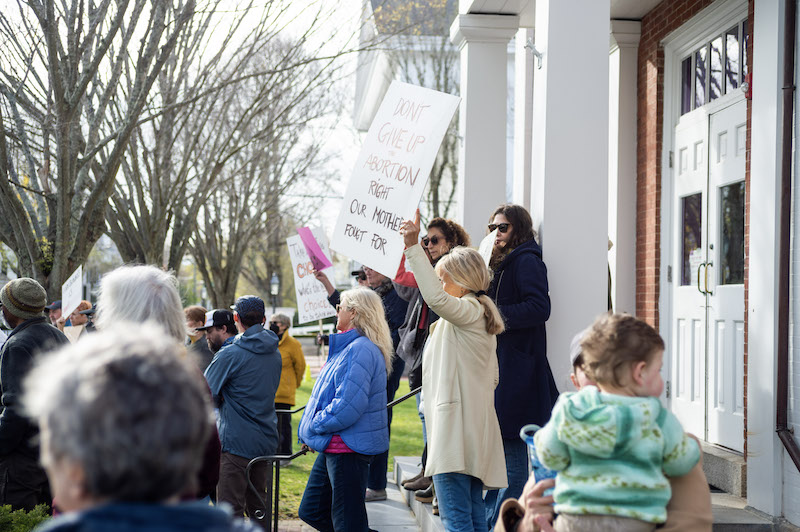 She said the protest was an important time for the Island community to use its voice.
"This is not just about women, it's about rights," Ms. Vanderhoop said.
She called it a sad day.
"I wish I could say it was a shock," Ms. Vanderhoop said. "It was not a shock."
More people joined as the protest went on, greeting each other with hugs and friendly exchanges. Stories of a sleepless night abounded. Some shed tears.
"I'm a woman and I like to have power over my body," said Stina Sayre, a Vineyard Haven fashion designer and business owner.