West Tisbury's historic town center teemed with movie-goers over the weekend, as the Martha's Vineyard Film Festival celebrated both its 22nd year and its return to Grange Hall, where the festival made its debut in 2001.
Screenings took place in the Grange's second-floor auditorium, at the nearby First Congregational Church and around the corner in the old town library on Music street.
"I think it's been great just how close everything's been, across the three different venues [on] the campus, and the diversity of the films, the topics . . . very timely," said Michael Fox of Boston, citing documentaries on abortion and Ukraine.
Mr. Fox said he has been coming to the festival for the past five or six years — which makes him practically a newcomer compared to his fiancée Abigail Normandeau, her sister Erica Normandeau and their mother Vivian Normandeau, of Hopkinton, who have been festival regulars for at least a decade and a half.
"Fifteen years, I would say, minimum," said Abigail Normandeau, who's now 28.
"We're the biggest groupies," Erica Normandeau said. The family takes in seven to 12 movies every festival, Abigail added.
The Normandeaus said they were the first to purchase tickets to some of this year's screenings, including the mind-bending comedy Everything Everywhere All at Once on Saturday night.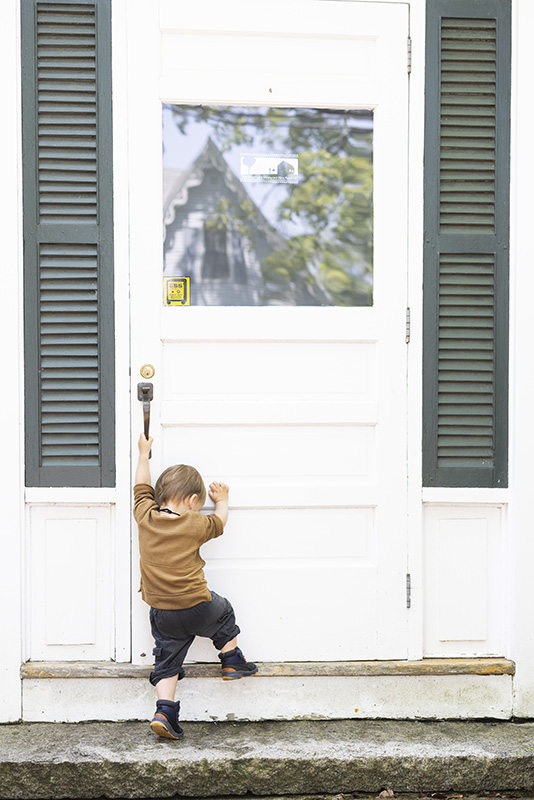 But the family likes documentaries best, they told the Gazette during a break between screenings Saturday afternoon.
"These types of films [show] in Boston and we could easily go to them, but we don't," said Vivian Normandeau, who began taking her daughters to the film festival in Chilmark when they were in their teens.
"This kind of forces us for a weekend to get here and really dedicate some time to think about how our world is changing and how we can make it better," she said.
Her daughter Abigail noted that a documentary on plastics, shown at an earlier festival, led all three Normandeaus to switch away from disposable containers.
"We've gone home and made adjustments to our lives based on the films that we've seen here," she said.
"And because we do it as a family, it kind of keeps us . . . accountable, because we're all doing it," her mother added.
Despite the balmy spring weather for this year's festival, the family said they preferred when it took place in the off-season.
"It's just something to look forward to in the winter," Vivian Normandeau said.
"I hope it goes back to March."
The festival opened Wednesday with the taut, based-in-fact thriller 892 and closed Sunday with a sold-out program of short dance films, with live performances by Island choreographer-dancers Abby Bender and Jesse Keller Jason.
Between screenings, musicians including David Stanwood and Katherine Reid performed on Mr. Stanwood's portable upright piano and movie-goers dined on simple stews prepared in the Grange kitchen and popcorn with fancy toppings from the concession stand.
The Grange Hall became the festival's new home after its parent nonprofit, Circuit Arts, signed a long-term lease in December with the Vineyard Preservation Trust, which owns the historic property.
Circuit Arts is also the umbrella organization for Cinema Circus, the popular children's program now also based at the Grange, and the pay-what-you-can drive-in movie theatre behind the ice arena at the YMCA of MV in Oak Bluffs.
"We're going to be there Fridays and Saturdays during the summer," Circuit Arts executive director Brian Ditchfield told the audience on closing night.