As a school of striped bass swam in Sengekontacket on Saturday morning, 67 hikers began the 27th annual cross-Island hike hosted by the Martha's Vineyard Land Bank, rekindling a tradition on hold due to the pandemic since 2020.
This year's starting point for the hike was the Big Bridge, and a few of the hikers slowed their pace to look out over the water. Wendi Goldfarb of West Tisbury wondered aloud: "Is this an auspicious sign for the rest of the hike?"
For those intrepid few who completed all 18.9 miles, the watery welcome certainly didn't hurt, nor did the final ocean view at Long Point Beach.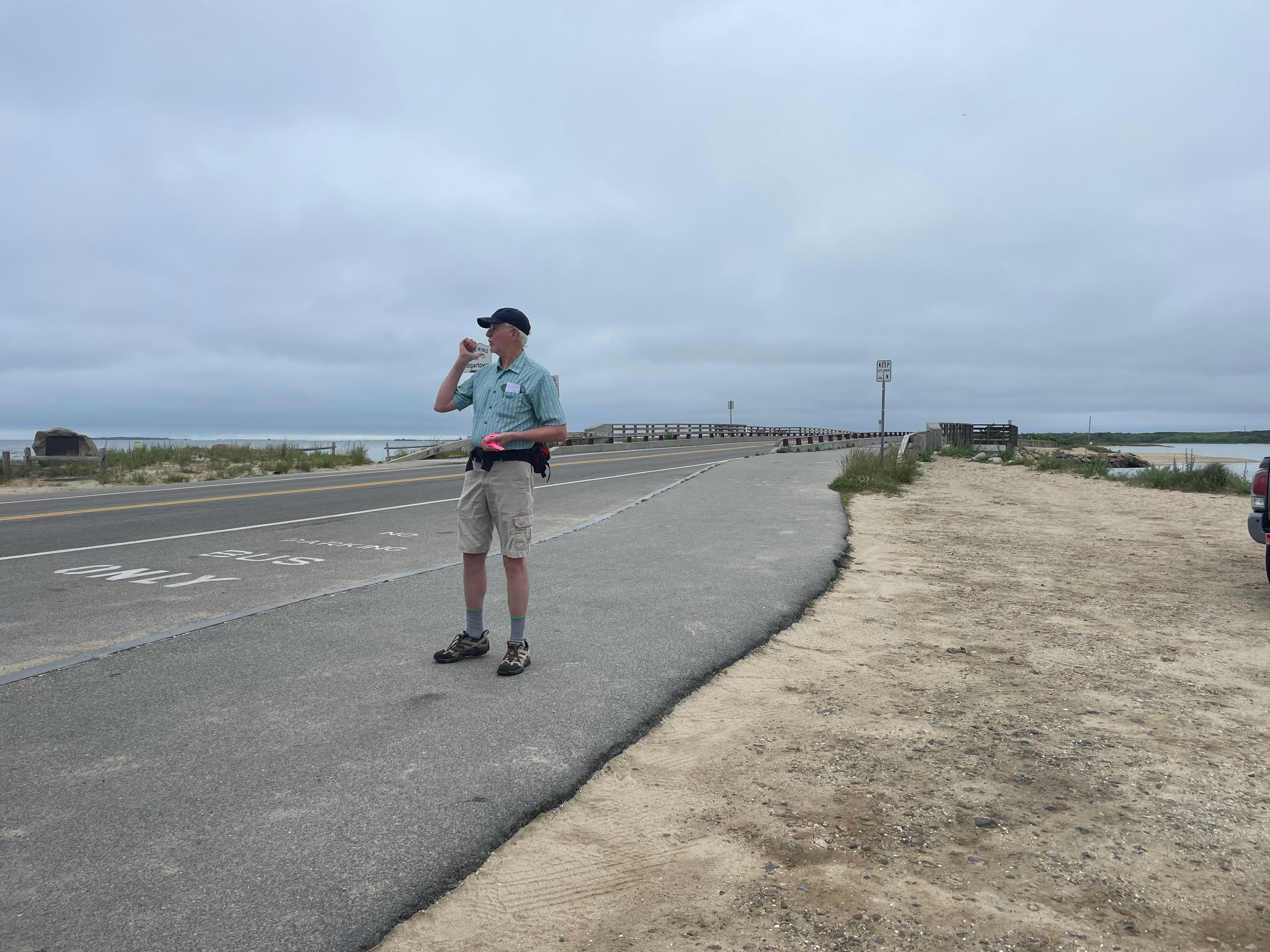 Participants began to arrive 15 minutes before the 8 a.m. start time, on a cool, drizzly morning, with novice and experienced hikers mingling in anticipation of the day ahead.
"I expect to finish" said first-timer Christine Marquee, a summer resident of the Camp Ground who convinced three apprehensive friends to join her.
Sue Gerson, a Pennsylvania native introduced to the hike a few years ago by her niece Wendi Goldfarb, also brought friends: two Portuguese water dogs, Mazie and Civie. Both dogs finished the hike, the only four-legged creatures to go the distance.
At 8 a.m. sharp, organizer Bill Veno brought the group to attention.
"Everybody gather up," he called out, before explaining the plan. "This is not a guided nature hike, it's just a walk. We will remain on schedule. I'll set the pace up front, and land bank executive director James Lengyel will bring up the back."
The hike then headed off toward Edgartown along the old railroad route which ran for 22 unprofitable years. Historic paths like this, Mr. Veno explained, are the backbone of the event.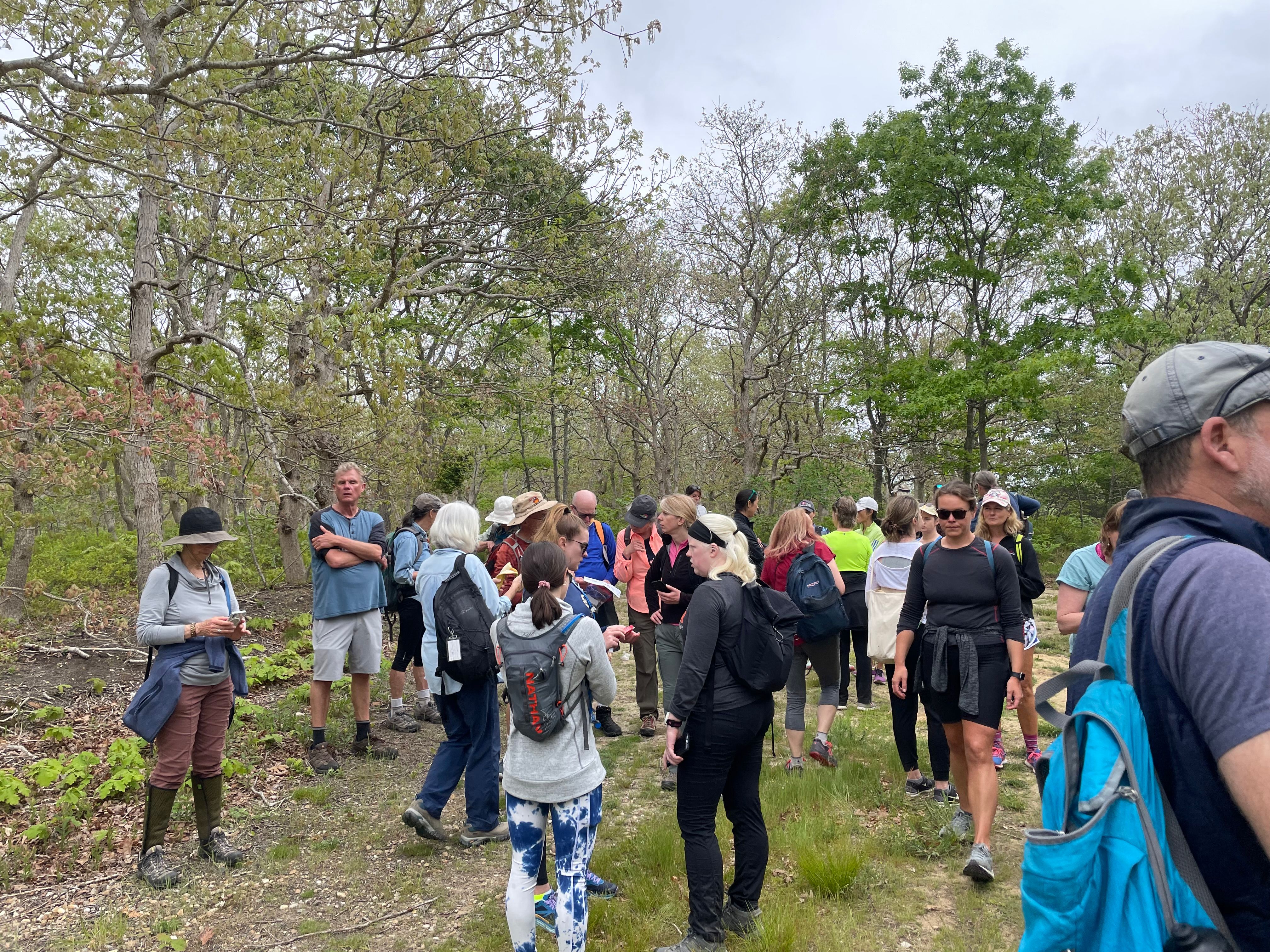 "We can create a different route every year because ancient ways run across the Island," he said. "Many of them originated as Wampanoag trails or old cart paths."
The first leg followed along Beach Road before taking a detour through Caroline Tuthill Preserve and arriving at Memorial Park at the top of Main street, Edgartown.
"Bill is fast and no-nonsense," said Jim Mullen, referring to their quick-paced guide. Mr. Mullen was hiking with Molly Picket, both longtime Chappaquiddickers, spending 60 and 40 summers there respectively. This was their sixth cross-Island hike.
After a few road crossings, Mr. Veno led the group through a "reconstructed ancient way" across New Westside Cemetery and into an Edgartown easement that wound its way through new developments. It is the kind of off-the-beaten-path route that still surprises Island historian Tom Dresser, even on his 12th hike.
"I had no idea this was here," he said. "Where is this connected to the woods?"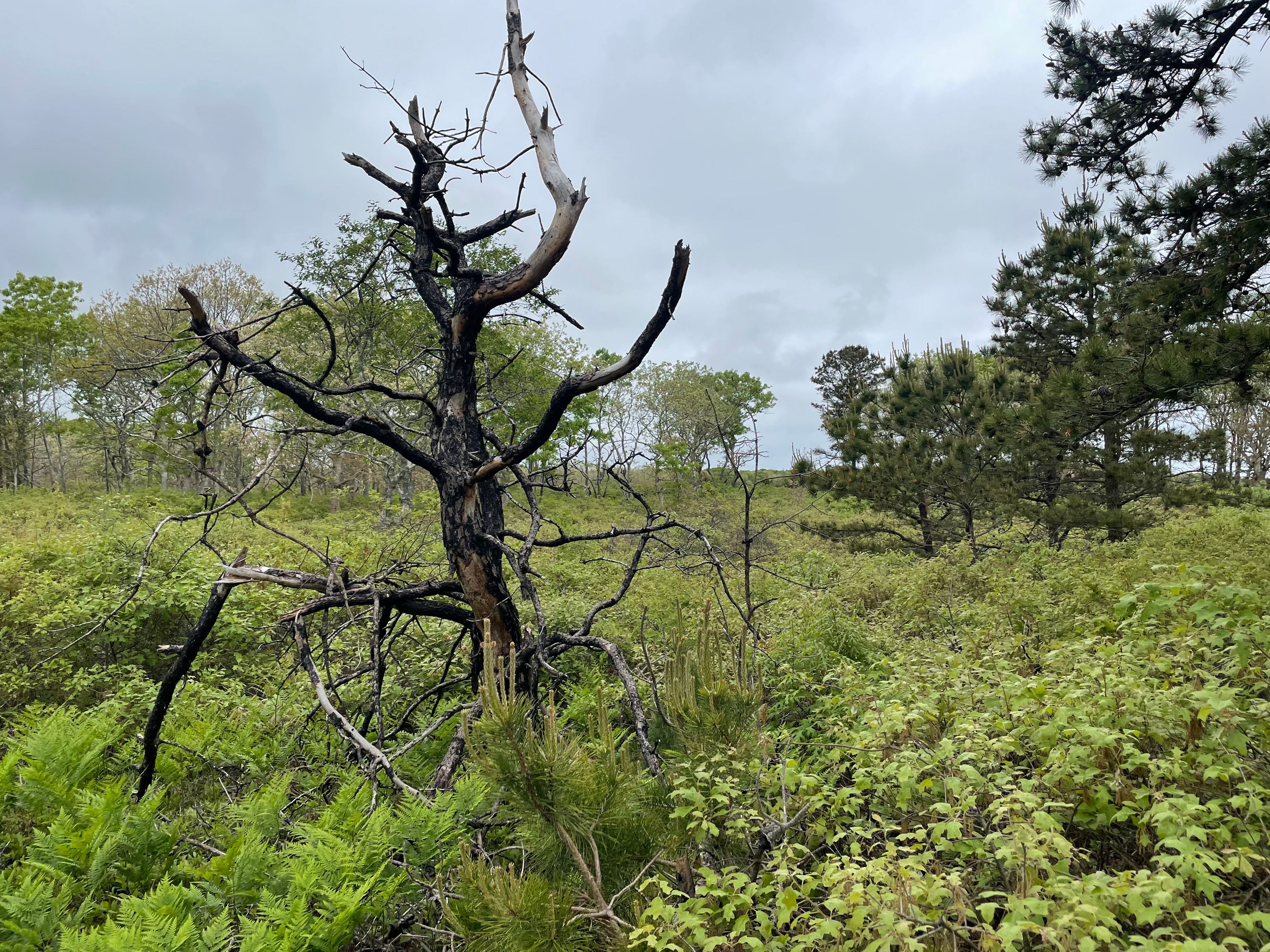 At 75, Mr. Dresser brought two walking sticks with him, at the behest of his wife.
"The point is to push yourself a bit and this keeps you physically and mentally sharp," he said.
Mr. Dresser said he organized his own cross-Island hikes during the pandemic hiatus.
The group emerged from brush and bramble onto Meshacket Road, passing farm fields and high-tunnels, then pivoted northward on dirt roads toward Tar Kiln Road and Pennywise Path, the Island's interior. A winding route is needed to keep each year fresh.
Though extensive, this year's hike was eclipsed by that of 2017, when hikers completed 25 miles to celebrate the event's 25th anniversary. It is remembered (with variable fondness) as a killer. It cost Oak Bluffs resident Susan Santos a few toenails, she said.
For the hike's middle portion, the group entered the Manuel F. Correllus State Forest, where expanses of sandy huckleberry scrub alternate with open forest, and pine and oak battle for dominance.
The trail continued along Dr. Fisher Road, built by port physician and whaling mogul Daniel Fisher. Ahead of the curve on supply-chain management, Dr. Fisher built the road to transport West Tisbury grain to his Edgartown hard tack bakery.
Exiting through a field of swaying ferns behind the regional high school, the group broke for lunch at the YMCA. Cars filtered through to drop off lunches, pick up a few hikers and add a few more. These new, second-leg additions refreshed the conversation, as dinner plans were made and favorite hiking spots exchanged.
"The overheard conversations are one of my favorite parts," said Martha's Vineyard transplant Samantha Heartly, always on the lookout for dog-friendly trails.
After a southern stretch through the state forest's grass prairies, the group entered their final and longest leg. Sandy roads led them, via Watcha Path, to Long Point Road, a private path opened up for the event. The line of hikers stretched out as the final group entered the lush green of Long Point Preserve. Shorter trees revealed more sky and a tantalizing nearness to shoreline.
The gentle dunes and cool waters of Long Point Beach were a fitting reward for those who endured, and will serve as the starting point for next year's hike.