All manner of food and fashion, from stars and stripes suits and bedazzled dresses, to tacos, tofu and tuna, were on full display at Taste of the Vineyard Thursday night as the Vineyard Preservation Trust fundraiser returned to signal the start of the summer season.
"This is the unofficial solstice," Alex Schilcher said, waiting in line to enter the event.
Taste of the Vineyard is a celebration of food and drink from around the Island, and a key fundraiser for the Vineyard Preservation Trust which owns and manages many historic properties on the Island, including Alley's General Store, the Carnegie in Edgartown and the Flying Horses in Oak Bluffs.
At the Dr. Daniel Fisher House on Thursday, hundreds of party-goers enjoyed food from dozens of vendors, and danced to the 14-piece band Sultans of Swing.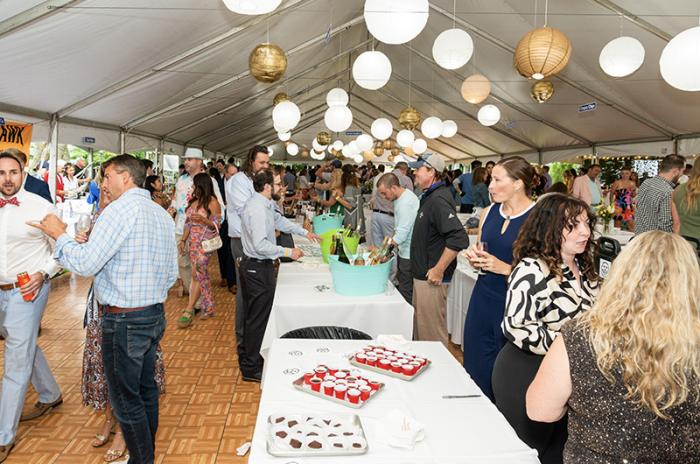 "It's the taste — why would you pass it up?" said Shane Laderoute, co-owner of the Fish House in Edgartown.
Vineyard Preservation Trust executive director Nevette Previd said the trust was looking to up the ante for the party's comeback after a pandemic hiatus.
"It's a beloved event," Ms. Previd said. "We really tried to up our game."
She said the event added a VIP section for the first time, along with holding the overall capacity to 25 per cent lower than previous years to avoid overcrowding. Tables were also placed outside the network of tents that housed vendors and the dance floor, offering a space of relative quiet away from the crowd.
"I couldn't be more pleased," she said. "You want to deliver. I hope that's what we did."
Ms. Previd said one of her favorite aspects of the event is the sense of community. She lauded the party's ability to draw people of all ages from all over the Island to celebrate.
"I don't know where else you see the Vineyard like this — you have everything," she said.
She gave all credit for the event's success to the team of volunteers running the show, and Rachel Hines, who took the lead on planning for the first time.
"This is a massive event to produce for the first time," Ms. Previd said.
Vendors from around the Island agreed that the party was a success.
"We're finally open again," said Caitlin Crossland, head baker at the Scottish Bakehouse in Vineyard Haven. "Everyone else is just as excited as we are."
Bad Martha's general manager Mia Benedetto said the night was an opportunity to show off products, adding that it was nice to see the restaurant community come together.
"We're very excited to be here," she said.
The trust followed up Taste of the Vineyard with its annual auction Saturday, exceeding expectations and raising over $1 million for the trust.
The event auctioned off carousel horses, elegant dinners and trips to Nantucket, among other experiences and items. Ms. Previd said the night was another resounding success.

"I couldn't be more grateful for it," she told the Gazette by phone Sunday.

She said she hadn't fully tallied the amount of money raised at the auction, but was confident it exceeded $1 million. She said the trust's goal was $775,000.

Ms. Previd said a number of new faces attended the event, contributing to the fundraising.

"I would say a trend of the room was people new to us," she said. "A real energetic crowd."

She said the money raised will go to capital projects, including restoration and care of the Flying Horses.

"Our buildings are old and they consistently need care," Ms. Previd said. "They work really hard, our buildings."