MVY Radio officially cut the ribbon on its State Road studio and office building Friday morning, welcoming community members to the new space with a tour, a lunch and a champagne toast.
The celebration came after the radio station met its $2.5 million capital campaign goal last month, meaning the construction of the new space is now fully paid for. The building has served as MVY's official base of operations since its completion last summer.
The building more than doubles the square footage of the previous space on Carroll's Way in Vineyard Haven, something the station needed, said Karen Altieri, director of development for the station.
"We were in 1,300 square feet and one bathroom, with 23 employees," she said. "We had no privacy and no room to grow."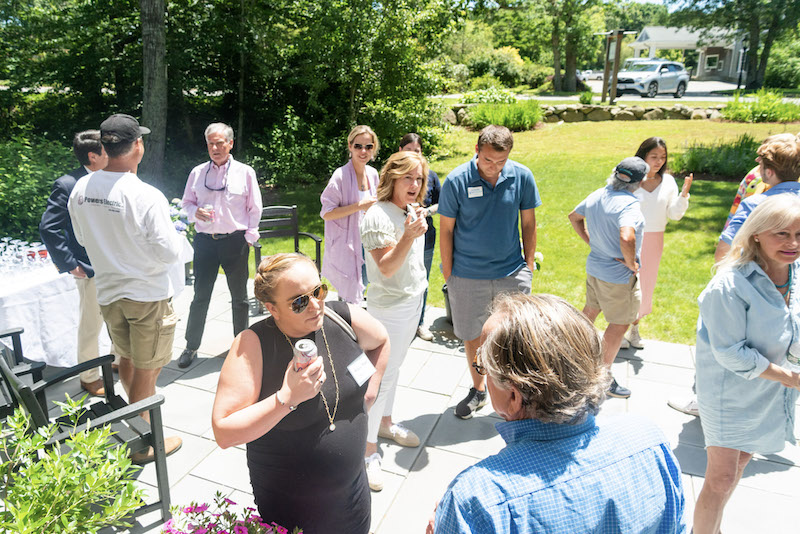 Change was desperately needed and delivered with the new building, she added.
The new building features a meeting and community room that will allow for small public concerts and engagement with local students. Multiple recording booths now allow for more than one DJ to work and record at once.
At Friday's ribbon-cutting, Kathy Teehan, a member of MVY's executive board, raised her glass in celebration of the space.
"We hope that [the new building] will benefit not only the radio station, but the community," she said.
Project architect Joseph Dick was tasked with converting the State Road property, used previously as a physical therapy studio, into the new headquarters of MVY Radio. Challenges included how to soundproof rooms, retrofit the old building with handicap accessibility, and design spaces that could serve multiple functions such as hosting both small concerts and board meetings, Mr. Dick said.
He called the construction process "trying," as supply chain difficulties and health protocols during the pandemic often ground progress down to a halt.
Fundraising also slowed during Covid-19.
"It's always a challenge to be in the middle of a campaign when a pandemic hits," Ms. Altieri joked.
Now, with both fundraising and construction completed, MVY can now turn its focus back to the radio and a robust lineup of live summer events, like weekly performances at the Winnetu and a concert with world-renowned mandolin player Chris Thile this August.
After the ribbon cutting and champagne toast everyone dived into lunch. And not just any lunch.
"A we-completed-our-capital-campaign-and-building-quality lunch," Ms. Altieri said.