For nearly two decades, the Island's softball fields have been home to players of all ages and abilities, fostering a community of camaraderie in the Martha's Vineyard Women's Softball League.
"It's very competitive," added Susan Brooks, pitcher for the Snaps. "But we like to have fun."
This season there are five teams: the Snaps, Creamers, Rug Sox, Mamas, and Ride or Dyes. The league anchors a cherished postion at Veteran's Park. It is slow-pitch and at-bats are played with two balls and three strikes.
League commissioner and Creamers player Sammi Burns said the league began in 2005, after some women in a men's softball league decided to put together a few pickup games, which attracted dozens of players.
"There were just a few of us girls playing in the men's league at the time," Ms. Burns said.
Since then, the league has solidified itself as a summer institution for Island athletes, bringing in players of all ages and skill levels to play on weeknights.
"Some of these girls playing grew up on the grass watching," Creamers player Veronica Buckley said.
That pipeline of players has helped the league maintain itself over the years, she added.
"It's been running itself for about 10 years," Ms. Buckley said.
League games often see the sidelines filled with families and fans cheering on the teams. Players' children act as bat and ball-catchers at the plate, and run toward the bushes looking for wayward foul balls.
"On any given night there's a lot of families here," Ms. Buckley said.
With umpires, team captains, league commissioners and championship playoffs, the league is an official affair.
"It's run professionally," Ms. Brooks said.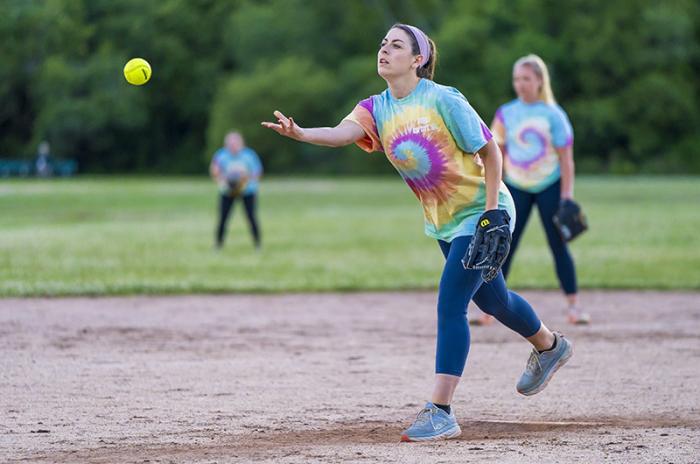 But for many of league's players, what keeps the teams coming back year after year is the sense of community.
"They're amazing women, that's what makes it so much fun," Rug Sox player Jen Picklesheld said after coming up short Tuesday night in a hard fought game against the Creamers. "I just love these ladies."
She said the teams keep a competitive edge, but this never get in the way of the love of the game.
"It's just good sportsmanship," she said.
Ms. Buckley agreed.
"We've been doing it for so long that everybody has that respect for each other," she said.
For players, fans, friends and family, the league offers a simple way to get outside and be together during the summer.
"A lot of women like to come out," Ms. Buckley said. "It's family friendly."