Crowds flocked to Vineyard Haven's Main Street Friday evening for the return of the Tisbury Street Fair, an Island tradition that brings community organizations and local shops out onto the pavement for food, games and good company.
Among some of the fan-favorite stands: the Tisbury Firefighter's Association brought the heat, with a line for their burgers and sausages stretching from sidewalk to sidewalk across the street. The line for cotton candy clogged Union Street—where the Duke's County Sheriff's Office had also set up a game of arcade basketball. And at the end of Main Street, the ladies of the American Legion Post 257 served lobsters rolls heaping with the Island's freshest catch.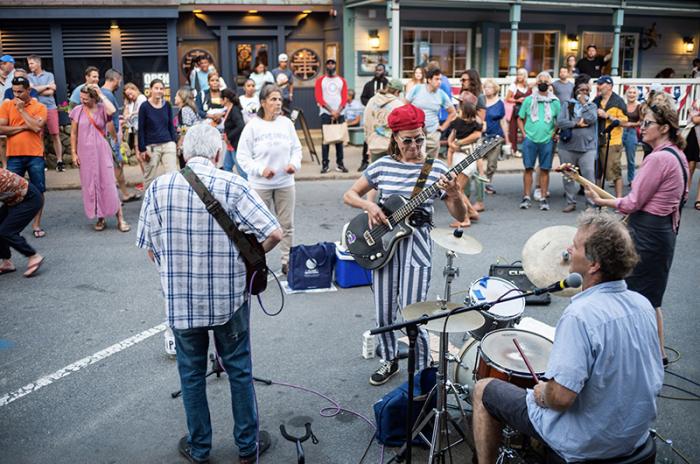 The Jaywalkers provided the evening's live entertainment, and even got a few in the crowd to break out their finest country-rock moves.
Main Street businesses were glad to see the street fair return after two years of pandemic hiatus, said Lance Fullin of the Green Room. He spent the night slinging shoes and other goods at a special street fair discount.
"It's always a really big boost for us," Mr. Fullin said. "It makes some room on the sale rack… It's always something we look forward to."
Tisbury Police and E.M.T.'s also came out for the fair — not just to manage and monitor the crowds, but to keep up community engagement. And perhaps join in a lobster roll or hamburger.
"The goal is to have fun, be safe, and come home with some memories," said Lieut. Bill Brigham of the Tisbury Police Department. He surveyed the assembled crowd. "And it looks like people are having fun."