Island boards of health, working in conjunction with the Great Pond Foundation, issued the summer's first cyanobacteria bloom watch notices last week at the Squibnocket Pond boat landing and the north end of James Pond.
The orange-grade notice indicates that water conditions are ripe for cynaobacteria or blue-green algae blooms, which produce environmental toxins that can damage liver and nervous system functions. The notice advises against allowing pets and infants in the water and consuming seafood from the ponds. It's one step away from a red-grade notice, issued in the case of an active bloom, which advises against any contact with pond water.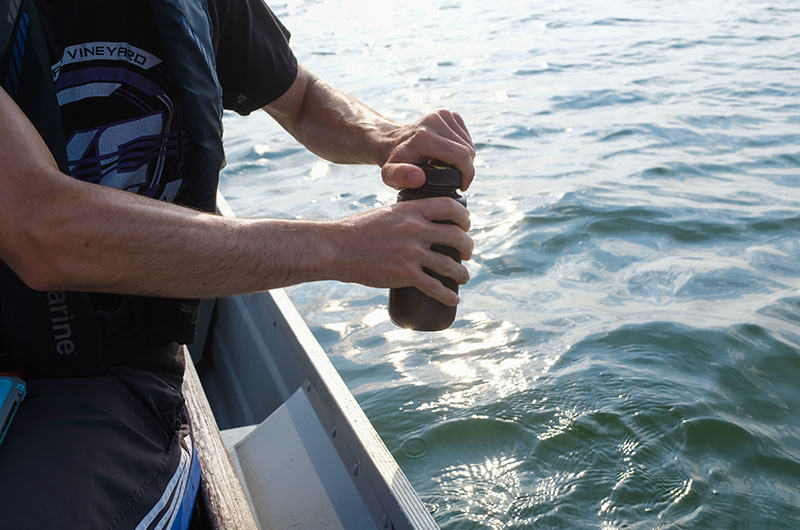 This summer marks the second year that the boards of health have collaborated with the Great Pond Foundation on cyanobacteria monitoring in the Island's unique Great Ponds, whose brackish ecosystems are understudied and in which the population dynamics of cyanobacteria are not yet fully understood.
The collaborative effort is called MV Cyano. According to Emily Reddington, executive director of the Great Pond Foundation, the program has a single focus: to provide the Island boards of health with the scientific data they need to issue informed public health advisories that are neither hysterical nor too little, too late.
"MV Cyano was created as a way to . . . take scientific information and translate it into public health messaging," Ms. Reddington said. "The Great Pond Foundation is staffed by scientists. We can do the science, but all the public health and safety information has to come through the boards of health."
MV Cyano began after public awareness of cyanobacteria blooms and cyanotoxin poisoning ballooned in the summer and fall of 2020. That year, a Chilmark crab fisherman had suffered from a severe case of cyanotoxin poisoning that left him out of work for five weeks. In October 2020, a study by the University of New Hampshire reported that the Island's Great Ponds contained inordinately high levels of BMAA, a potential neurotoxin produced by cyanobacteria. Even worse, Chilmark Pond was in its third year of visible cyanobacteria blooms, which floated on the water's surface in mottled, bluish-green swirls.
Public awareness turned into public alarm, despite emerging evidence that the year's phenomena were not necessarily connected. The UNH study, it turned out, was conducted by limnologists (freshwater scientists) who failed to put their numbers in context for brackish and saltwater systems. There was simply to no way to know whether or not the Island's BMAA levels were out of proportion, and since the toxin isn't monitored by the EPA or World Health organization (its health impacts are debated) there was no way to know whether or not its levels were even dangerous. To boot, the Chilmark crab fisherman's symptoms were consistent with exposure to cyanobacterial hepatotoxins, which affect the liver, not BMAA, which is suspected to impair the nervous system.
By the end of 2020, Island boards of health and scientists concluded there was a need for clear, reliable and consistent data about cyanobacteria blooms and cyanotoxin poisoning in Island water bodies. As a result, Ms. Reddington said, MV Cyano was created to collect a range of environmental metrics from across all the Island's ponds. The program collects data on cyanobacteria populations and cyanotoxin concentrations, but also puts the information in context with a host of environmental metadata like salinity, water temperature and nutrient concentrations, which can indicate when a bloom is likely.
"Warming temperatures, lower salinities, stagnant water and abundant nutrients or nitrogen and phosphorus running off into ponds are what drive algal blooms," Ms. Reddington said. That's because cyanobacteria are typically freshwater organisms — they're used to low salinity and warm, still water.
The Great Pond Foundation collects water samples for bacterial testing weekly or biweekly from dozens of sites across the Island, explained foundation science director Julie Pringle. The sites for sample collection were determined in collaboration with local public health officials and include a mix of preexisting locations where the Great Pond Foundation has water quality monitoring initiatives, and places of high public use.
"We worked with [the Great Pond Foundation] very carefully to choose the sites according to where the hazard was in terms of the conditions that could cause a bloom, but also in terms of public access — you know, where is the public, really?" said Chilmark health inspector Marina Lent.
Water samples are kept on ice in light-proof plastic containers until they reach the Great Pond Foundation's Edgartown office; there, a tool called a fluoroprobe shoots the samples with a spread of different light wavelengths that cause phytoplankton — bacterial or diatomic, like normal alga — to fluoresce. Different fluorescent signatures indicate different varieties of algae.
"If we detect a higher number or an elevated density of bacteria, we have a partnership with a lab in New York at Stony Brook University and we'll send samples to that lab and they will do the microscopy," said Ms. Pringle. Microscopy, complemented by a toxin assay, can tell the foundation what cyanobacteria are in Island ponds and what cyanotoxins may be in the water.
"If we're seeing elevated numbers, we want to ensure that there are no toxins present. If the toxins are there, we want to know what kind of toxin and how much so the board of health can make an appropriate advisory," Ms. Pringle said.
Last year, only three water samples were sent for microscopy and toxin analysis, and none have been sent this year.
On any normal week — a week without an alarming density of bacteria — Great Pond Foundation staff simply compares bacteria density to the environmental data gathered at the same time as water sample. The results of this comparison are fitted into the green, yellow, orange, red warning system, what Ms. Reddington calls a "predefined risk matrix." The risk levels are sent to Island boards of health and posted on MV Cyano's website.
Ms. Pringle said cyanobacteria monitoring was an intuitive step for the foundation.
"The majority of our testing we do in conjunction with our ecosystem monitoring program," she said. "We're out there anyway collecting water quality data anyway, and we've added in a separate bacteria collection protocol."
With luck, she said the data collected will contribute to larger research initiatives. Ms. Pringle said she hopes that the collection of population data alongside environmental conditions can allow researchers to begin to unravel the trends behind cyanobacteria population dynamics in brackish systems.
Preliminary data already suggests that the practice of opening Tisbury and Edgartown Great Ponds to the ocean boosts salinity, reducing the risk of a cyanobacteria bloom. A study the foundation commissioned from the Marine Biological Laboratories earlier this year shed light on the primary source of nutrient pollution in Island water bodies, revealed to be overburdened septic systems.
In short: the gap between what's a mystery and what's scientific truth when it comes to pond pollution has begun to close.
The Martha's Vineyard Commission is also engaged in cyanobacteria monitoring. Instead of using a fluoroprobe to get a broad, cross-sectional view of Island phytoplankton, the MVC is working with the University of New Hampshire on a continued effort to study picocyanobacteria — the smallest cyanobacteria varieties. These do not form visible blooms, but are still responsible for creating cyanotoxins.
"With the picocyanos, right now it's just a monitoring program to see what's there [and] to get some baseline information," said Sheri Caseau, who leads the MVC's water resource management initiatives.
Like the Great Pond foundation, the MVC is interested in looking at how environmental changes impact the picocyanos' population dynamics.
"We'll continue to study for the next few years and see how that's affected by increases in stormwater and temperature," Ms. Caseau said.
The cyanobacteria monitoring initiatives have proved to be immense resources for public health officials, said Ms. Lent.
"[Scientists] don't want to make the hard political decisions about, 'You can't go in the water. I'm sorry. It's your vacation, I know, and you spent, you know, however many thousands of dollars renting this pond-side home,'" Ms. Lent said. "They don't want to make that decision and rightly so. But we need their information to make a justifiable decision."
Boards of health and the MV Cyano website will continue to provide information and updates throughout the mid and late summer, when waters warm and a full bloom becomes more likely.