Racing yachts is endlessly stereotypically exclusive. But on the Vineyard, when all the local boats sign up for a race and others come from far away, everybody needs a full crew. A captain's options quickly thin and races become some of the few days of the year when anybody can end up on board some of the world's most historic racing machines.
For example, the Vineyard Cup took place this past weekend, a three-day race put on by Sail MV as a way to raise money for programs that build Islanders' skills and confidence in boats. On Saturday, for the second day of racing, I got the chance to sail aboard Mah Jong with owner Pat Ilderton, his sons Adam and Luke, his captain Alex Goldhill and his mostly professional crew.
Unlike a horse or a runner, a sailboat with her sails up can't really stand in one place. At the start, all the boats, between 25 and 70 feet, churn the water in a jumble until a timed warning, when everybody charges toward the course, trying to be the first to cross between the committee boat and a floating marker. If you cross before the signal is sounded, you have to sail a big circle and go through the line again.
"This is stressful to me. This is basically not enjoyable," Zeda Clarke, an experienced classic boat sailor, said on the foredeck, as boats with all the sail they could carry tacked closely in front, alongside and behind one another, and the voices of captains carried across the water, letting others know who had the right of way.
"This is amazing," Dan Asher said.
Sailing in his first regatta, Dan is a worker at Gannon & Benjamin Marine Railway, the boatyard where Mah Jong was rebuilt and relaunched in 2017.
Mah Jong is a 52-foot yawl. It was built in Hong Kong in 1957 out of solid teak. Pat bought it in a state of certain decay in Tortola in 2013, shipped it to Vineyard Haven and hired a good proportion of the waterfront community to bring it back to life.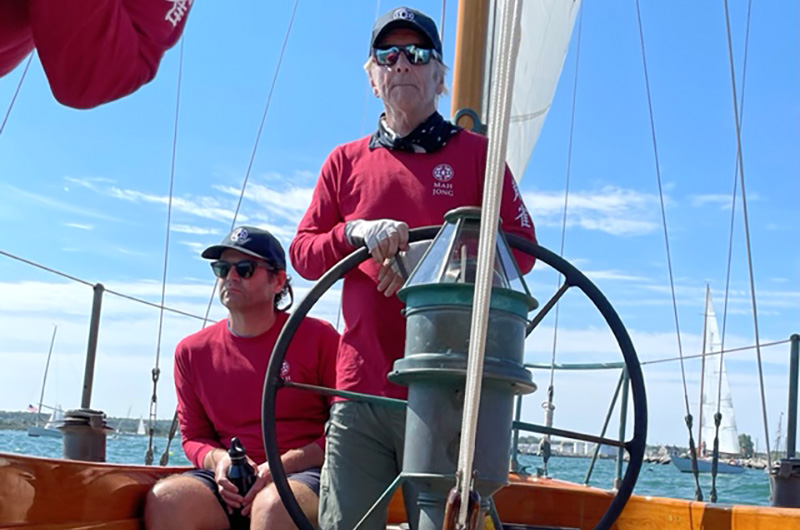 "Where would we be without Mah Jong?" his son Adam asked, after the anxiety of the start had passed and somebody began to count the resources that have gone into the boat.
For most of the four-hour race, Pat drove. Capt. Alex Goldhill managed sail changes and generously advised Pat on how to steer to make her go faster. When there were critical decisions to make, like which sails to put up and which to pull down, or which course across the Vineyard Sound was fastest, Alex and Pat eventually asked Zoltan (Zoli) Clarke for the final word.
"I thought this was a democracy. I don't want to talk about it," Zoli said with a smile, tired of people asking him to make tough decisions in general.
Some of the most challenging parts of Mah Jong's three-year restoration were structural metal pieces connecting the keel of the boat to the frames in the hull. Zoli's exceptional skills as a metalworker ensured this work happened on site in Vineyard Haven. The bronze floors he made hold the boat's spine together, so when her tall rig lays her over in the water and she pounds into the ocean, her 65-year-old planks do not leak.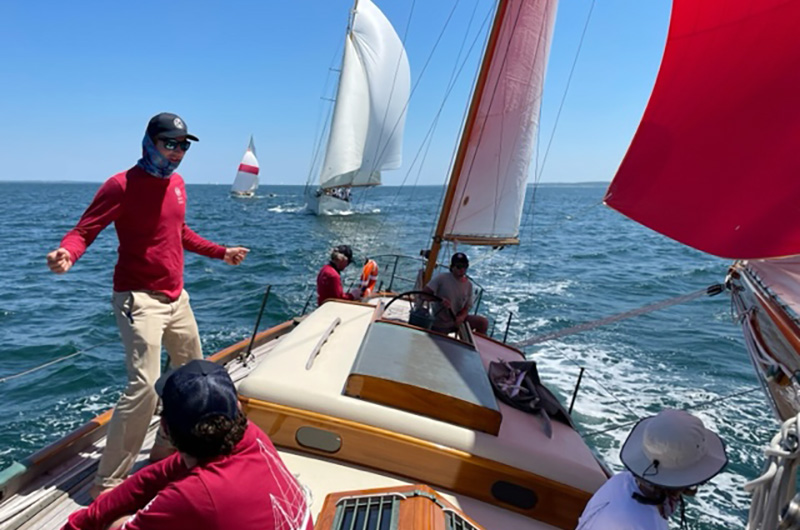 As the yawl beat back toward West Chop at the end of the day, it was hard to tell whether we were ahead or behind. All the boats carry different handicaps and we were in the middle of the pack. The Blue Peter, a 65-foot cutter, owned and driven by Pat's son-in-law Matt Barker, nearly caught us at the finish line.
"We definitely beat Matt," Pat said, after we had the sails down.
He couldn't have been happier as he poured tequila shots for his crew.