The sweltering heat at the Agricultural Hall last Saturday made clear the real pecking order of the Island. While human "owners" stood baking in the sun, their panting dogs took a splash in cool kiddie pools filled especially for them.
At the Martha's Vineyard Animal Shelter's Celebration of Pets, every dog had its day.
"This is our first year at the Ag Hall" said shelter manager Lisa Dawley, who brought her golden retriever Nellie to the event. "We are hoping for a really huge turnout."
Her wish was granted. Dozens of furry friends, large and small, mobbed the field, though the heat precluded an appearance from the Island's sheep, and an avian flu scared the birds.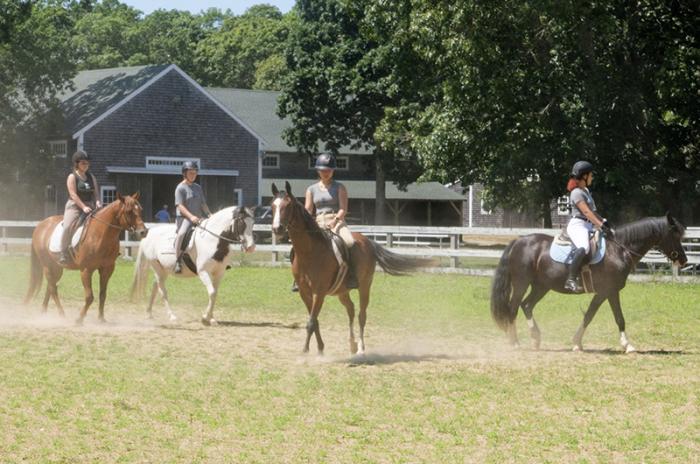 The meeting of beasts went largely without a hitch though some friction was inevitable: Piper, a terrier mix puppy, didn't know what to make of award-winning alpacas Hotshot and Leonardo and deployed a few nervous woofs at the largely indifferent camelids.
But these meetings are part and parcel of an event that aims to bring together all the Island's residents.
"We are here to serve the entire Island community and this is about the entire Island," said shelter board member and co-founder Diana Dozier.
By finding forever homes for Island pets, among other initiatives, Ms. Dozier believes that the shelter serves all Island community members, human or otherwise.
The first event of the day, a performance by the Misty Meadows drill team, exemplified this spirit of collaboration. In it, four young riders expertly guided their demure steeds (two chestnut, one dark brown and one mottled white) into flowing geometric paths, mirroring and intersecting each other in cantor and trot.
"They make it look easy but it really isn't," said mounted archery instructor Annie Parsons, explaining the origins of drilling in medieval cavalry exercises.
Ms. Parsons came to the event in her capacity as owner/handler/assistant to Tony Smalls, aka Tony the Pony, a noted Island performer, artist and miniature horse. Tony demonstrated his painting skills to a crowd of adoring young fans, after which the artwork was sold, raising money for the shelter.
Island dog trainer Karen Ogden also put on a show of beastly talents, presenting a demonstration of "canine nose-work."
"It's one of the fastest growing sports in the country," she said, noting it has grown by more than 20,000 dogs since 2010 when she registered her first dog.
The competitors included a basset hound, two golden retrievers and a rough-coated collie, all of whom successfully located each scent hidden among a field of scattered garden and outdoor items.
But every dog, and indeed every animal, was a winner that afternoon regardless of whether they competed. Every animal present received a ribbon. This point was emphasized in the climax of the day's events, the Blessing of the Beasts, officiated by Rabbi Caryn Broitman and the Rev. Cathlin Baker, who sermonized on the role of animals in their religious traditions.
Rabbi Broitman began with a story of Moses lovingly carrying a wayward lamb back to the herd, a signal to god that he was ready to become a leader of men.
"In the bible, human beings were created last," she said, "because we don't want human beings to be so proud."
Ms. Baker continued with a story of St. Francis of Assisi, whose feast day is celebrated by a blessing of the animals, reconciling a village with the hungry wolf who terrorized them. After a stern talking to, the wolf promised to do better.
Ms. Baker finished with a quote from St. Francis: "If you have men who will exclude any of God's creatures from the shelter of compassion and pity, you will have men who will deal likewise with their fellow."
After a short blessing, the panting dogs and sweating humans retreated to air-conditioned cars, hopefully bringing a new appreciation for each other with them.