Quick wit and playful banter between hosts Seth Meyers and Sherry Truhlar, as well as an extensive assortment of unique experiences, fueled the bidding at the 44th Possible Dreams Auction on a scorching-hot Sunday evening.
Just how hot was it? Mr. Meyers exchanged his blazer for a polo shirt halfway through the auction.
Possible Dreams is the largest fundraiser for Martha's Vineyard Community Services (MVCS), routinely bringing in hundreds of thousands of dollars to support a wide variety of social services around the Island. The event took place at the Winnetu Oceanside Resort in Edgartown, owned by Mark Snider, a longtime supporter of the organization.
"It's a critical part of the community here," Mr. Snider said of MVCS. "We are absolutely delighted to be a part of such a great tradition."
Sunday's event raised more than $670,950 for community services, said Barbara Bellissimo, vice president for development and marketing for the organization.
"It is a big number compared to years previous," ms. Bellissimo said the next day. "I've only been at MVCS since 2018, but to put the number in context, in 2020, when we were 100 per cent virtual, we raised $272,000 and last year we raised $480,000. This year is a big jump and it's largely due to the new members on the committee, who have broader connections to donors. It's also a testament to Seth and his commitment to the event."
"This money goes directly towards funding two of our most essential programs, our counseling services and early childhood care," Ms. Bellissimo added.
The highlight of the night was the live auction featuring one-of-a-kind experiences up for bid, such as tickets to Carly Simon's induction into the Rock and Roll Hall of Fame and an extensive tour of the Sperry Top-Sider factory in Waltham, complete with the creation of a custom shoe.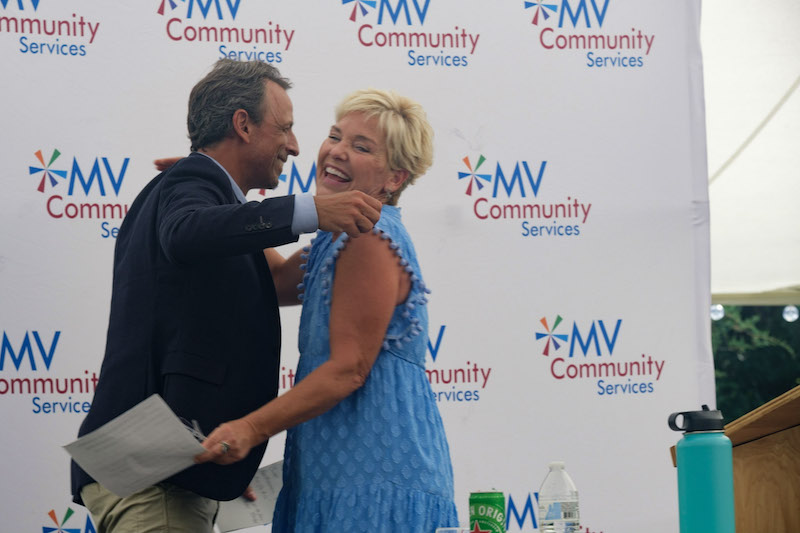 Dinner with Mr. Meyers, comedian Amy Schumer and their families was the night's most popular package, which went to a private bidder for just over $50,000.
Brian Athearn, president of the Martha's Vineyard Agricultural Society, offered a sneak preview of the 160th Agricultural Fair, including unlimited rides for four kids and the inaugural ride on the Ferris wheel.
"The services this organization provides touches each and every person on the Island," Mr. Athearn said, who actively rallied support during the live bidding, adding sweeteners as the bids climbed higher.
Mark Cronin, creator of the Emmy-nominated reality show Below Deck, donated a cruise in the harbor with some of the show's cast to the silent auction. Mr. Cronin said he is passionate about the services that MVCS provides for the Island community.
"We desperately need these programs, especially after the last couple of years," Mr. Cronin said. "Our collective safety net is always under threat, we need [MVCS] to make sure the Island remains vibrant and authentic."
Former United States attorney general Eric Holder was also in attendance, there to offer a one-on-one lunch as part of a package nicknamed D.C. Power Play. The package included prime seats in the Capitals owner's box, as well as a ride on the hockey arena's Zamboni.
Mr. Meyers, now a seasoned veteran of the fundraiser, remarked that even though the evening was far hotter than it had been in previous years, hosting the event remained a highlight of his summer.
"It is so lovely to get a sense of the people behind this organization, and to see so many people come out on such a hot day," said Mr. Meyers.