West Tisbury was the place to be for the 160th annual Martha's Vineyard Agricultural Society Fair, where a blend of old and new kept crowds entertained from August 18 to 21. More than 40,000 people took part in the summer tradition over its four-day run.
"It's the biggest party on the Island," said Agricultural Society president Brian Athearn. "It went off without a hitch."
Here are the highlights from Gazette reporters and editors: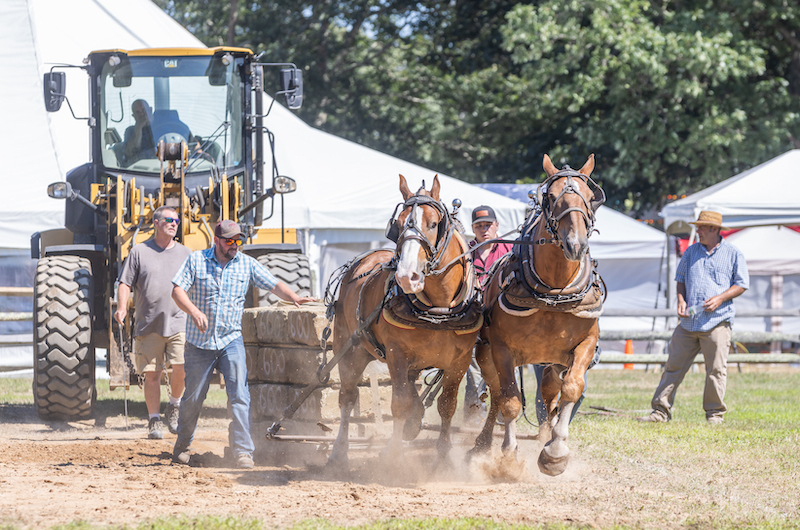 What's New
This year saw the advent of new fairgrounds technology. iPads at kiosks replaced the old ticket booths, dispensing QR-coded wristbands with the electronic whir of an airport parking machine. Cash reserves were no longer the necessity they used to be; you could pay your admission with a credit card and buy your candy apple with ApplePay. (If you wanted to try your luck at darts, or the water-gun race, or whack a frog, you still needed cash). In place of trash cans, the Ag Society set up waste-sorting stations, turning popcorn into compost and soda cans into — well, more soda cans, I think. - Noah Glasgow
The fair reflects the Island's values in so many ways — not just in the animals, special foods and handmade works found there. The islandwide commitment to environmental sustainability and climate change action was also highly visible this year. Under each green tent bearing the Island Grown Initiative logo, gloved volunteers sorted food plates, drink cups and all matter of debris into containers labeled landfill, compost and recycling. The result was a sobering depiction of where garbage goes. All around the fairgrounds, Vineyard Conservation Society's signs for free water refills could be found, as could separate tents with huge jugs of bottled water that visitors could use to refill their own reusable bottles. - Elizabeth Bennett
The Entertainment
The music tent kept fairgoers shaded and music-lovers happy throughout the weekend, with sets by popular Island groups including Johnny Hoy and the Bluefish, Mrs. Biskis, and Mark and Molly.
On the midway, shrieks of excitement came from above as fairgoers took to the air aboard carnival attractions like Cliff Hanger, which bore riders aloft in the classic arms-front Superman position, or Moby Dick, with its graffiti-style white whale angrily eyeing passengers as they rose, fell and laughed.
Higher still, the Ferris wheel rotated its gondolas into the sky above the treetops for an unparalleled view of the fair below and the Island beyond, before bringing riders back to the heat and dust of Earth.
On Saturday, most lines moved quickly. The operator of the Round Up obligingly ran the ride for just three teenage girls, who strapped into equidistant positions around the ring before it began to spin and rise, pressing them against its walls with centrifugal force. - Louisa Hufstader
The Exhibitions
The animal barn drew a steady stream of visitors to stalls with piglets, goats, cows with their calfs and other Island-reared livestock, many with colorful information cards drawn in children's handwriting. There were more drawings in the chicken cages. Following avian flu outbreaks off-Island, the fair banned live birds this year, inviting young chicken-keepers to picture their poultry instead.
More artwork — from fashion design and needlework to sculpture, photography and painting — was displayed in the exhibition hall. The Athearn family of Chilmark collected ribbons in a variety of categories. Zeb Athearn, 13, earned a blue in the junior division for his Greek Weapon of War, a hefty crossbow that looked like it could take down a flying dragon.
The weapon has been test-fired, but needs further calibration post-fair, his mother Meg Athearn said.
Ms. Athearn herself won a second-place ribbon for her homemade butter, which she made in a slightly non-traditional manner.
"It was shaken in a jar on the way to work," she confessed.
Her husband Dan Athearn continued the family tradition of racking up blue ribbons for, among other things, a cow and her calf raised on the family farm, while the couple's nine-year old daughter Penny earned blue for a vegetable sculpture and homegrown grapes and her sister Clara, 16, took home blue ribbons for both a pie and an insect collection, and also performed on horseback with the Misty Meadows Equine Learning Center drill team.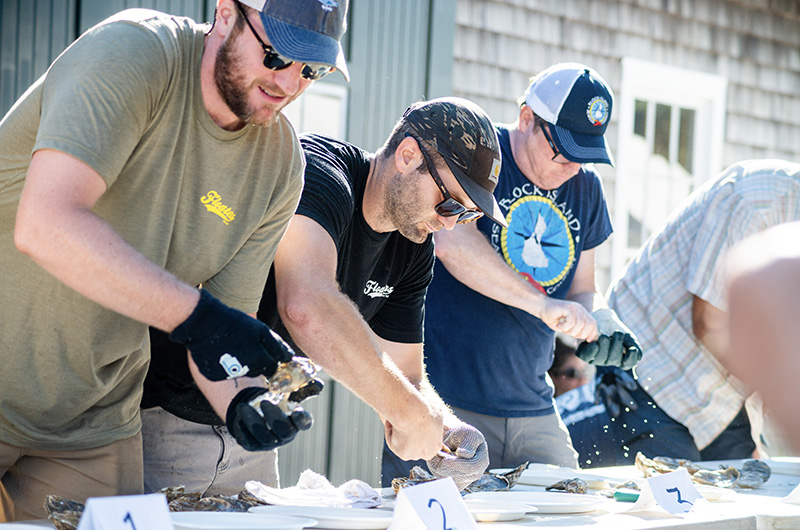 The women's skillet toss is a family tradition for Lucy Dahl of Edgartown and her two daughters, Chloe and Phoebe, whose grandparents were author Roald Dahl and longtime seasonal Edgartown resident Patricia Neal, the Academy Award-winning actress.
After practicing in her mother's yard the previous day, Chloe Dahl hurled the regulation cast-iron pan to victory Sunday afternoon, with her older sister Phoebe also turning in a respectable performance, their mother said.
"We were very proud of ourselves," Lucy Dahl said. "And we had a great time."
The elder Ms. Dahl was disqualified after an enthusiastic toss that threw her off-balance and over the toe line.- Louisa Hufstader
Care for the environment was on the minds of local residents who created eye-catching displays with important messages. Friends of Sengekontacket built a three-dimensional shark of plastic nips bottles, aluminum cans, suntan lotion bottles and many other types of debris that washed up on the pond's shores. A display made of nylon fishing net and proclaiming "Keep our Ocean Clean!" occupied a half-wall of space in the hall. The entry was created by children from First Light Preschool in Vineyard Haven and depicted colorful fish and sea creatures caught in the net. This display in particular pointed to the fact that Islanders start their consciousness of the Vineyard's fragile ecosystem from an early age. - Elizabeth Bennett
By comparison, other fairground traditions look more rustic than ever. Saturday saw myriad displays of woodsman's skills such as the bow saw race, in which it takes contestants less than a minute to chew through a large pine beam. In the garden tractor pull, contestants jump up and down on their miniature tractors in a desperate bid get some traction on the event's slick concrete racing pitch. - Noah Glasgow
The Food
West Tisbury suspends its no fast-food bylaw for the fair, where other local booths included Chef Deon's, serving conch fritters and other Caribbean fare; the Golden Bull Steakhouse and Nina's Dine-N-Dash, with Brazilian food; and two of the Island's busiest food trucks, Josh Aronie's The Food Truck and Goldie's Rotisserie, owned by Lexie Roth and Eva Faber.
On Sunday, with the fair in its final hours, the longest line was for burgers and fries at the West Tisbury Firefighters Association stand, where a red and white lightbar pulsed atop the booth and a bell rang out whenever a customer kicked in an extra donation. - Louisa Hufstader
The Community
West Tisbury Fire Department volunteers were also set up at the fair's parking lot, where parking proceeds are split 50-50 between the agricultural society and the fire department's scholarship fund. Assisted by members of the Vineyard Hockey team (many of whom qualify for the scholarships through their service), the firefighters kept traffic moving and raised funds for their scholarship program, which notably follows its recipients throughout their college careers, not just their freshmen year. The gatekeepers also showed mercy to a recent washashore whose replacement ATM card awaits him on his next trip to the mainland. Not unrelated: Donations to the scholarship fund can be made to the West Tisbury Firemen's Civic Association, P.O. Box 211, West Tisbury MA 02575. - Brian Boyd
West Tisbury police chief Matt Mincone reported a smooth, safe weekend at the fair. There were no injuries or arrests, traffic was busy but manageable and most items turned into the lost and found were reclaimed within an hour, Mr. Mincone said.
"The whole thing was a good, safe family event," Mr. Mincone said. "Brian Athearn...and I collaborate really well and I'm happy to say it was another good event." - Zach Harris
"I have never been a part of something that was so special as working with the people who pulled this all off," Brian Athearn said the day after the fair. "Everyone pulled 10 times their share and we had 10 times the fun."
He described the fair as one for the record books thanks to participation from a community that was eager to come together.
"Everybody was ready for it. Everybody needed it. We had it," he said.