New coaches and young teams have begun to set the pace for Martha's Vineyard Regional High School athletics, as players take to the field once again in the fall pre-season.
"We're looking forward to playing," athletic director Mark McCarthy said. "Hopefully Covid won't have as big of an impact as it did last year."
This season will be the first on the Island for new head football coach Tony Mottola, a former member of the Las Vegas Raiders coaching staff.
"It's going to be fun to watch," Mr. McCarthy said. "The kids are excited about what coach is bringing to the program."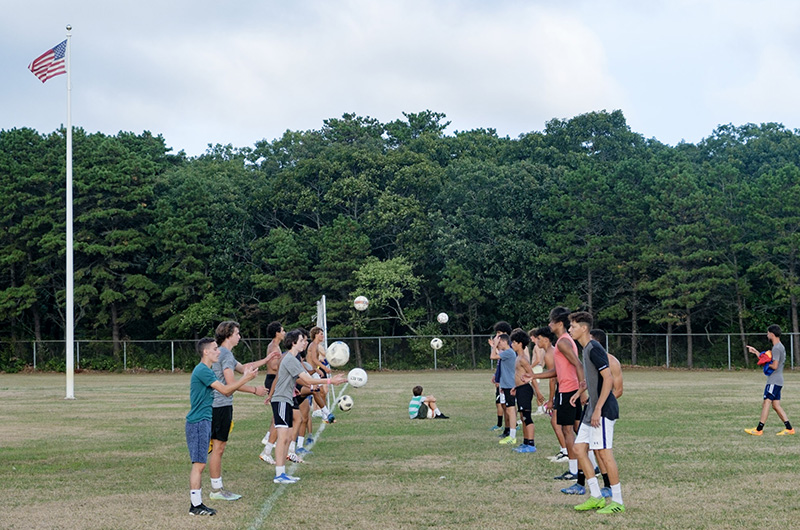 The team has a 10-game schedule starting with an away game on Sept. 10 at Sutton High School. Vineyarders can get a preview of the squad this Saturday, Sept. 3 when the team hosts Brighton High School for a scrimmage beginning at noon. The Vineyard Cup is scheduled for Oct. 29, with the Vineyarders looking to use home field advantage to avenge last season's loss to the Nantucket Whalers.
Mr. McCarthy said the change in leadership has led to a new system and new style of play for the team.
"It's going to be a different game than what you're used to seeing," he said.
The girls varsity soccer team also has a new head coach this year, although it is a familiar face, both on the field and in the school. High school adjustment counselor Matt Malowski moves up from his role as assistant coach to head coach. At an early morning practice this week, Mr. Malowski said the team has strength in numbers this year.
"We have a huge squad," he said. "We had something like 55 players try out."
In addition to a healthy amount of young players, Mr. Malowski said there are eight seniors returning to help set the tone.
"We've got some really strong returning players," he said. "The future looks bright."
The first game of the season for girls soccer is Tuesday, Sept. 6 at O'Bryant High School.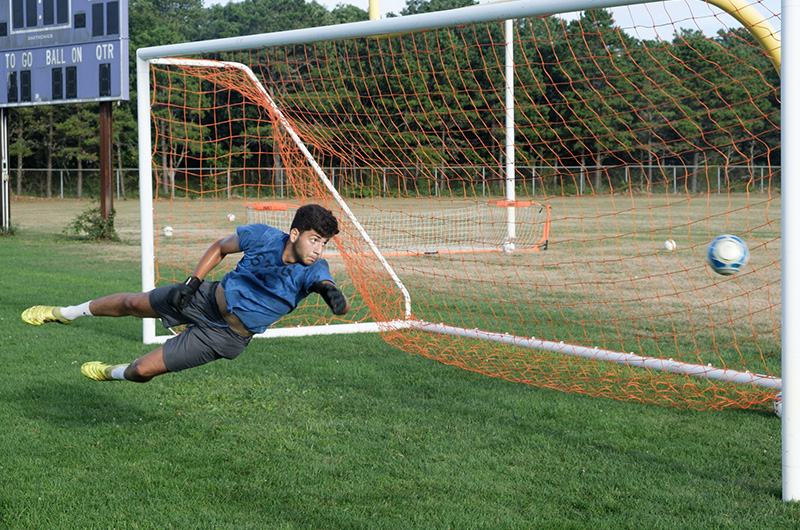 Boys soccer coach John Walsh said the team this year is small, but skilled and fast. He said he's looking forward to seeing his strong core of seniors make waves throughout the season.
"I think we have a chance of making some noise in the tournament," he said.
The boys soccer season begins with a home game against Sandwich High School on Thursday, Sept. 8.
On the golf course, Mr. McCarthy said the team has a strong core under longtime head coach Doug DeBettencourt.
"Looking forward to contending for a state [tournament] berth," Mr. McCarthy said.
The golf team's first competition is an away match on Wednesday, Sept. 7 against Sturgis Charter School East at the Old Barnstable Fairgrounds Golf Course.
Mr. McCarthy said that this year's cheer team has 20 members, signaling a growth in the sport on the Island.
"That's actually one of the biggest cheer squads we've had in a while," Mr. McCarthy said.
For the field hockey team, a large group of returning players should lead to a competitive season for head coach Becky Nutton. She said a strong culture has been built with the team's seniors since she began coaching four years ago.
"We have a really strong class of leaders," Ms. Nutton said.
She added that the team is looking to win the Lighthouse League this year. Ms. Nutton said the competition to win the four-team league will likely be between the Vineyard and Nantucket.
"Now is their time," she said. "They have no reason not to be confident."
The field hockey team opens their season away against Nauset on Wednesday, Sept. 7.
Rounding out the fall athletics program at the high school, the boys and girls cross country teams will work to rebuild under head coach Joe Schroeder after losing a strong core of seniors. Last year, the boys cross country team placed ninth at the state championships. The girls team sent two runners to the meet.
"Cross country is smaller this year compared to previous years," Mr. McCarthy said.
The first meets of the season for both cross country teams are at home against Norwell and Brockton on Sept. 10.
Headed into the first games, meets and matches of the season next week, Mr. McCarthy said the outlook is bright for Martha's Vineyard Regional High School athletics.
"I think it's going to be a fun fall," he said. "It's going to be exciting to watch the kids play."