Every September for the past 27 years, Bill Miner has hung a purple Go Vineyarders banner on the front porch of Sports Haven, his Vineyard Haven store. It greets every car and pedestrian going by, celebrating the new sports season and the players, many of whom Mr. Miner has helped outfit in uniforms and cleats, socks and shin-guards, mouthpieces and helmets.
But this year, in block red letters, the banner reads: Store Closing Sale.
In August, Mr. Miner said he found out that store's lease would not be renewed.
"We're not sure what we are gonna do yet," Mr. Miner said in a recent interview at the store, which sits across the street from Main street.
He added that he is in the process of looking for a new location, both for the store and for housing as he and his wife and their dog have been living in the little cottage behind the store for some years.
"I've been in the sporting goods business for a long, long time," Mr. Miner said.
The property is owned by Doreen Kinsman, but her daughter, Kristina Kinsman said she and her husband Gary Maynard took over after a health crisis last year caused her mother to require an in-home health aide. In evaluating the condition of the store and the cottage, they found the cottage in particular in need of major renovation.
"If we don't redo it, it's going to be condemned," she said.
Kristina Kinsman said she notified Mr. Miner of a need for a rent hike to account for these issues, along with added expenses for her mother's medical care, but he was unwilling to pay the increased rate. "I wish we could've come to terms," she said, "but I really am just trying to do what's best for my mom."
Mr. Miner said he opened his first shop in Medfield back in 1977. While on vacation to the Vineyard in 1994 he noticed the extensive biking trails and thought they would be perfect for in-line skating, a booming sport at the time. The next summer Sports Haven In-Line Skates was born in a pop-up trailer while the Miner family stayed in the old Webb's Family Campground. In 1996, the Miners settled on their current location, soon expanding into general sports supply.
Mr. Miner said he continued to operate the shops in Medfield and the Vineyard for 10 years, then moved to the Island full-time in 2006, focusing solely on Sports Haven, and raising four kids with his wife Caroline.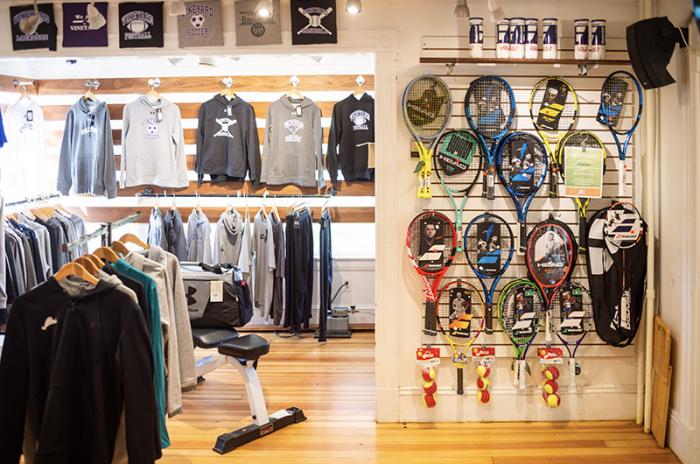 He quickly became part of the sports community, both in the shop and on the field with his children.
He fondly remembers a "Michael Jordan" moment for his daughter Heather when she missed the cut for the regional high school field hockey team. Later she got the chance to play in coach Lisa Knight's summer league alongside future all-American Liane Dixon.
Mr. Miner said the experience Heather gained while rising to the challenge of defending against Ms. Dixon led to her making the high school team the next season, and eventually became her college team's captain.
Inside, the store is a virtual hall of fame wall, a testament to all the sports teams Mr. Miner has sponsored over the years.
"I got to know a lot of different people and that was one of the best parts of the job," he said.
Mr. Miner said he also stepped out from behind the register to become an Island sportsman. At the park one day he chanced upon the local ultimate Frisbee league, full of college kids in much better shape than he was.
"I was watching for half an hour and they started to say, 'come on come on out' and I was like 'Me? You're talking to me?'"
He later got involved in organizing the league and always tried to recruit soccer players to his team, who he said were the best runners.
Even outside of sports, though, Mr. Miner has come to love the Vineyard.
"I really feel like there's a sense of community here more than anywhere else off-Island."
The sailing, he said, was also a plus.
"Sometimes you work a job for so many years and you wonder if people even care about you," he added. "But the support we've gotten since this has come out has been overwhelming."
Sports Haven will host a customer appreciation open house on Sept. 25 from noon to 4 p.m., along with a cookout, giveaway and fundraiser for the Red Stocking Fund.