On Saturday afternoon at the Edgartown Lighthouse Children's Memorial 49 new stones honoring a child's life were added to the 998 stones encircling the lighthouse, and 49 grieving families were greeted with open arms.
Everyone received white carnations to place upon the stone memorializing their child. Many brought brushes and sharpies to sweep away the sand and highlight the names of their children.
As the group gathered, Charles Rus, a member of St. Andrew's Church in Edgartown, played the keyboard, providing gentle and contemplative music.
Some families added personal memorials to their stones: a favorite sports jersey, a photograph, a cherished drawing, a set of painted shells, a graduation cap. Siblings young and old helped with the displays, and many babies were in attendance.
Heather Seger, executive director of the Martha's Vineyard Museum, which is the steward of the lighthouse, spoke to the crowd.
"If you see someone new, put a hand on their shoulder this afternoon. I know how much it means to them."
She then read New Light, a poem written by dock builder and Edgartown poet Steve Ewing.
Rick Harrington, who founded the event after his son Ricky died in 2001, had a similar message for the families.
"Take a moment with that person next to you, give them a hug, and tell them you love them," Mr. Harrington said.
Mr. Rus followed the remarks with an understated performance of Eidelweiss, while many tears were shed.
Ms. Seger concluded the event, though she encouraged attendees to linger for as long as they wanted to.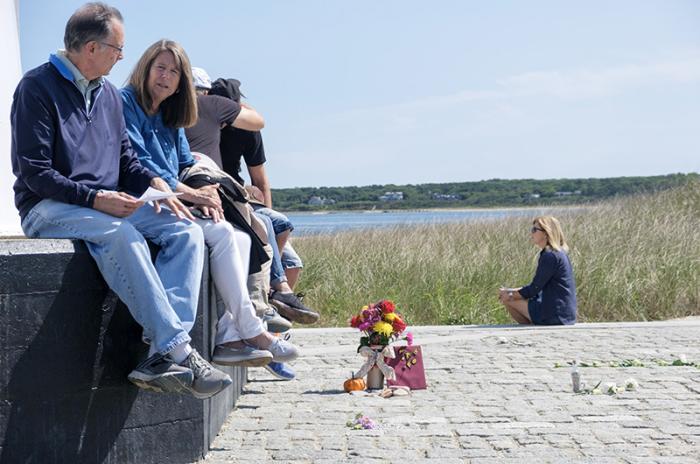 "The museum's job is to help people remember," she said. "And each of these stones is a story. Let this be a beacon, a place of light, comfort and memory."
The following are the names added to the memorial this year: Dylan Adam Antone, Jeremy Edward Baratka, Henry Leo Braun, Jr., Sean "SJ" Breen, Stephen Brown, Elijah Allan Carr, Ruth & Riley Ceglarski, Lauren Jean Chabot, Harry "H-Man" Clark, Noah Compton-Meyer, SW Jake A Conserva, Christian Couto, Ryan Michael Creeden, Jesse Michael Creeden, Callum MacNeill Davis, Lena Irmela Fitzgerald, Evelyn Elba Franklin, Kai Ronan Ger-ardi, Elizabeth Gordon, Kelly Elizabeth Haines, Emma MacKay Hall "Seal Pup," Marilyn Han-bury, Jax & Julian Hermanson, Lawson Allen Howard, Jacob Sumner Jaffe, Amaya Jeneé John-son, Logan Asher Kinkin, Donovan P. Krauss, Kyle Lemire, Joseph Lenin Liriano, DeWitt Clement Littleton, Michelle Miller Mann, Owen Barlow Moriarty, Amber Pearl Morrow, Sean Reagan, Danielle A. Reszenski, Whitney "Beans" Sanson Sherman, Preston Blair Settles, Baby Boy Sharpe, Stephen Shea, Danny Sheehan, Carter James Sylvestre, Alexander Robinson Tyler, Derek Conor Winton, Steven Zichichi, Matthew Zonghetti.