Martha's Vineyard Regional High School new football coach Tony Mottola doesn't bark at his players during practice. When they make mistakes he holds a quick one-on-one, encourages a few corrections, and resets the offensive line.
"That's it, that's it, good," the first-year coach called out to the team during practice recently.
The team opened the season with two away games, but plays at home this Friday night against Monomoy Regional High School.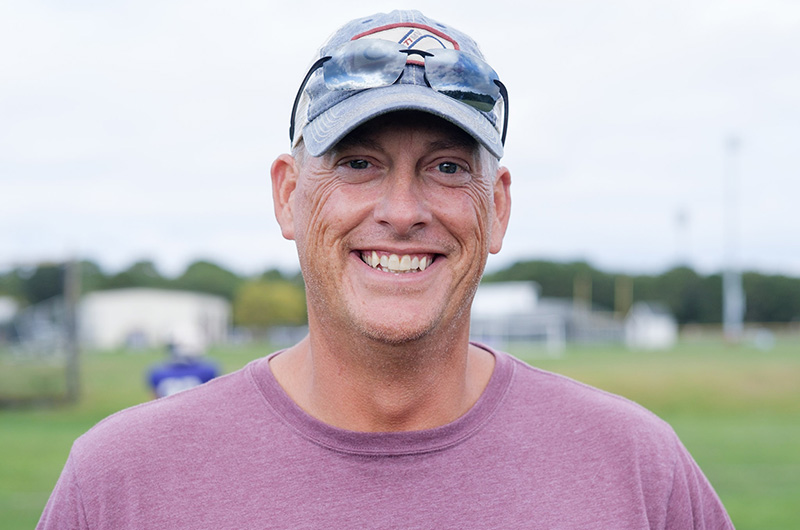 Mr. Mottola takes over after longtime head coach Don Herman's second retirement last season. His experience coaching football is wide ranging, spanning colleges, prep schools, professional leagues and a stint with the Las Vegas Raiders.
But speaking with the Gazette during practice Tuesday, he said the Vineyard has offered him an experience that feels brand new.
"Everything is different and very, very unique," he said.
Heading to away games via ferry is one among a long list of new experiences, he said. After coaching in northern New Jersey for the last 13 years, he was used to traveling only by bus.
And he's learning from his players how life moves on the Island.
"They're used to it," he said. "For me it's a change."
Answering questions about the strengths of the team and his top priorities of the season, Mr. Mottola brought up leadership, cohesion and cultivating a culture of trust.
Zeke Vought, a member of the team's coaching staff, said Mr. Mottola's style has already begun to resonate with players.
"He's relationship first," Mr. Vought said "And he just happens to be their football coach as well."
Within the walls of the high school, Mr. Mottola teaches physical education and health classes. He said the classroom is another opportunity to share life lessons and build relationships with students.
"It's those types of relationships that we're really trying to [use to] build the foundation," he said. "It's a life thing, and it's a relationship thing."
On the field, Mr. Mottola said the team is focusing on fundamentals. With a 50-player roster, he said there's ample space for growth, and leadership has come from all sides of the ball.
"We're constantly just teaching the game," he said. "And hopefully building a passion for it."
The Vineyarders have lost both of their first two games this season but Mr. Mottola said the team goes into each matchup with a winning mindset. He said he feels confident about Friday's game against Monomoy.
"They always have a good game plan," he said. "We go in confident every week."
He added that the Vineyarders already have their eyes set on the Island Cup against Nantucket on Oct. 29.
"There's a lot of alumni on both Islands that the game means a lot to," Mr. Mottola said. "To be a part of that is second to none."
Mr. Mottola said that when he is away from the football field and classroom, he spends his time immersing himself in Island culture. And part of that culture is housing insecurity. He and his girlfriend have moved four times since they arrived in August. Now they are settling into housing that will take them through the end of the school year.
"You're always looking, I guess," he said. "You've gotta stay two or three steps ahead."
Mr. Mottola had no prior relationship with the Island before moving from north Jersey but he has already found overwhelming community support. He said the pace of life and views aren't half bad, either.
"We knew what we were signing up for. We wanted to be a part of the Island."