The stars were still bright when participants gathered at Bend in the Road Beach at 5 a.m. Saturday morning for the fifth annual Darkness into Light Suicide Prevention and Awareness Walk.
And then another group of constellations appeared as people lit candles and huddled together on the blustery morning.
The event aims to break the stigma of talking about mental health isses and suicide, and each year draws over 100 people. It was founded in 2018 by John Murray and Maria Ventura. Over the course of the walk, the sunrise acts as a metaphor for journeying through the darkness of mental illness.
Before starting out a few speakers talked about their own experiences with suicide. Chrissie McCarthy, who survived a suicide attempt, urged people to remember that they are not alone and to reach out for help.
Local writer Crispen Haskins, another survivor, emphasized all the things he might have missed if his attempt had been successful.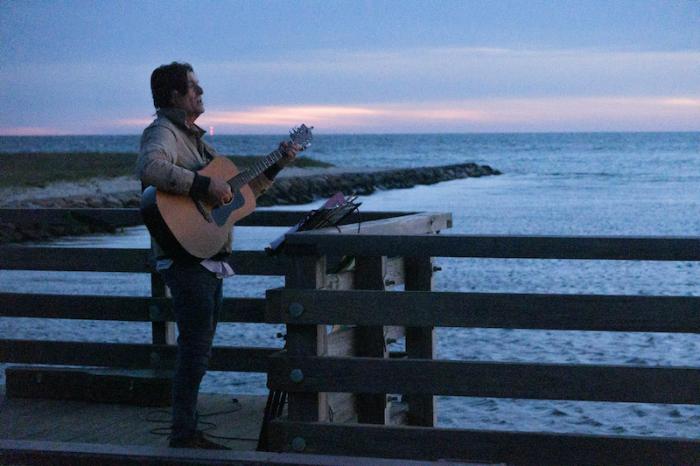 "All I can think is what a shame it would have been if something had stopped me from seeing my dreams come true," he said. "It's so important that people understand that we matter. We matter to people in our lives and to people we haven't even met yet."
Gina Williams, sister to Ms. Ventura, talked about her own experience with her father's suicide 16 years ago, and her family's continuing battle with mental health.
She addressed the crowd: "You are so loved. Despite every quirk, personality trait or poor decision that you think makes you unlovable, you are truly, unconditionally and immeasurably loved."
David Araujo, a mental health counselor, then outlined some warning signs for suicide (including talking about the act, a change in mood and withdrawal from people), and named local and national suicide prevention hotlines.
The walk started just as dawn was rising and the crowd headed down to the turnaround point at Big Bridge. On the bridge, Rev. Greg Bar (Beacon of Hope Church) strummed the guitar.
Heavy winds precluded walkers from traveling on the beach as usual, but the sky was clear and the sunrise a cool gradient of orange and yellow. Beach grass swayed in the wind.
When the walkers had returned to Bend in the Road the music shifted from somber to joyful. Ain't No Mountain High Enough faded into Here Comes the Sun as walkers warmed themselves with coffee. A few ventured out to watch the surf at State Beach and were greeted by a sign, spelling out in lighted letters: "Hope."
Local and national suicide resources:
Samaritans of Cape Cod Crisis Hotline: 988
Bay Cove: 1 (833) 229 2683
Veteran crisis line: 1 (800) 273 8255
Youth Crisis support free text: 741 741
NAMI Cape Cod: (508) 778 4277
Trevor Hotline for LGBTQ Youth: (866) 488 7386