With music, speeches, flowers and resounding cheers, the Martha's Vineyard Regional High School and the Island-wide school system celebrated English language arts teacher Danielle (Dani) Charbonneau, who has just been named the Massachusetts Teacher of the Year.
Tuesday afternoon's announcement drew a wall-to-wall crowd of jubilant students and teachers — as well as state education commissioner Jeffrey C. Riley — to the Martha's Vineyard Performing Arts Center for a ceremony honoring Ms. Charbonneau, who is now a finalist in the National Teacher of the Year awards competition.
"Here in Massachusetts, we have over 400 school districts and almost 80,000 teachers," Mr. Riley told the audience.
Gov. Charlie Baker's office also issued a statement today saying that the Massachusetts Teacher of the Year Program is the state's top award for educators and that Ms. Charbonneau is the first Martha's Vineyard teacher to win the award.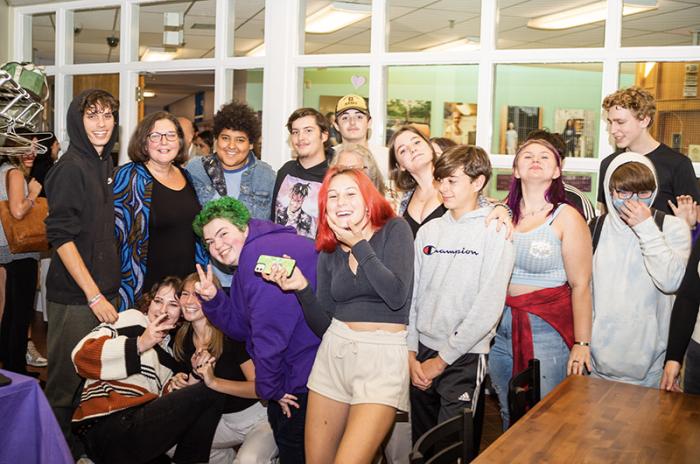 An 18-year educator originally from Falmouth, Ms. Charbonneau learned earlier this year that she was a finalist for the award, after completing a complex, multi-step series of qualification and documentation.
"It's really an onerous process," Mr Riley told the crowd, before introducing Ms. Charbonneau to thunderous applause.
"This is definitely as close as I'll get to winning an Oscar," Ms. Charbonneau said after stepping to the podium, thanking her parents, wife Ellen Muir and their two sons for their support.
"This is their moment, too," Ms. Charbonneau said.
"Teachers, even great teachers, aren't promised moments like this, so this is for all the teachers," she continued.
"The people I have to thank the most are right here, my students," she said, as cheering resumed.
Her students are why she gets up at 4 a.m. to commute with Ms. Muir from their home in Barnstable, said Ms. Charbonneau, who directs the high school's Project Vine alternative program and teaches creative writing at the high school — a full five classes in all.
"It's simply the best job I've ever had," she told the crowd.
With just 30 students, and another six on the waiting list, Project Vine provides small classes and individual attention for teenagers who are not at home with the larger high school environment, Ms. Charbonneau told the Gazette at a reception in the school's culinary arts center after Tuesday's ceremony.
Project Vine teachers remain with students for the length of their time in the program, which can begin in the second semester of freshman year and continue through graduation, she said. They also build community through out-of-classroom experiences such as a three-day trip to uninhabited Penikese Island this week, she added.
It's a model that could benefit many more students across the state and country, Ms. Charbonneau said, but most American schools don't offer it.
She said she is looking forward to using the award to speak on behalf of students with different learning styles, beginning with a speech to the state legislature in November.
Ms. Charbonneau officially begins her Teacher of the Year tenure in January.
"I do feel a real responsibility to talk about the power of alternative pathways in education, and there are ways that can be supported," she said.
"I'm not saying mandates," Ms. Charbonneau added. "My hope is to say something that inspires them to do what can be done on a legislative level to support alternative education at more schools than Martha's Vineyard."
Opening Tuesday's celebration at the PAC, music teacher Ray Fallon conducted a small big band of high school students in a driving rendition of Charles Mingus's mid-century jazz tune Strollin', followed by an a cappella Minnesingers performance of Vineyard High My Alma Mater directed by choir leader and performing arts teacher Abigail Chandler.
Mr. Riley praised the musicians and also acknowledged the high school's recent efforts to support the South American asylum seekers who involuntarily visited the Island earlier this month.
"At the end of the day, who we are as people comes down to these unexpected moments when we're challenged," Mr. Riley said, as the crowd applauded.