Last year across the commonwealth, the deer harvest was down 10 per cent. On the Vineyard, levels were much lower, with just 667 deer taken — a 28 per cent drop from the 2020 season.
As bow hunting season is set to begin on Monday, Oct. 3 the question of what to do about the increasing deer numbers is as much on people's minds as where the best hunting spot may be.
Martin Feehan, Massachusetts Division of Fisheries and Wildlife deer and moose project leader, said the lower take may be due in part to fewer people hunting. If lower harvests become a trend the seams could begin to wear on longstanding efforts to manage the deer population on Martha's Vineyard.
"The Island and Mass Wildlife have been working for decades to reduce the deer density on the Island," Mr. Feehan said. "We'd like to see them actually reduced from where they are [now]."
Because of the Island's deer density, by some estimates several times more than the statewide target of about 15 deer per square mile, the state has removed limits on the number of deer permits that may be allocated for the 2022 season.
"Effectively on the islands . . . there are unlimited tags," Mr. Feehan said. "Functionally they're unlimited for hunters."
On the ground, some local hunters feel the reduced take last year was because of a high availability of acorns, a main food source that if abundant allows deer to forage in a safe place.
"When there's a ton of acorns . . . they can kind of just mill about," said Ian Jochems, arborist at Polly Hill Arboretum.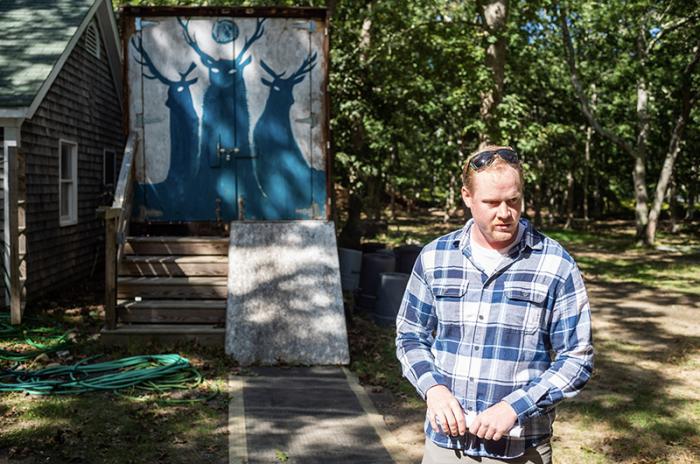 Mr. Jochems has until recently managed the public deer locker located on the Agricultural Society grounds. This year he has handed the reigns to Island tick biologist Patrick Roden-Reynolds.
Mr. Roden-Reynolds said he is looking to gain more insights into the Island's tick population through a close study of deer brought in during hunting season.
"I'm really interested in seeing how many lone-star ticks are on the deer versus deer ticks," Mr.. Roden-Reynolds said. "We'll see if there's a difference between towns."
Mr. Roden-Reynolds added that he may also send some ticks to Tufts University for testing throughout the season.
Tick information is becoming an essential concern to hunters as more diseases emerge. Island hunter and owner of MV Tech Brian Athearn said he's particularly worried about Alpha-gal allergies this hunting season.
"It's so active … it's scary," he said. "I'm nervous about it."
Alpha-gal syndrome is an allergy to a sugar molecule found in most mammals. The allergy can be developed through tick bites and causes an inability to eat meat or consume most animal byproducts, including gelatin and milk.
"It's gonna be a different season as far as safety goes," Mr. Athearn said.
Although tick research will be ongoing during the season, Mr. Roden-Reynolds stressed that his primary goal for the locker will be to further its use for hunters and Island organizations.
"For hunting, the hard work starts after you kill something," Mr. Roden-Reynolds said. "This just kind of alleviates some of that pressure."
The deer locker offers hunters a place to store their game for a fee, and accepts donations of killed deer that are later processed and given to Island organizations and food equity programs.
"It's gotten pretty chock-full," Agricultural Society facilities manager Christopher Lyons said earlier this week while standing in the empty deer locker. He and Mr. Jochems were at the locker to formally transfer the key to Mr. Roden-Reynolds and show the new manager the ropes.
"Treat it like you're trying to incentivize people to get out and hunt," Mr. Jochems said. "We're just trying to make this thing a community center around deer and deer hunting."
Mr. Athearn agreed that hunters form a community and that he is particularly excited about the strength of relationships being formed between hunters and landowners this season.
"The communication is ratcheting right up — it feels productive," Mr. Athearn said. "It's a real positive vibe this year."
Bow hunting season begins a half hour before dawn on Oct. 3, preceded by a statewide youth deer hunt day on Oct. 1. Bow season runs through Nov. 26, followed by the shotgun and primitive firearms seasons. Hunting is allowed on the Island Monday through Saturday, beginning a half hour before dawn each day and ending a half hour past sunset.