A lifetime of father-daughter fishing trips paid off on Sunday afternoon, when Elizabeth O'Brien won the grand prize Eastern boat with the first key, closing out the 77th annual Martha's Vineyard Striped Bass and Bluefish Derby.
"I want to thank the Derby, the volunteers, my family, my dad for teaching me everything I know and my mom for letting us go fishing whenever," Ms. O'Brien said, after embracing her family — including her mother and father — as well as other grand winners on-stage, still in disbelief that she'd somehow netted a bigger prize than the 19.3 pound bluefish that put her at the top of the tournament's leaderboard.
Ms. O'Brien went home with a 22-foot, SISU hardtop Eastern boat, compliments of the company, which serves as the Derby's grand prize sponsor.
The grand prize ceremony includes the six grand winners who top the leaderboard on the tournament's final day, from both boat and from shore. Since 2020, striped bass have been removed from the Derby in an effort to protect the species, leaving three fish categories: bluefish, bonito and false albacore.
Along with Ms. O'Brien, whose big bluefish topped the boat category, the group Sunday included Peter Crabtree (boat bonito, 10.86 pounds), Mark Campos (shore bonito, 8.36 pounds), Peter Hess (shore bluefish, 17.16 pounds), Mark Leonard (boat albie, 16.52 pounds) and Matthew Strem (shore albie, 13.28 pounds).
All six grand winners received $500, a Michael Blanchard gallery print and an original plaque commemorating their catches. But the winner of the grand prize Eastern boat is left up to random chance, with each of the six leaders vying to choose the right key that fits into a padlock, held in dramatic fashion by Derby committee president, John Custer. On Sunday, with the six leaders arranged on stage, Mr. Custer passed around two buckets; one to determine the selection order, the other to determine the keys.
Ms. O'Brien went first. Only one key had to be tried. The crowd went crazy.
The ceremony on Sunday marked the culmination of the Derby, which in its 77th year saw 3,131 entrants submit more than 19,000 pounds of fish over the course of its five weeks of competition.
Sunday's awards began just as they had for Ms. O'Brien and countless other prize-winning anglers: in the junior and mini junior divisions.
"We've had kids bring in some incredible fish this year," Mr. Custer said.
The strong showing, he said, is an assurance that the derby legacy will carry on to the next generation. He had to look no further than the grand prize stage Sunday to prove it.
Following a short break where the audience perused the day's raffle items, commissioner Mike Cassidy took the stage to introduce the main event. Though Mr. Cassidy lacked his trademark lucky fishing hat, he was dressed to the nines in a black overcoat and golden fish belt buckle.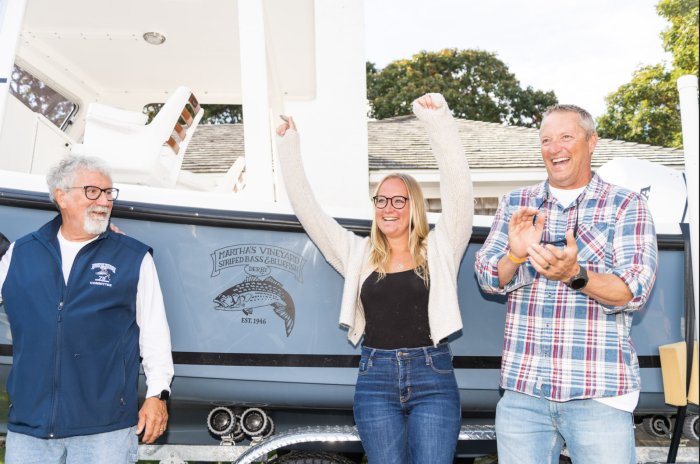 "I've been told I need some new material" he said, "I've worked really hard on it."
After consulting with commissioner Chris Scott, however, it was determined that he would not be allowed to do a Donald Duck impression (though the rule was immediately broken). He then turned things back to Mr. Custer.
"A year ago, I stood and said that I hope 2022 brings us closer to the full Derby experience," Mr. Custer told the crowd. "What a great feeling it is today…to know that this is fulfilled."
He reminded the audience of the derby's scholarship mission, for which it has raised $80,000 just this year and $843,000 since its founding.
He also took the opportunity to thank Greg Hopkins of Eastern Boats, donators of the award for the past two years, and previous longtime committee chairman Joe El-Deiry, a man who he described as "selfless, sincere and has a heart of gold," along with all the Derby committee members and volunteers who he said made the event possible.
Mr. El-Deiry and Mr. Cassidy reflected on their opportunity to work with the Make-A-Wish Foundation this year, bringing out 15-year old Finn Sears to fish in the Derby. He caught a full triple crown and later, with the help of veteran angler Cooper Gilkes, a 165-pound brown shark.
"This is why I do this," said Mr. Cassidy, holding up a photo album gifted to him by Mr. Sears' mother. "I'm sorry, but I won the Derby this year," Mr. Cassidy said.
Current chairman Phil Horton also spoke, giving statistics from the year and reminiscing on the the great season. He praised the "two-day bonito blitz" at Lobsterville Beach and the "epic bluefish blitzes" on the east end of Norton Point.
Then the awards began, with announcements of first, second and third-place winners in shore and boat divisions of flyrod, all-tackle, senior and team divisions, along with a series of special awards.
The Martha's Vineyard Surfcasters Association sportsmanship award was awarded to Sandy Fisher and Jeff Komarinetz, who constructed an apparatus that allowed Holly Mercier, an avid fisherman battling multiple sclerosis, to compete in her first derby in years.
After giving Ms. O'Brien a big hug to cap the grand prize ceremony, Mr. Custer leaned down into the microphone and took in the joyous scene under the tent at Farm Neck Golf Club.
"There's nothing left for me to say," he said. "What a wonderful, wonderful Derby."