As a parent, Dan Karnovsky felt compelled to shield his daughter Sydney from turbulent waters. But as a sailor, he knew the day would come when she would need to put her skills to the test.
"When a gray or cloudy day came around and she wanted to sail, I always told her no," Mr. Karnovky told the Gazette in a recent interview. "I didn't realize it at the time, but because I always told her no, it made her want to do it that much more."
Sydney, now 28, is one of the top three women's competitive Sunfish sailors in the United States, and is currently training for the qualifiers to represent the U.S. in the Pan-American Games.
But before competing in races around the world, she and her brother Nick, also a competitive sailor, grew up sailing each summer in the protected waters of Menemsha Pond.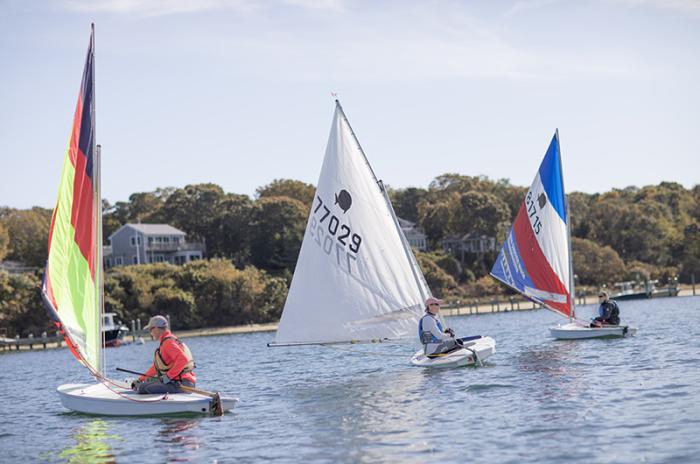 "I have a pretty competitive family," Sydney said with a smile. "All of us except for my mom, but we're trying to get her to race too."
Her dad's teaching has a lot to do with her success, Sydney said, but when she was little, her father mostly hoped she wouldn't get cold feet from a bad day of sailing.
"In the beginning, I'd only take them out on the best days to sail," Mr. Karnovsky said. "Days like these."
He gestures out to the water behind him, Lagoon Pond in Vineyard Haven. It's an unusually sunny, lightly breezy day in October, so the Karnovskys and Olympic sailor and family friend Charlie Shipway have decided to assemble their own regatta in the parking lot at Wind's Up. Mr. Shipway has been sailing with Mr. Karnovsky for decades and after racing catamarans in the 1992 Olympics, has taught countless young sailors through the Chilmark Community Center. Early on, he knew there was something special about Sydney.
"Well, she beat me in race," Mr. Shipway said before heading out to the water. "That's usually when someone starts to catch my attention, and she was pretty young at that."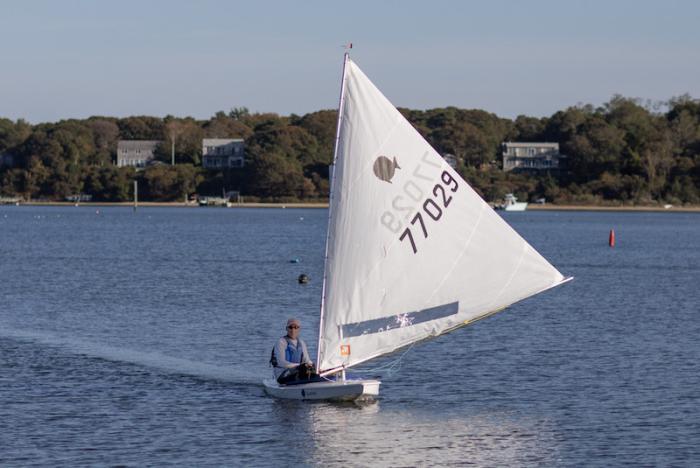 Sydney still remembers the first time she beat her dad and brother, too.
"[My dad] wasn't too happy," she laughed. "Maybe happy in the long term, but not happy in the short term."
Under Mr. Shipway's and her dad's tutelage, Sydney's sailing grew more serious. A natural athlete, she remembers the first time she realized sailing had become her top priority — when she gave up other sports to spend more time in the boat. By the time she reached middle school, Sydney was old enough to sail in the less-than-ideal conditions her father had previously hidden from her.
"We went out one very windy day on Menemsha Pond, and we went out to the channel where it's rougher and windier and we even went down the channel a bit so we'd have to tack upwind a little…it was pretty challenging conditions," Mr. Karnovsky said. "I actually had some trouble, but she was fine."
The Sunfish is a particularly advantageous boat for women, he added, because its small size makes it easier to steer without a weight or height advantage. It's fast but not too fast, and can be sailed by just one person instead of a team.
"Sailing is all about strategy," Mr. Karnovsky said, pointing to Mr. Shipway and the other Island sailors in attendance on Saturday. "Look at us. None of us are very big guys…that's because it's a strategic game. You're always reading the conditions."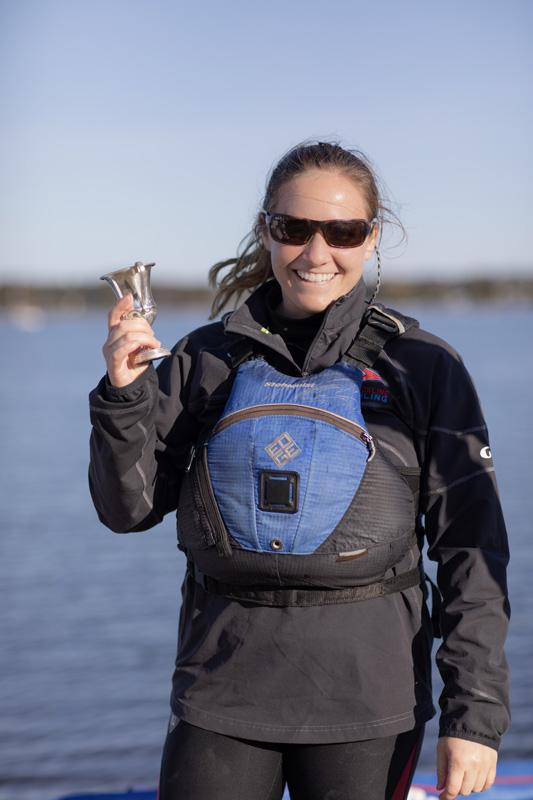 Now a resident physician at Boston Medical Center, Sydney takes every opportunity to get out on the water when conditions are right.
"A lot of the best competitive sailors are from places like Florida where it's warm enough to sail year-round," she said. "It's all about getting that practice in, making it through the winter, and then starting up again in the spring."
This spring, she will compete in the first of several qualifying races to represent the U.S. in the Pan-American Games, which draw sailors from every corner of North and South America. The world of women's Sunfish sailing is an admittedly insular one, she said, so she will be competing against several familiar faces.
"It's kind of a nice community in that way," she said. "Even if you don't win, you can still trade advice and knowledge with everyone else there. Everyone's very supportive of each other."
Despite her self-described competitive nature, Sydney claims she's less worried about whether she wins or loses.
"At my last race at Garda in Italy, I made a mistake and I was really behind," she said. "But then you take a moment to look around you and you just see these beautiful mountains rising over the ocean and you're like, 'This isn't so bad.'"