Sunday morning brought heavy rains after a day of brilliant sunshine that had the feel of late summer. This contrast was noted by many of the 50 people who participated in a Climate Café discussion about storm and emergency preparedness on Sunday morning. "Climate change," they said as they shook their heads and umbrellas upon arrival at Rosewater Market in Edgartown.
Another irony: the discussion topic for the day was storm and emergency preparedness.
The event was the second in this year's Climate Café series coordinated by Felix Neck Wildlife Sanctuary with high school-aged participants from the Protect Your Environment club at Martha's Vineyard Regional High School and a science class at the Martha's Vineyard Public Charter School. The discussions are held at Rosewater Market on the second Sunday of every month.
The series presents open community forums on topics chosen by the students and in discussions led by the students. This year marks the program's fifth year. Felix Neck education coordinator Josey Kirkland works with the students on a range of environment-focused activities.
But the event attendees are not just students: they range from activists with decades of advocacy experience, concerned Islanders, parents of the students, and people newly aware of the Island's precariousness after attending Climate Action Plan activities created by the Martha's Vineyard Commission earlier this year. On Sunday, representatives from Sheriff's Meadow Sanctuary, the MVC and Felix Neck attended.
The moderators for Sunday's discussion were junior Emma Burt and sophomore Lulu White from the Martha's Vineyard Regional High School. They posed questions including the basic meaning of storm and emergency preparedness, what essentials to keep on hand and which services or resources people should know about. More difficult to answer were queries posed about the biggest changes Islanders have seen in climate change and unusual weather activity, and the challenges Island residents find in working together.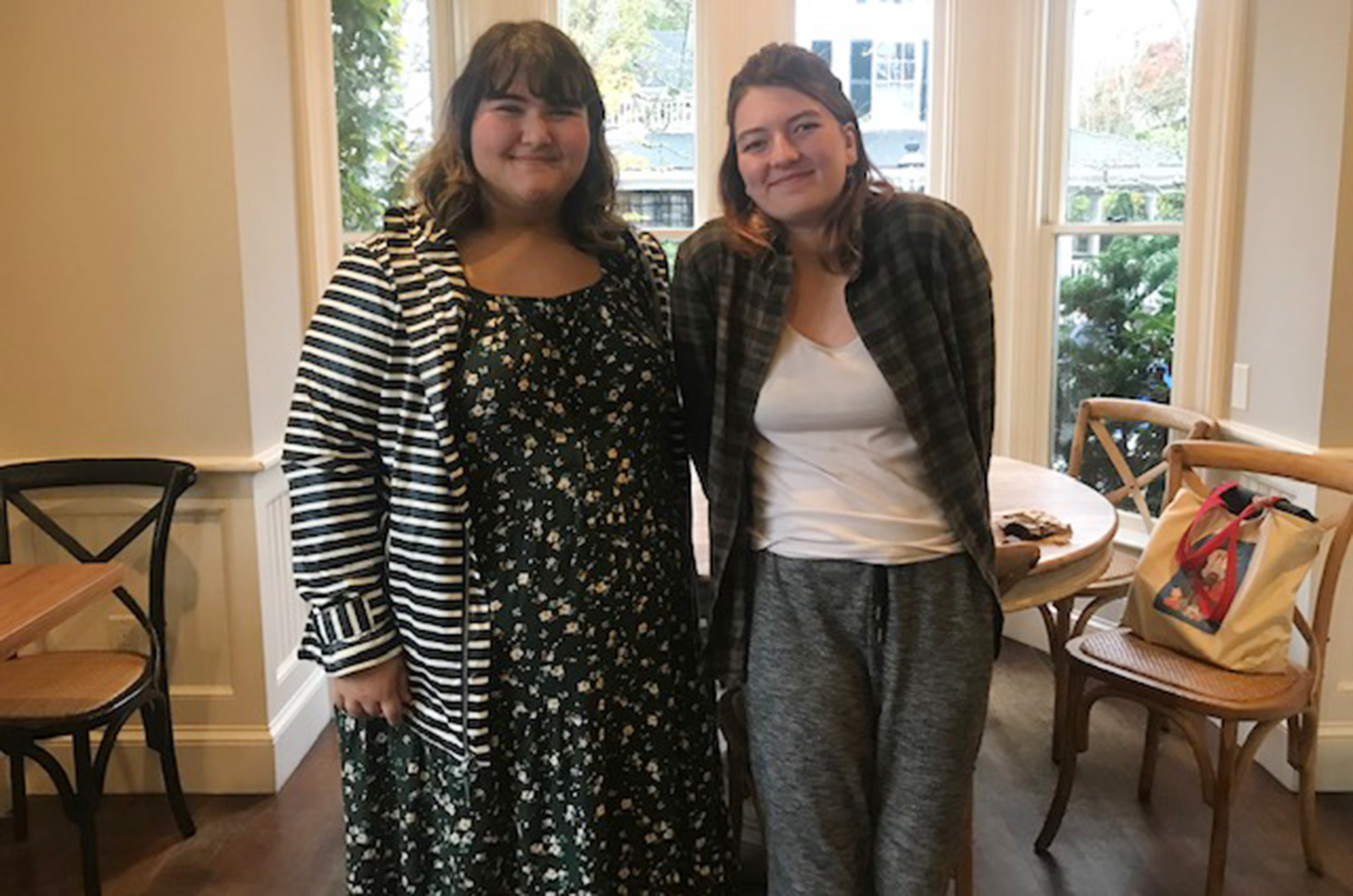 Responses were first offered hesitantly but eventually a torrent of thoughts, frustrations, questions and concerns flooded forth. A central question that loomed was how to not rely on the ferry and the stores.
Know your neighbors was a frequent refrain. Jonah Maidoff identified himself as a member of the Chilmark fire department, which keeps a list of the town's homebound in order to make sure they have food and other essentials. Huck Moore, a junior at the regional high school, combined a message of preparedness with interpersonal communication and acts of giving. "Go around your house," he said. "Find stuff you have extras of, gather it and then give it to help other people."
Mr. Moore is amidst preparations to take the Eagle Scout test. He said he hopes to enter the field of environmental energy.
Students and some participants in the crowd reminded attendees about the town-based emergency notification systems. An audible buzz grew as people at tables or in clusters around the room shared their knowledge or ignorance of how to receive text alerts.
Rosewater owner Julia Tarka noted that Edgartown businesses are required to have generators. She feels this obligates business owners to step up and help people during a crisis. More than a few appreciative murmurs arose in response, as well as comments about how well Ms. Tarka treats Climate Café participants by providing free coffee and baked goods at Climate Café events.
Grayson Kirk, a senior at the charter school, was particularly focused on equity. "The signs and messages are only in English," she observed. "A huge per cent of the population isn't fluent in English. Thinking they can read the messages is a wrong assumption that creates a huge disparity."
Ms. Kirkland stated her goal of finding a Portuguese-speaking translator for events.
Equity concerns were echoed by adults who questioned how to share information with people who don't own cellphones, people with disabilities who might not communicate through written language or audio, and those living in areas without internet. A senior citizen noted the need to provide for pets as well as humans.
After the event, Ms. Burt and Ms. White shared some thoughts about how much local students have to offer in public conversations and activities. Ms. Burt cited the regional high school's Day of Dialogue social justice conference this year as something that young activists were involved with as well as Climate Action Plan discussions earlier this year and ongoing Climate Café events. They feel there is an active group of students trying to find solutions to local problems, in part because the climate issues are such a part of everyday life on the Island.
"It's right in your face on this Island. You can't ignore it. Getting involved is a necessity at this point," Ms. White declared before parting.
The Climate Café series continues on Dec. 11 at 10 a.m. at Rosewater Market. The topic will be waste reduction.