End-of-life care will be easier on Islanders now that Hospice & Palliative Care of Martha's Vineyard has received Medicare certification, executive director Cathy Wozniak told the Gazette this week.
The organization is also expanding its bereavement counseling services to include children who have lost loved ones, whether or not hospice care was involved.
"It's a wonderful thing for the Island," Ms. Wozniak said of the Medicare certification, which was awarded this fall after a nearly three-year verification process.
The federal insurance program reimburses the costs of home hospital beds, oxygen, prescriptions and other medical needs, which the organization formerly was unable to offer patients. Getting to this point took not only the better part of three years, but a chunk of the 42-year old nonprofit's endowment as well, Ms. Wozniak said.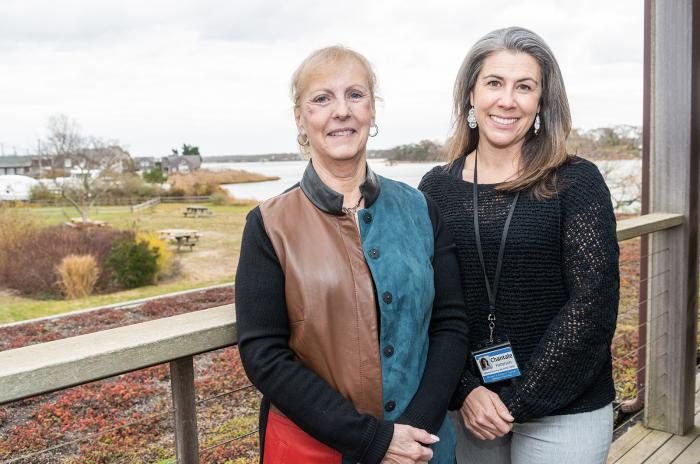 "Becoming Medicare certified was a major, major investment for this organization," she said, estimating that the organization has spent more than $2 million to meet federal requirements for staffing, reporting systems and software.
"Everything has to be electronic," Ms. Wozniak said. "Medicare has a very robust quality program. We have to report [multiple] quality indicators, every month."
The organization also must have certified nursing assistants (CNAs) on staff, Ms. Wozniak said.
Now that the costly federal certification has been achieved, the organization needs to build up its coffers again, she said.
"Philanthropy is really critical for us now," Ms. Wozniak said. "Medicare doesn't pay for everything."
For instance, she said, Medicare does not reimburse for palliative care, which is among Hospice of M.V.'s three key services.
"We provide palliative care to people with advanced serious illness... who aren't quite ready for hospice yet. We follow them with the expertise of our clinical team," Ms. Wozniak said. "We're very fortunate to have a very giving community, because it enables us to do that."
Community support is helping to expand the bereavement counseling program that offers 13 months of free, one on one meetings with qualified counselors to anyone on Martha's Vineyard who has lost a loved one within the previous two years. While the counseling has been available to adults only, that's about to change.
"We recently received a grant from the Martha's Vineyard Community Foundation to expand our counseling to include children and adolescents," Ms. Wozniak said.
"We have hospice [patients'] families that have kids who are feeling the loss," she added. "Often, kids are not talked to [about grief]."
Ms. Wozniak said two hospice counselors will travel to the Center for Loss and Life Transition in Fort Collins, Colo. for augmented training in how to talk with children and teenagers.
In addition to meeting Medicare's standards for reimbursement, the organization recently received accreditation from the federally-designated, independent authority Hospice and Home Health Accreditation Services, which Ms. Wozniak said involved an even more rigorous evaluation.
"We're meeting a higher standard through accreditation," she said.
With these hurdles behind her, Ms. Wozniak's most urgent concern now is to rebuild the organization's endowment and raise funds to move forward, she said.
"We really do need philanthropy support to recover from what we had to do to become Medicare certified," Ms. Wozniak said. "It was immensely costly …. We need to recover."
At the same time, Ms Wozniak expressed concern that a current New Yorker magazine exposé of fraud and abuse at for-profit hospice companies, whose numbers are rising across the country, may discourage Island donors.
"People hear 'hospice' and they think every hospice is the same. And every hospice isn't," she said. "There are many more cropping up through private equity companies [and] all they are concerned about is making money."
But continually increasing value to shareholders is not the way hospice care is intended to work, Ms. Wozniak said.
"It was not created for that purpose," she said.
Hospice and Palliative Care of Martha's Vineyard remains the Island-serving nonprofit it has always been, Ms. Wozniak said.
"We're never going to have a big census and that's fine," she said. "All of our staff live on Island."
Hospice and Palliative Care of Martha's Vineyard annual holiday fundraiser, Handmade from the Heart, takes place Dec. 10 from 10 a.m. to 4 p.m. at the Dr. Daniel Fisher House in Edgartown.
For more information, visit hospiceofmv.org.