While there are plenty of opportunities to shop local this holiday season, the World Market Holiday Shop offers fair trade artisan goods from as far away as Haiti, Uganda and Nepal.
Held at the Capawock Theatre in Vineyard Haven through Christmas Eve, the market is an offshoot of World Market Mondays, a summer staple at the Grange Hall. Vendors are made up of six different global empowerment projects sharing one mission: to connect artisans in economically disadvantaged countries with an international customer base.
"Fair trade basically means that the worker makes a living wage," said Carolyn Stoeber, one of World Market's organizers and a leader of Economic Empowerment in Haiti.
In addition to Economic Empowerment​ in Haiti, the vendors at the Capawock include Ama Nomad, Invisible World & Her Future Coalition, Maasai Partners and Olive Branch Fair Trade. Also part of World Market Mondays but not at the Capawock is the African Artists Community Development Project, which this season is being hosted at founder Marsha Winsryg's home, located at 20 Road to Great Neck in West Tisbury, every Friday and Saturday through Christmas.
Although shops must receive certification to be considered fair trade, oftentimes smaller, independent craft workers don't have the resources to receive the official label, Ms. Stoeber explained, making it a helpful label but not necessarily an all-encompassing one.
"Many of these small-time farmers also work entirely organically, but it's not like they have the 'organic' label on their produce," she said.
Ms. Stoeber's nonprofit sells a variety of sustainable handmade goods from Haiti, from beadwork to metal art. Each item goes towards "orphan prevention."
"Most of the children sitting in orphanages in Haiti are given up because their parents can't afford to keep them," Ms. Stoeber said. "Our mission is to give parents a source of income so they're able to keep their kids."
Ms. Stoeber's favorite product, hand-chiseled metal wall art, is made of the steel oil drums that had been smuggled into the country during the oil embargo of the 1990s.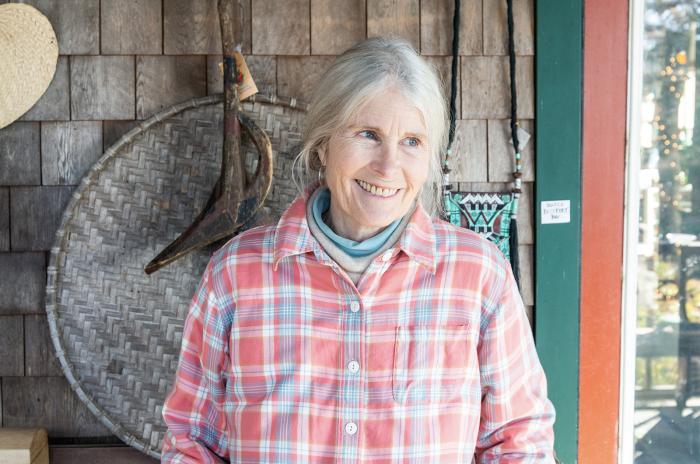 "Haiti doesn't have a culture of steel drum music the way other Caribbean countries might, but they do have a very artistic culture," Ms. Stoeber said. "They turned what was essentially garbage piling up into this beautiful artwork. It's remarkable, really."
Judy Lane, founder of the nonprofit Maasai Partners, first connected with the Maasai community while on a trip to Tanzania. She met a local Maasai man, stayed in touch with him, and eventually returned to visit his village. Her experiences in that community led her to found Maasai Partners, which provides educational opportunities, micro-finance support and economic agency to Maasai women through proceeds from her fair-trade goods.
"Before the pandemic I would go down to Tanzania at least twice a year," Ms. Lane said. "If I stayed away too long, people would start to get worried."
Over time, she bonded with a community of Maasai women, and looked for ways to support their economic agency even beyond artisan goods. Her micro-finance loan program gives Maasai women access to capital with high-interest loans, but that interest stays entirely within the Maasai community.
"We originally used that interest to cover administrative costs for the women running the program, but they ended up using it for community projects," Ms. Lane said. "These women ended up getting a lot of clout."
The pandemic had prompted Ms. Lane to adjust her programs so they can run more independently within the local community, but she has plans to return to Tanzania soon.
"I once had a baby born in the back of my Land Rover," she said. "I'm very close to the community. I'll definitely be back within the year."
The World Market Holiday Shop is open daily from 10 a.m. to 6 p.m. at the Capawock Theatre in Vineyard Haven until Dec. 24. For more information, visit worldmarketmondays.org.