The Edgartown location of Sharky's Cantina restaurant will close at the end of the year after its lease was not renewed, the restaurant and property owners confirmed Tuesday.
JB Blau, who owns Sharky's, said in a phone conversation that the family Mexican restaurant would remain open the rest of the month before ceasing operations Dec. 31. Mr. Blau said he would consolidate operations with the Sharky's Cantina location in Oak Bluffs, which will remain open.
"There wasn't an opportunity to renew the lease," Mr. Blau said. "The owners went in a different direction."
Located on Upper Main street in Edgartown just past the Triangle, the approximately 0.6-acre parcel is owned by Island Realty Trust. Adam Bresnick, a partner in the realty trust, confirmed Tuesday that the property owners were not renewing leases with Mr. Blau or the owner of Tropical Bakery and Internet Cafe, a small eatery situated just behind the restaurant.
"We had a relationship and Sharky's was there for 14 years. JB created a successful business with a strong following," Mr. Bresnick said. "Both sides worked together whenever we needed to make sure the lease he had would enable him to become and remain successful. And at the end of the day, we felt we wanted to go in a different direction with the property."
Mr. Blau emphasized that the Sharky's in Oak Bluffs would remain open year-round, saying the business would move to its other location. He said the Edgartown restaurant would have its full menu and hours until its last day, Dec. 31.
"We're going to be going strong up until the day we close," Mr. Blau said.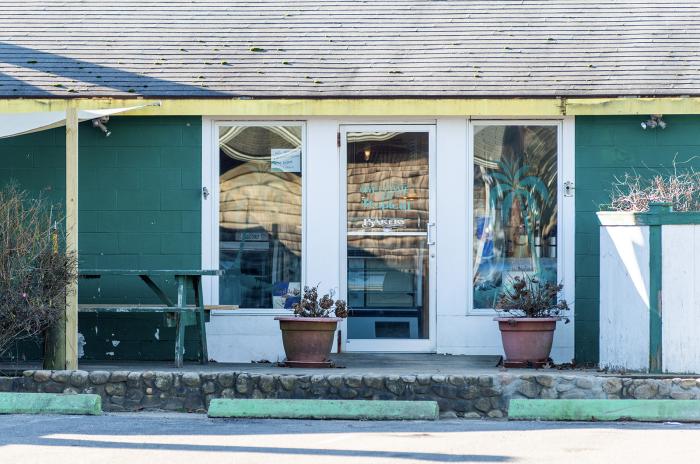 Mr. Bresnick said that property owners have not yet decided on future tenants for the property.
"We're excited about [the property's] future prospects and we're confident it will continue to be a spot where visitors and year-round residents can enjoy," Mr. Bresnick said.
Mr. Blau said the Edgartown Sharky's location opened on Cinco de Mayo in 2008, mirroring a sister location that opened about four years earlier in 2005 on Circuit avenue in Oak Bluffs.
Known for affordable Mexican food and a festive atmosphere, the restaurants have operated year-round from the start, offering Islanders mountainous nacho platters, gaucho steaks and chimichangas, as well as burgers, wings and other bar eats.
Mr. Blau, who also owns the Copper Anchor in Vineyard Haven as well as the Martha's Vineyard Chowder Company and The Loft in Oak Bluffs, said he plans to launch food delivery services this winter, hopefully offering Edgartown residents a convenient access point for Sharky's food.
"That will be a way to get to our Edgartown guests," Mr. Blau said.
Staff from the Edgartown Sharky's will be rotated into the other restaurants, Mr. Blau said — although he acknowledged that it would be tough to replicate hours with fewer restaurants.
"It's going to put a strain on the operation as far as finding hours for everybody this time of year. But everybody will be worked in," Mr. Blau said.
With a slightly bigger footprint than the Oak Bluffs location, the Sharky's in Edgartown gave Mr. Blau a chance to expand into a market more known for white clapboard whaling houses and fine dining than margaritas and wall-mounted shark heads.
After 14 years of business, he said the experiment was a resounding success.
"It was a little insane to open an identical restaurant six miles from the first one, but the larger space allowed us to do things such as fundraisers and community events," Mr. Blau said. "We're just super proud of what we did. We brought a different type of entertainment to Edgartown that didn't exist there. We're one of the first places in Edgartown that had colored paint on the wall. We had yellow and red and blue and wood ceilings...we just tried to shake it up a bit and have some fun."
Mr. Blau said he was now focused on supporting his staff, and said he might announce plans for a "moving to Oak Bluffs" party in the coming weeks.
"We do have ungodly amounts of tequila," he said.