The Vineyard's high school boys basketball team has gotten off to a scorching start to their season despite the winter cold, winning all three of their games by 20-point margins.
Against Nauset at home on Tuesday, the Warriors had no answer for the Vineyard's big man Matheus Rodrigues, who dominated in the paint and finished with a double-double in the Vineyarders' 68-43 victory. Guards Ryan Koster and Nate Story also had big games on both sides of the floor, finishing with 10 and 13 points respectively.
Vineyard head coach Mike Joyce credit his team's gritty play when explaining their recent success heating up the hardwood. In their home opener against Falmouth last week, they won 58-31 and on Monday defeated Sturgis West 52-15.
Coach Joyce said he was impressed with his team's fire on Tuesday, winning a back-to-back after a non-competitive game.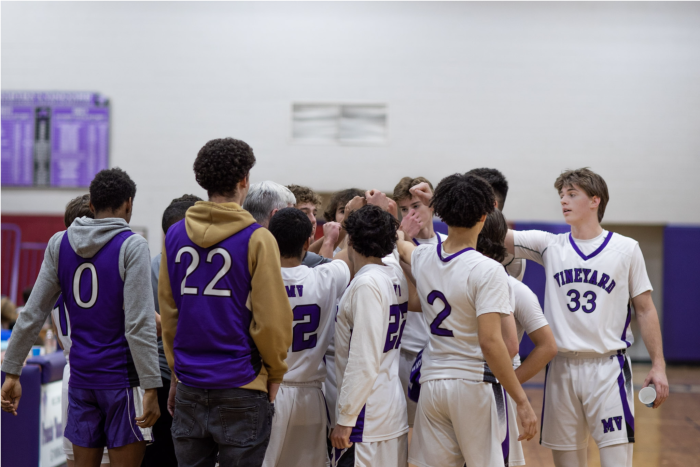 "They came out, especially on defense, and were playing with high energy and are really communicating well, which is making a difference for us," he said. "They're playing with a lot of intensity on both ends. They're really hawking the ball and getting after rebounds."
The Vineyarders may need to build on their defensive identity and iron out wrinkles in their offense if they're going to make a deep playoff run. But so far, Coach Joyce has been pleased with what he's seen.
"It's been a good start for them in terms of the effort and energy that you hope to get," he said. "I'm so glad we had this game after yesterday because Nauset just gets after you. They're always tough. They're physically strong. So it was good, I was very happy with how we came out."
The Vineyard girls hockey team is also off to a promising start as they defeated Old Rochester in their home opener 4-2, and since have tied with Falmouth and the Cape Cod Furies.
Against Old Rochester, Marin Gillis, Audrey Heidt, Reese Malowski and Lily Moran all scored for the Vineyard in the win. Nelle Long has also been steadfast in net so far for the Vineyard, emphatically holding the line in both of the team's past two contests.
"She's played great the past two games," said Vineyard head coach Geoghan Coogan.
Coach Coogan said his team had solid chances to score in both ties, and predicted that points would come with more pucks on net. "Falmouth is always a good team and I think we controlled the game," he said. "They had good pace and good tempo. It was a fun game."
Next Friday, the girls are headed off to attend a Boston Bruins practice before scrimmaging Needham the following day. Their next home game is Jan. 7 against another tough opponent in Barnstable.
The road has been rockier for the boys hockey and girls basketball teams, with both teams still looking to notch their first wins.
In girls hoops, the Vineyarders played two very tough opponents on the road, losing to Falmouth and Nauset. On Tuesday, the girls take on Sandwich in their home opener. Tipoff is scheduled for 2:00 p.m.
Boys hockey have faced a tough trio of games to start their season. In the home opener against Whitman-Hansen, the Vineyarders allowed four power play goals, ultimately dooming their chances at victory. They lost 8-3 against Barnstable on the road, and then fell 4-3 against Dennis-Yarmouth three days later, also on the Cape. Against Dennis-Yarmouth, the Vineyarders found themselves in a 4-0 hole and almost pulled themselves out of it with three third period goals, but couldn't net the equalizer.
The indoor track season also got underway last week with the Vineyarders squaring off with Sandwich and Barnstable in dual meets held at Wheaton College in Norton.
Against Sandwich, Adrienne Christy won both the 600 meter and one mile races, finishing with times of 1:59.1 and 5:56.3. Caroline Bettencourt won the 55 meter dash for the Vineyard. In shot put, Madison Mello took first with a 30 foot, three-inch toss, and Camille Brand won the high jump at 4 feet, 4 inches. For the boys, Daniel da Silva similarly won both the 600 meter and one mile with times of 1:34.5 and 4:40.
Against Barnstable, da Silva also won the mile, beating his previous time with a 4:38.4 final result. Daniel Serpa won the 600 meter race in 1:29.6. Bettencourt repeated victory in the 55 meter dash while Mello and Brand again won the shot put and high jump with a 30 foot, nine inch throw and a four foot, eight inch leap.
In the water, the Vineyard swim team began their season with the relay carnival at the Sandwich High School pool. The boys 200 free relay team of Nathan Cuthbert, Kaua DeAssis, Emmett Silva and Andy Carr finished first with an overall time of 1:42.08, marking the first time a Vineyard team has won an event at the relay carnival.
In the 200 backstroke relay, the girls squad of Simon Hammarlund, Sylvia Carroll, Claus Smith, and Olympia Hall finished second with a time of 2:33.26. Overall, the Vineyard finished in fourth place out of seven different teams. Head coach ​​Jennifer Passafiume said it was a strong start to the season and a positive showing from her team. She noted they were the second smallest group at the event, making the results more impressive.