Wind gusts of up to 65 mph hit the Island Thursday night, beginning at about midnight and continuing into the morning.
The Steamship Authority has canceled all freight ferry services for Friday, and will make its last trip of the day when the M/V Martha's Vineyard returns to Vineyard Haven at 3:15. In a text message to the Gazette, spokesman Sean Driscoll said the ferry service would be making no more crossings Friday.
"The last trip has left the Island," he said.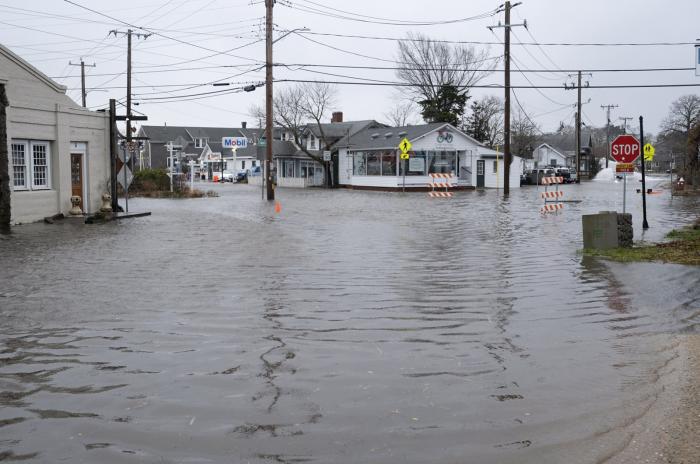 In a phone call earlier Friday, Mr. Driscoll said the SSA would evaluate crossings on a trip-by-trip basis. "The tide is super-duper high, mariners are telling me it's a king tide, so there's concern that cars will be flooded if we tried to load them in on the [M/V Martha's Vineyard]," he said
A "king tide" is non-scientific term used popularly to describe exceptionally high tides during the full or in this case, new moon, which began Friday night.
The yuletide "king tide" has already inundated Five Corners in Vineyard Haven and Dock Street in Edgartown, turning both locations into splash zones. The water currently lapping at Dock Street Café's doorstep did not begin to retreat until noon, when the high tide crested. The recently raised Memorial Wharf remained above water Friday morning.
The National Weather Service cautioned against driving on flooded roads, especially in areas where the exact water depth was unknown.
Worries of widespread power outages have not materialized yet, but Eversource spokesman Chris McKinnon said that the public utility company is ready with auxiliary crews to restore power if needed.
"We have extra resources coming from as far away as the Midwest," Mr. McKinnon said over the phone on Thursday. "We began planning at the beginning of the week...transitioning people from their 'blue sky' jobs to their storm roles, making sure we have enough people for the job, making sure they have their ferry reservations, food and lodging so they are here before the storm actually hits."
In the event of an outage, Mr. McKinnon advised that residents charge their phones and gather any necessities ahead of time. He also urged individuals to stay away from downed power lines.
"With any power line, you're always operating under the assumption that it might be live," he said, adding that individuals should report any fallen power lines to a public safety official.
The town of Aquinnah sent out a notice with a handy checklist of what to do during and after a storm, and that shelters would be open if extensive power outages do occur. "Should there be a prolonged outage, the daytime warming shelter will be opened at the Town Hall," the release stated. "And if needed, the overnight shelter at the Tribe's community center will also be activated. Please do not leave your home for shelters until it is safe to do so."
As Friday morning progressed, the clouds and light rain made way for a brief spot of sunlight before gray skies returned. Winds are expected to continue until Saturday evening, with temperatures dropping significantly Friday evening with a chance of snow showers Friday night and Saturday.
To receive regular weather updates, listen to NOAA Weather Radio or visit weather.gov.
For a full list of the current ferry schedule, visit steamshipauthority.com.