Chilmark Chocolates may have closed its doors in 2019, but its kitchen is still a place of creativity and community. Only now, shelves that were once filled with sugar and chocolate, hold paints and brushes used by artists from the Vineyard Independence Partnership (VIP), an organization of people with disabilities, along with their family and friends.
VIP board member Judi Schubert said the idea to use the kitchen as an arts space began during the pandemic.
"It was Chilmark Chocolates' owners Allison Burger and Mary Beth Grady who came up with the idea to put the empty kitchen to good use," Ms. Schubert said. "During the pandemic, we were holding the art classes outside until the weather turned bad."
In November, an exhibit opened at the Martha's Vineyard Playhouse featuring the work of 24 VIP artists, who had been working on pieces for the Creative Expressions from the Arts Kitchen show since spring. The exhibit features seasonal and calendar month-themed artwork, with 2023 calendars available for purchase. Proceeds are split among the artists, VIP and the playhouse.
Creative Expressions is the third VIP exhibit to be presented at the playhouse and is one of many examples of the long-standing relationship between the two organizations. Playhouse artistic and executive director MJ Bruder Munafo first came up with the idea for a VIP-playhouse art show five years ago, but had been collaborating with VIP members in Virginia's Drama Club for years prior.
"The club gets together weekly at the playhouse to laugh incessantly while writing scripts, doing improv and playing theatre games. It's all just so much fun," Ms. Bruder Munafo said. "The consistent theme of our collaborations — whether studio or performing arts — is to ensure that everyone feels welcome and included in the arts world."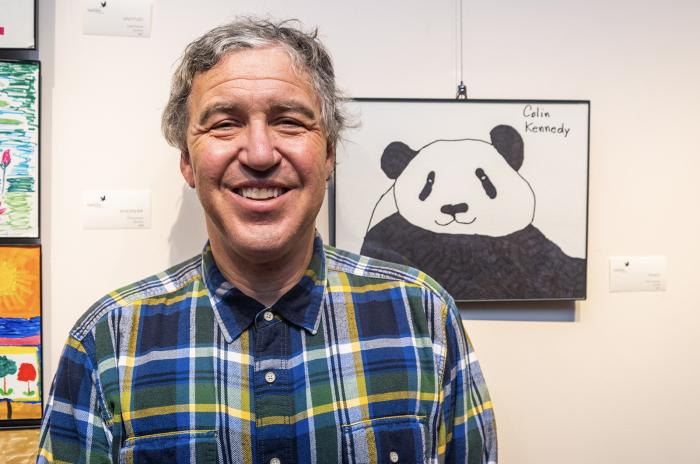 Even during the pandemic, the organizations found ways to stay connected. The drama club met over Zoom, and VIP's second art exhibit, a land and seascape-themed show titled VIP by Land and Sea, became an online auction just days after being hung in 2020.
"We sell most paintings — if not all — from the VIP shows, and the online auction was no exception. They're always so colorful and so fun," said Ms. Bruder Munafo.
VIP's current exhibit is hung in the Playhouse Art Space, the theatre's art gallery that frequently displays solo work by local artists (the VIP group shows being its one exception). It can be visited during playhouse productions or during general gallery hours.
"Before our playhouse shows, a lot of the pieces the artists were doing were just sort of hanging around," said Ms. Schubert. "Having the support of MJ and everyone at the playhouse has given our VIP members a lot of joy. It's a really special place for their work to be seen and loved."
Ms. Bruder Munafo said she hopes to see even more VIP-playhouse partnerships in the future.
"We all have our different abilities and because of that we can learn so much from one another," she said.
Creative Expressions from the Arts Kitchen can be seen at the Martha's Vineyard Playhouse through Jan. 28. The gallery is open during productions and from 1 to 4 p.m. on Tuesdays, Thursdays and Saturdays.
Artists featured in the show are Ida Bailey, Mark Baird, Allison Burger, Alexander Campbell, Donald Childs, Erin Doyle, Judith Drew Schubert, Dale Ferry, Jillian Guest, JP Hitesman, Ally Johnson, Chris Johnson, Eugene Johnson, Rolino Joseph, Martha Keenan, Colin Kennedy, Amanda Kram, Greg Marshall, Onnie Palmer, Tony Palmer, Julie Schmidt, Carolyn Stoeber, Heather Tilton and Diamond Vanderhoop.
For additional information about VIP, visit vipmv.org.