As one year ended and another begins, the frenetic Island real estate market is showing signs of flattening and is now, as Martha's Vineyard Land Bank executive director James Lengyel put it, "definitely in a rallentando."
And while other analysts and industry professionals might not have used that particular musical expression, most would agree that a slowdown was inevitable.
"None of this was unexpected," Mr. Lengyel said. "The only question all along was as to timing and depth."
In the first 11 months of 2022, the number of residential, commercial and land sales on the Island declined by one-third from the previous year, from 610 transactions to 405, according to reports compiled by LINK, the Island's multiple listing service. The total value of those properties decreased by a slightly smaller percentage, from $1.15 billion to $788 million.
The same trend was evident in income for the land bank, which collects a two per cent fee on most real estate transactions. The Land Bank took in $8.7 million from 732 properties in the first half of the 2023 fiscal year, which began July 1. That was down 36 per cent from the $13.7 million collected from 832 property sales in the previous year.
Yet, peer below the surface of the total numbers and a more complicated picture emerges.
"We're not necessarily seeing this huge dollar volume of transactions, but what we are seeing is upward pressure on prices," said Deb Blair, president of LINK.
While in 2021, the average price of a single-family home was just over $2 million, this year it rose to $2.1 million. The median home price, meanwhile, increased to $1.45 million in 2022, up from $1.22 million in 2021.
One factor is the decreased availability of land and houses.
As of Wednesday, Jan. 4, LINK statistics show, inventory stood at 147 properties on Island ­— a dramatic dip from October 2017, when there were more than 500 properties on the market. That's up slightly from an all-time low of around 100 properties for sale at the tail end of 2021.
The least expensive single-family home, a 763-square foot cottage in the Camp Ground in Oak Bluffs, was listed for $598,000. The lowest-priced land available was a one-third acre parcel in Vineyard Haven for $479,000.
Ms. Blair describes what she sees as a "fundamental shift in housing stock."
"It's this trend that there is so little land for sale that older homes without historical value will continue to be purchased, torn down, and replaced with
$5 million-plus homes," she said.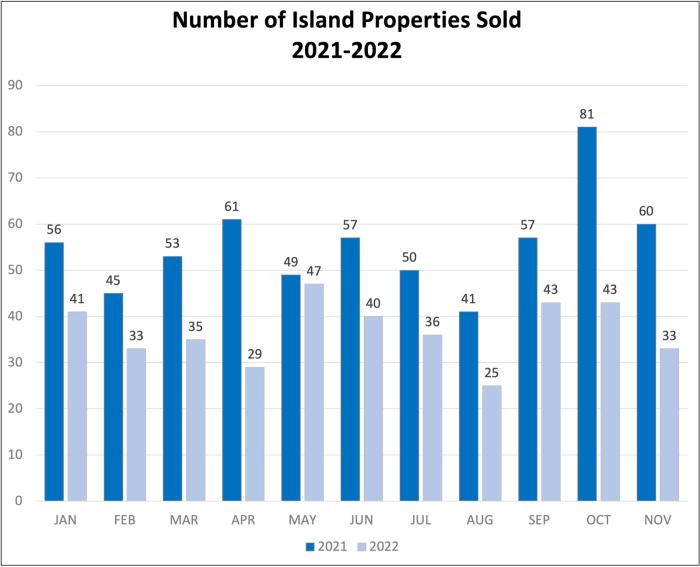 "The impact is that we are moving toward what happened on Nantucket, where the getting-in price [to buy a home on Island] is [often] $3 million to $4 million. We don't have the pricing of Nantucket here but we are barreling toward this new threshold of what it will cost to buy a home on Martha's Vineyard."
In 2022, homes were being sold at 175 per cent of their assessed value, and 98 per cent of the asking price, according to LINK reports. Part of the equation involves a booming short-term rental business, as more properties are being scooped up for their rental potential.
Between March and October 2022, the number of properties registered
with the state as short-term rentals increased by 884, from 2,552 to 3,436. As of this week, 3,500 properties on Martha's Vineyard had been registered as short-term rentals.
Though the state will not release total 2021-2022 figures until January, preliminary numbers from the Department of Revenue show that short-term rental taxes collected by the state, including local taxes that will be returned to Island towns, are poised for another big increase.
"These landlords are fetching top dollar," Ms. Blair said, noting that "the whole value of a home has shifted."
In past years, she said, homes were largely utilized for single families who wanted to spend their summers on the Vineyard.
"Now, one of the reasons we're seeing this change is that there is an increase in the number of LLCs and corporations, even several individuals purchasing homes for the sole purpose of generating revenue," she said.
When people rent, Ms. Blair noted, they want amenities, like swimming pools, heated floors and sub-zero refrigerators.
"People used to make do with an outdoor shower and a bunkhouse in the barn," Ms. Blair said. "Now there's a fundamental shift in what our housing stock is going to look like."
Looking to 2023, Ms. Blair predicted more of the same.
"We'll continue to see the value of land increase, and land with a home that will be torn down."