When asked what kind of programming MVTV, the Island's community access television station, allows, executive director Stephen Warriner replied, "We don't judge."
Since 2003, MVTV has provided PEG access programming (PEG standing for public, education and government) to Vineyard residents, using funding from Comcast, the Island's cable and internet provider. Each year, MVTV receives five per cent of Comcast's local cable revenue, and every 10 years the Island negotiates capital funding for the channel as part of its contract renewal process with the provider.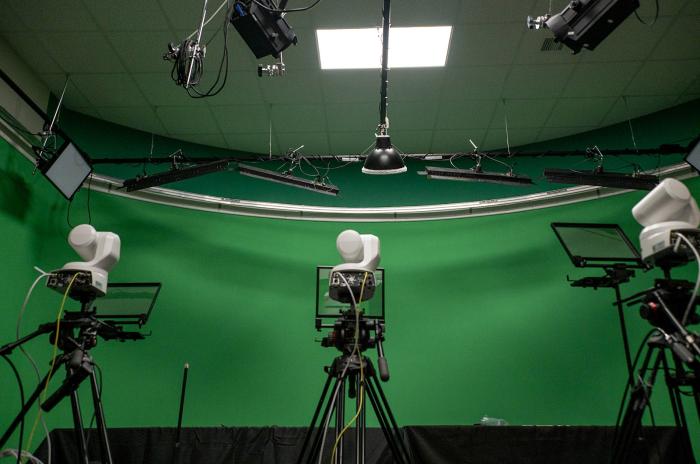 In areas with little to no competition for cable service, the Federal Communications Commission (FCC) regulates that a certain agreed-upon percentage of revenue from those areas must go back into the community, Mr. Warriner explained. Those funds currently go towards MVTV's three public access channels — 13, 14 and 15 — on Islanders' home televisions.
As officials from all six towns enter cable negotiations again this winter, MVTV is looking ahead to the next decade and how to regain steam after a challenging few years because of the pandemic. Their exact plans can't be determined until the Island and Comcast come to an agreement on capital funding.
"We're in a holding pattern," Mr. Warriner said.
Production shut down when the pandemic first hit, and the station took on the unofficial role of Zoom tech support for the Island towns who had not yet mastered the art of the virtual meeting.
"We were like the information hub," board chairman Anne Whiting said.
MVTV has since struggled to return to full operations, given social distancing concerns. Several of their part-time staff retired in the pandemic, leaving them three to five people short, Mr. Warriner explained. Regular programming has carried on, including Tank Talk with Bob Tankard, MVRHS sports games and town meetings, but Mr. Warriner said he faces a Catch-22 when it comes to hiring new videographers.
"As long as everything is on Zoom or hybrid we're in pretty good shape, but if everyone were to suddenly return to in-person [meetings], we would be in trouble," he said. "I would love to hire people now, but we don't currently have enough work."
Looking ahead to this summer, Mr. Warriner is hoping to build up the roster before any more sudden shifts.
"Things are gonna change in some way," he said. "I need to have people in place."
Ms. Whiting would also like to see more people take advantage of the station's resources.
"I'd really like to see more cooking shows," she said. "I'd love to see more people in our kitchen studio."
The kitchen studio, featuring a working fridge, stove and plenty of counter space, is just one of the amenities at its headquarters on Edgartown-Vineyard Haven Road, which also includes a news center, editing bays equipped with Adobe Premiere, and a new podcast studio.
Anyone on the Island can use MVTV's equipment and resources to make their own television show as long as they've paid a $25 annual membership fee and undergone a few training sessions. Individuals also have to agree to air the finished product on MVTV and can't include any calls to action in their work ­— meaning no advertising.
"You can't just take our equipment to film your wedding," Mr. Warriner added. "Which has happened, by the way."
As far as what they can film, Mr. Warriner said he is open to anything but pornography or slander.
Michelle Vivian-Jemison is the station's access coordinator and instructor. Because she teaches television production classes at the Edgartown School, charter school and regional high school, to name just a few, Ms. Vivian-Jemison is one of the more recognizable faces of MVTV. She said she frequently works with Island schools to bring student work to the airwaves, helping to broadcast events to community members who may not be able to attend a school play or concert in-person.
The pandemic delays haven't deterred Ms. Vivian-Jemison, who said that the time off has only reinvigorated her students' passion for learning.
"People are chomping at the bit," she said.
Ms. Vivian-Jemison also credited the rise of video-based social media such as TikTok with increasing student interest in film production.
"Everybody now knows they can create content," she said. "And because of Covid, people have a very firm knowledge of the levels of production value...it's not just shooting on your iPhone. It's a step above. So, if you want to step your game up, we're here."