The Family Child Care network of home-based early childcare educators on-Island is a varied group. Some have been at it for decades, others just a few months. Some speak English, some Portuguese and a few are bilingual. Some have naptime, some don't. Some have more babies in their program, some more toddlers.
But all have one thing in common: their programs are full and the waiting lists are long. It is a trend with far reaching implications for Island life — if parents can't find childcare they can't go to work, straining finances and contributing to the workforce shortage.
Now, a project is under way to increase the number of licensed home childcare programs on the Island, and to provide training and support for new providers. Administered by Martha's Vineyard Community Services and funded by MVYouth, an organization of Island donors that support programs for kids, with the backing of Martha's Vineyard Vision Fellowship, the project aims to foster up to 10 new home-based programs.
A home-based childcare program is exactly what is sounds like, a program run in the educator's home, with a maximum of six kids, ranging in age from a few months to five years. It is a key time in the growth of a child, providing unique educational opportunities — and unique challenges.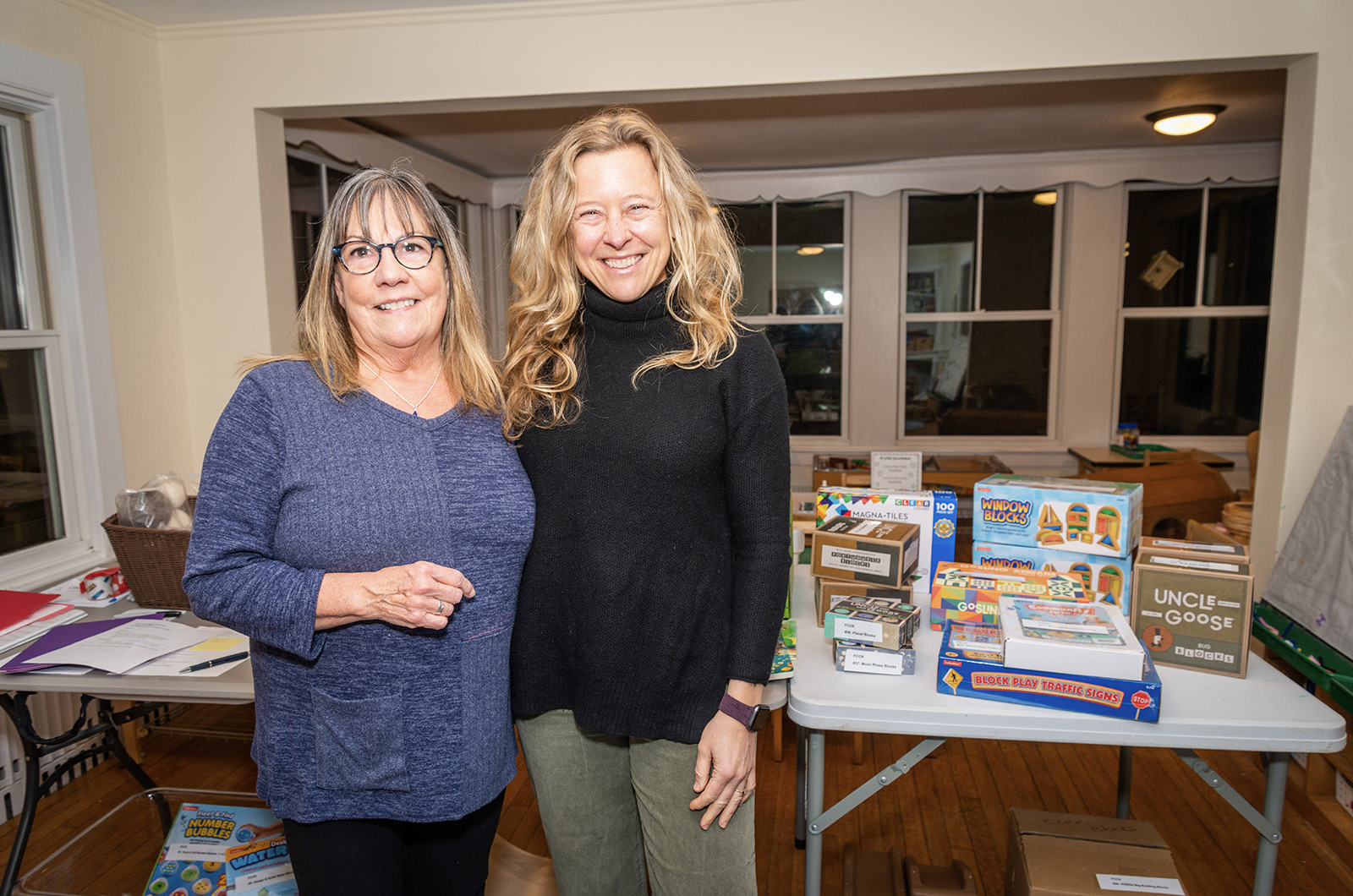 In recent years, MVYouth has distributed $2.15 million in grants to established early-education centers around the Island, including Martha's Vineyard Community Services, Plum Hill School, Vineyard Montessori and Felix Neck's Fern and Feather School. But the organization soon realized a new approach was needed to address the growing demand.
In 2019, MVYouth commissioned a study to assess what could be done. Then the Covid epidemic hit, exacerbating the issue.
"The problem that we saw pre-pandemic had gotten exponentially worse," said MVYouth executive director Lindsey Scott.
At about the same time, Martha's Vineyard Community Services conducted their own needs assessment, which corroborated MVYouth's findings.
"It was very clear from that assessment that we needed to increase capacity... particularly for parents of infants and toddlers," said Heather Quinn, director for early childhood programs at MVCS. "We could also see that [existing programs] were being undervalued and under supported."
And perhaps the most undervalued of them all, Ms. Quinn said, were the home-based programs.
Administrators decided that in order to build big, they would have to think small, helping at-home childcare centers thrive and finding new ways to help caregivers navigate a system that can often be overwhelming and filled with red tape.
To confront these challenges, Community Services hired longtime home-childcare provider Joanne Lambert to create and lead a support network for Island providers. The initial funding for the Family Child Care coordinator position came from the Martha's Vineyard Vision Fellowship, which underwrites positions deemed critical to the Island's sustainability.
Ms. Lambert has extensive experience, having run a childcare program in her Oak Bluffs home for more than 20 years. Ms. Lambert recalled fondly how kids who met in her program formed lasting bonds all the way into high school. She also noted the unique educational opportunities the age differential — from infants to five year olds — can provide, allowing older kids to teach younger ones.
"It's one of the greatest ways to develop social skills...because you're in this group where children are younger, older, have different needs. You're developing a community," she said.
But to establish those relationships, home-based educators must first jump through the regulatory and organizational hurdles necessary to license and operate their programs.
"It's probably one of the biggest challenges," Ms. Lambert said.
Providers also need to learn business management skills, and for Brazilian educators who were licensed in their home country, Ms. Lambert added, adjusting to U.S. requirements can be a challenge.
The new program aims to make that process easier, providing grants for home renovations so programs can get up to code. MVYouth initially granted MVCS $40,000 for a pilot program to help one childcare center. In December, the organization funded an additional grant of $450,000 with the aim of licensing nine more in the coming years.
Stephanie daRosa took part in the pilot program, receiving a grant to outfit her basement as an education space. Ms. daRosa spent eight years running the Plum Hill School in West Tisbury before stepping down when she had a daughter. The retirement of some older home childcare providers on-Island prompted her to return to work and start her own at-home childcare center.
Ten new at-home childcare centers could create space for over 60 kids — as many as a large preschool program for a fraction of the price.
"It's the best bang-for-your-buck approach," said Ms. Scott.
The new program is also helping to solidify the network of home childcare providers, with Ms. Lambert as an ambassador, providing resources and building a community in what was traditionally a profession without much interaction between providers.
As it turns out, the network itself is a draw for prospective childcare providers.
"It doesn't have to be so daunting anymore because there are people to talk to," said Ms. daRosa. "It's not like you're on your own, it's awesome."
At present, Ms. Lambert is focused on attracting new members to the Family Child Care network, collaborating with Community Services and the Martha's Vineyard Center for Education and Training (MVCET). In that collaboration, MVCS recently organized a hands-on learning cohort to supplement Cape Cod Community College's online early education courses.
At a recent meeting of the network (which now includes 14 members), both of these benefits were on display. Ms. Lambert introduced the new resource library of shared toys and books to rotate between programs. As she spoke, the group periodically erupted into conversation about the joys and sorrows of home-based childcare.
Ms. Lambert agreed with the ups and dowsn, but highlighted one of the main joys, one she said should be put in the job description.
"You get told I love you every day," Ms. Lambert said.