On a table before a packed crowd in the Martha's Vineyard Agricultural Society hall Saturday, three items were set: a bleached white coyote skull, a dusky orange and gray pelt and a bite-proof dog vest covered in chromed spikes meant to deter a larger canine predator.
Beside them stood Dan Proulx. As an animal control officer on the mainland, Mr. Proulx has been dealing with coyotes for years and was invited by Tisbury and the agricultural society to deliver some advice to the Island, which has seen a spike in coyote sightings this winter.
Now, Mr. Proulx told the crowd, is a critical time for the Islander-coyote relationship. The canines are forming a first impression of the area and it's up to locals to make them feel unwelcome. The best way to do so, he said, is to be loud, and stand your ground. If coyotes learn to be scared of us, they'll stay in the woods and teach their pups to do the same.
In his talk, Mr. Proulx focused on the practice of "hazing," meant to scare off the animals from human interaction. Those who encounter coyotes should make lots of noise, puff out their bodies and throw rocks at them.
"They don't want anything to do with us," Mr. Proulx said. "They get as scared as a squirrel."
Most importantly, hazing should not end until the coyote runs away, otherwise it will get the message that a human has backed off.
Though there have been several sightings, it's unclear how many coyotes are on the Vineyard. Experts think there are only a handful of males.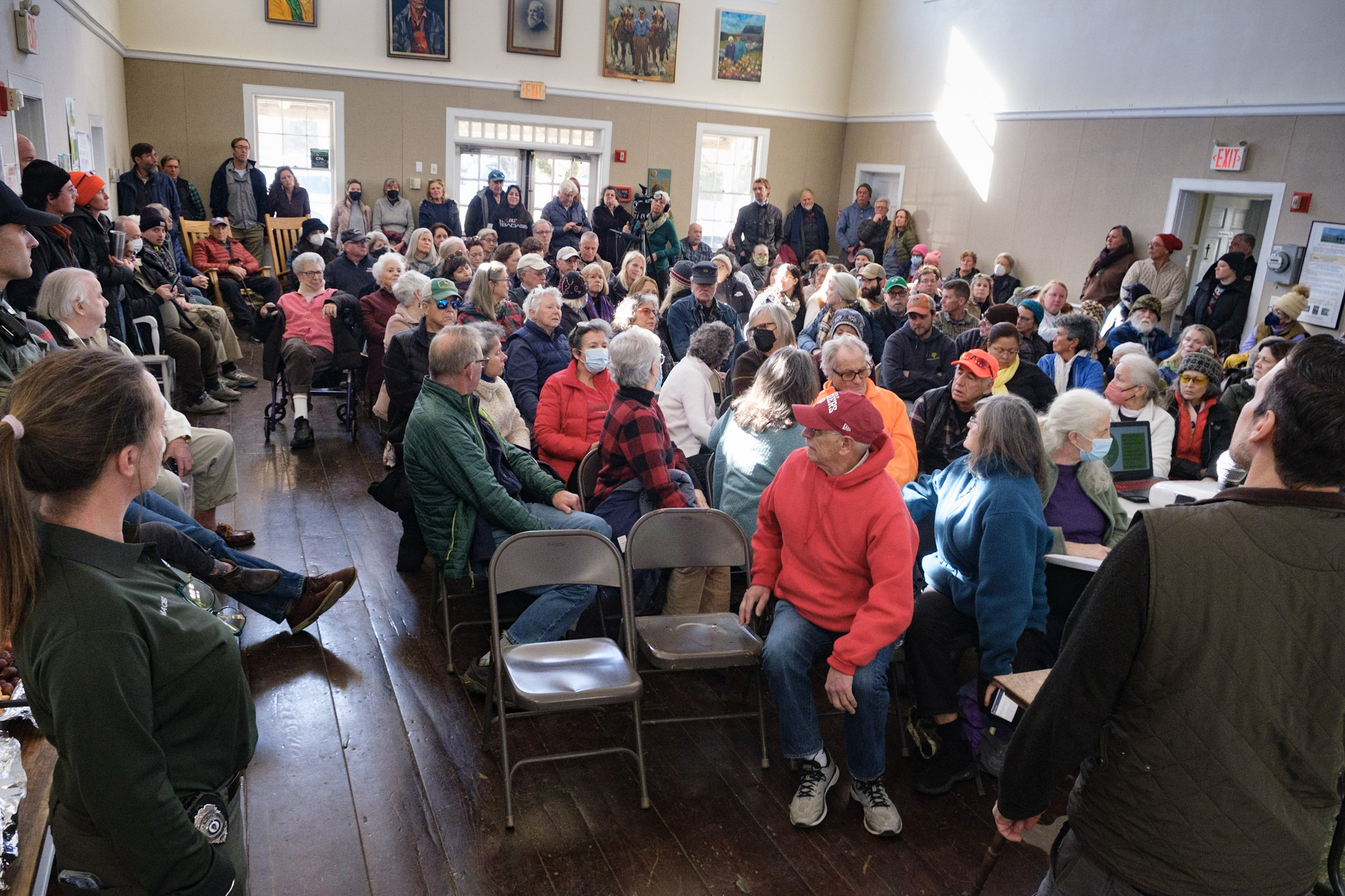 "At the present time, we believe there are around six [coyotes] on the Island," said Tisbury animal control officer Heather Maciel. "We do not believe there is a breeding pair."
Massachusetts Environmental Police officer Matthew Simmons, however, urged caution about those estimates. It could be a single coyote traipsing around the Island, he said.
Sightings from Edgartown to Aquinnah have been confirmed this season, but Mr. Proulx said people's behavior around coyotes is important no matter how many have established themselves on the Vineyard.
"They are here," he said. " If you don't believe they are here then you are mistaken."
The species' presence on-Island as a "double-edged sword," according to Mr. Proulx.
While they might help to control the rodent and skunk population, they can pose a danger to domestic pets.
Pet safety was a particular concern for attendees. Stories of coyote encounters have started to regularly pop up on social media.
Edgartown resident Jill DiOrio recounted a recent run-in with a coyote at her home near Sweetened Water Preserve.
Ms. DiOrio let one of her dogs out on a night last week, when a coyote chased her pup around the house several times.
"I ran back into the house, turned on the lights, grabbed the pots and pans, ran out and I was screaming and yelling," she said.
Though her dog was uninjured, Ms. DiOrio was only able to scare the coyote off by getting in her car and honking the horn.
Mr. Proulx said such behavior was unusual. The coyote might have learned bad behaviors on the mainland before swimming over to the Island. He promised to follow up with Ms. DiOrio.
Among other measures, Mr. Proulx suggested that Islanders set up trail cameras to collect more data, eliminate coyote-attracting rodents from their yards and put up loud, motion-activated Halloween decorations to scare off the animals.
He also noted that coyotes are extremely unlikely to bite people, typically only doing so after being fed by humans.
Mr. Proulx did have a message of hope for Islanders. Because residents have been on top of the issue so early, there should be little reason for concern.
"You guys are an Island," he said. "Be a community, work as a team."