Rev. Mark Winters said he wasn't particularly nervous as he preached his first sermon Sunday as the new pastor of the Federated Church in Edgartown. He knows he has many more Sundays to get his message across.
"To me, sermons are the beginning of the conversation," he told the Gazette after his first service, "Not the end of one."
Reverend Winters was hired by the church this past November. For more than two years the church has been led by a series of guest and interim ministers following the resignation of the previous settled pastor, Richard DenUyl.
A graduate of the Chicago Theological Seminary, Reverend Winters has served churches for 14 years, most recently in Naperville, Ill., where he lived before moving to the Vineyard with his wife and three children just a few weeks ago. As he gathers his bearings, he acknowledges that his life, for a while, will be a series of beginnings.
"All of ministry is contextual and relational," he said. "My job is to get to know the needs and wants of the community and to support the work that's already happening."
Although Reverend Winters had never been to the Island before applying for the position, his first interview took place as the Vineyard was becoming the subject of national news. After 49 Venezuelan migrants were sent to the Island in a political stunt, Reverend Winters saw how the religious community worked to house and provide resources to men, women and children seeking asylum in the U.S.
"I was really impressed," he said.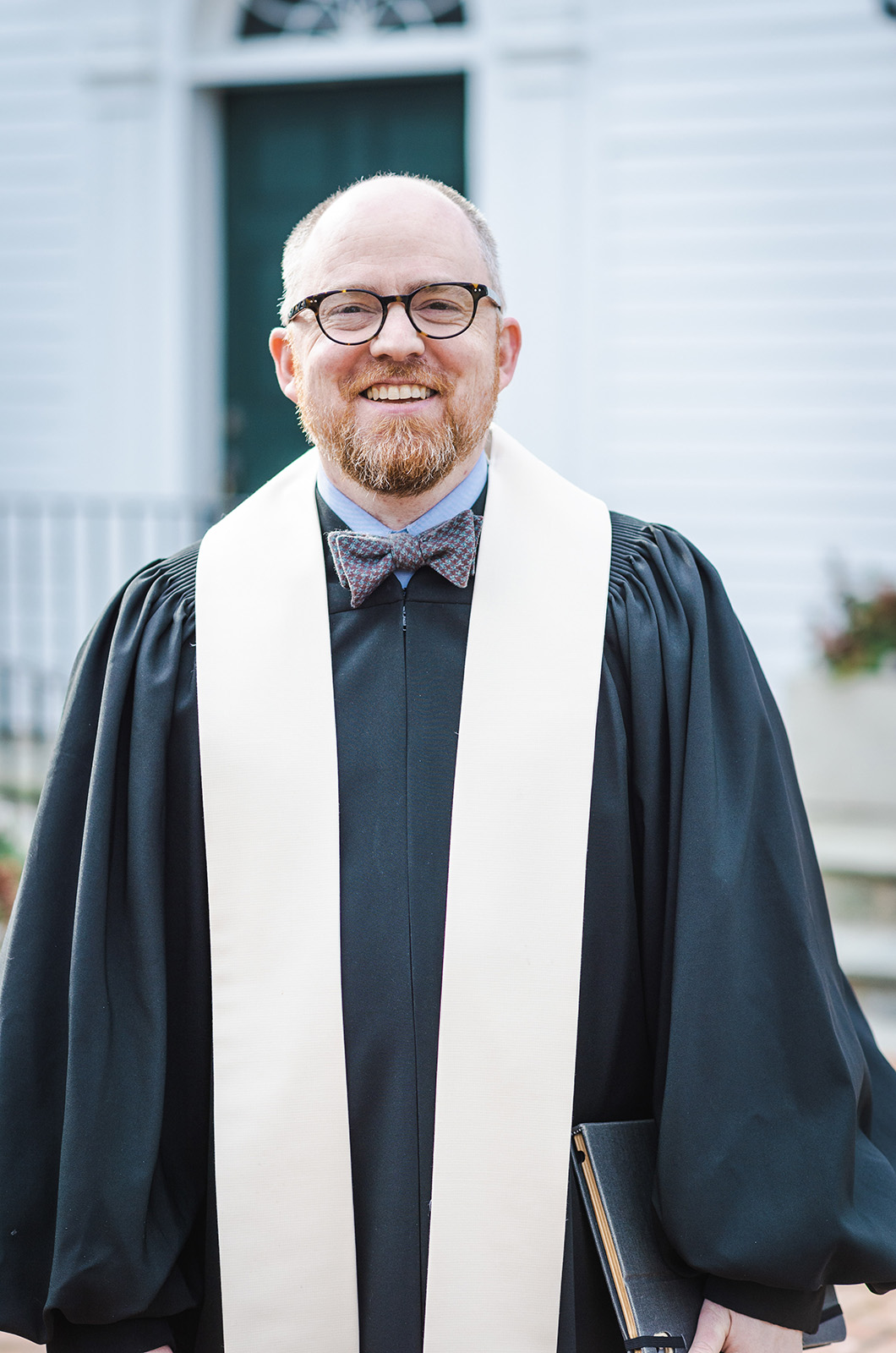 But not surprised, he added. To Reverend Winters, a self-described progressive, Christian values transcend political divisions.
"There will always be differing opinions of policy, but when it comes to Jesus, we're taught that if someone comes to you hungry, you feed them," he said. "When someone needs shelter, you house them. Jesus didn't ask questions of, 'Why?' He didn't ask for papers."
That's not to say Reverend Winters won't leave the door open for debate, theological or otherwise.
"I want to make space for people who disagree with me," he said. "There's always room for something I don't know."
Reverend Winters joins the Federated Church during a period of transition for the almost 400-year-old institution, which traces its roots to 1642. The current church building, located at 45 South Summer street, was built in 1828.
Recently, the church put its historic Mayhew Parsonage up for sale, citing rising costs and declining membership.
The church's challenges are hardly unique — religious organizations across the country have reported a decline in membership post-Covid, even with accommodations like livestream services. Reverend Winters acknowledged that now is a difficult time to be in the ministry. During the pandemic, he was called upon to be a public health expert and a community leader in scenarios where no one had all the answers.
"People have high expectations," he said. "A lot of it has to do with being honest with yourself...and the people around you. You're just a person like anyone else."
Those challenges are also what helped him pick a theme for his opening sermon.
The sermon, titled Seeing Jesus Differently, reflected on the story of Jesus's Sermon on the Mount, but Reverend Winters focused particularly on the moment Jesus appeared to his disciples and told them, "Get up and do not be afraid."
The disciples had previously not witnessed anything of the supernatural sort, but instead of giving into their shock and disbelief, Jesus urged them to move forward.
"We have work to do," he said.
It's a lesson Reverend Winters believes can resonate in the current moment.
"There's a lot of stuff to be anxious about and a lot of work we have to do," he said. "I took it as an, 'It's gonna be okay.'"
Painted on the foyer of the church, Reverend Winters' name will join 400 years of pastors in carrying on the Congregationalist tradition in Edgartown. The history of the space comes with a certain degree of pressure, he admitted, but he will try to ground himself in the present.
"Jesus was incarnated in a certain time and place, and so are we," he said. "We have to live in our moment."
And if that moment calls for change, Reverend Winters isn't afraid.
"If faith is stuck in one way of doing things, it's not a living faith," he said. "Church is not a museum of saints but a living, breathing community."