It's not every day uniformed members of the U.S. Coast Guard play volleyball with first-graders or shred string cheese with kindergartners at snack break.
At the Tisbury School, however, things like this are happening every Thursday, with service members from Coast Guard Station Menemsha joining students and staff for half the day.
"It's just super-important for our guys to get out into the community," Senior Chief Steven White, the station's top officer, told the Gazette last week.
"This is an opportunity for them to get out of Chilmark and give back," Mr. White said.
Principal John Custer — whose father, former Island superintendent of schools Herb Custer, is a Coast Guard veteran — said it was Mr. White's idea to bring volunteers to the school.
"They're so engaging with the kids," Mr. Custer said, as he watched a room full of kindergartners chattering excitedly with Mr. White and Machinery Technician First Class Justin Harris last week.
While all Station Menemsha personnel are encouraged to volunteer at the Tisbury School, Mr. White and Mr. Harris are particularly qualified — and motivated. They are town residents with children at the school, and Mr. Harris's wife Sarah is a kindergarten teaching assistant there.
"We get the benefits of seeing our kids during the work day, and that's a plus," Mr. White said.
Mr. White's 11-year old son Sylas and 7-year old daughter Phoenix are in their fourth year as Tisbury Tigers.
The Harris's son John, nearly 10, enrolled at the start of the school year in September.
The Harrises, who arrived on the Island last summer from Mississippi, also have a younger daughter at First Light Child Development Center in Vineyard Haven.
On a recent Thursday, Mr. White and Mr. Harris demonstrated the Coast Guard's Latin motto, Semper Paratus ("always ready"), by moving easily from the first-graders' volleyball game to the kindergarten classroom and later to a second-grade science class, where they assisted with a lesson on measuring.
"We are going to really appreciate having people taller than us to measure our height," teacher Emily Levett said, as Phoenix White smiled quietly in her seat.
As lunchtime began, the Coast Guard dads walked with students from the modular temporary campus to the cafeteria, which is located in the American Legion post across West William street during the Tisbury School's reconstruction.
While the Station Menemsha-Tisbury School partnership is a recent one, Mr. Custer said Coast Guard families have been a valued part of the school community for years. Arriving from all over the U.S., service families generally spend three years on the Island, which Mr. Custer said is more than enough time to weave themselves into the school community.
"They all have such fascinating stories about where they've come from," the principal said.
Mr. White, who was transferred to Station Menemsha from Hawaii, also grew up with a Coast Guard father.
"We moved around, just like all these kids are doing," he said.
It's a lifestyle that encourages children's resiliency and the ability to make friends quickly while experiencing different cultures around the country, Mr. White and Mr. Harris said.
"We've been in Maine, North Carolina, Virginia, Texas, Hawaii," Mr. White said. "It's a lot of exposure to cultures."
The Vineyard's culture has been particularly welcoming, he added.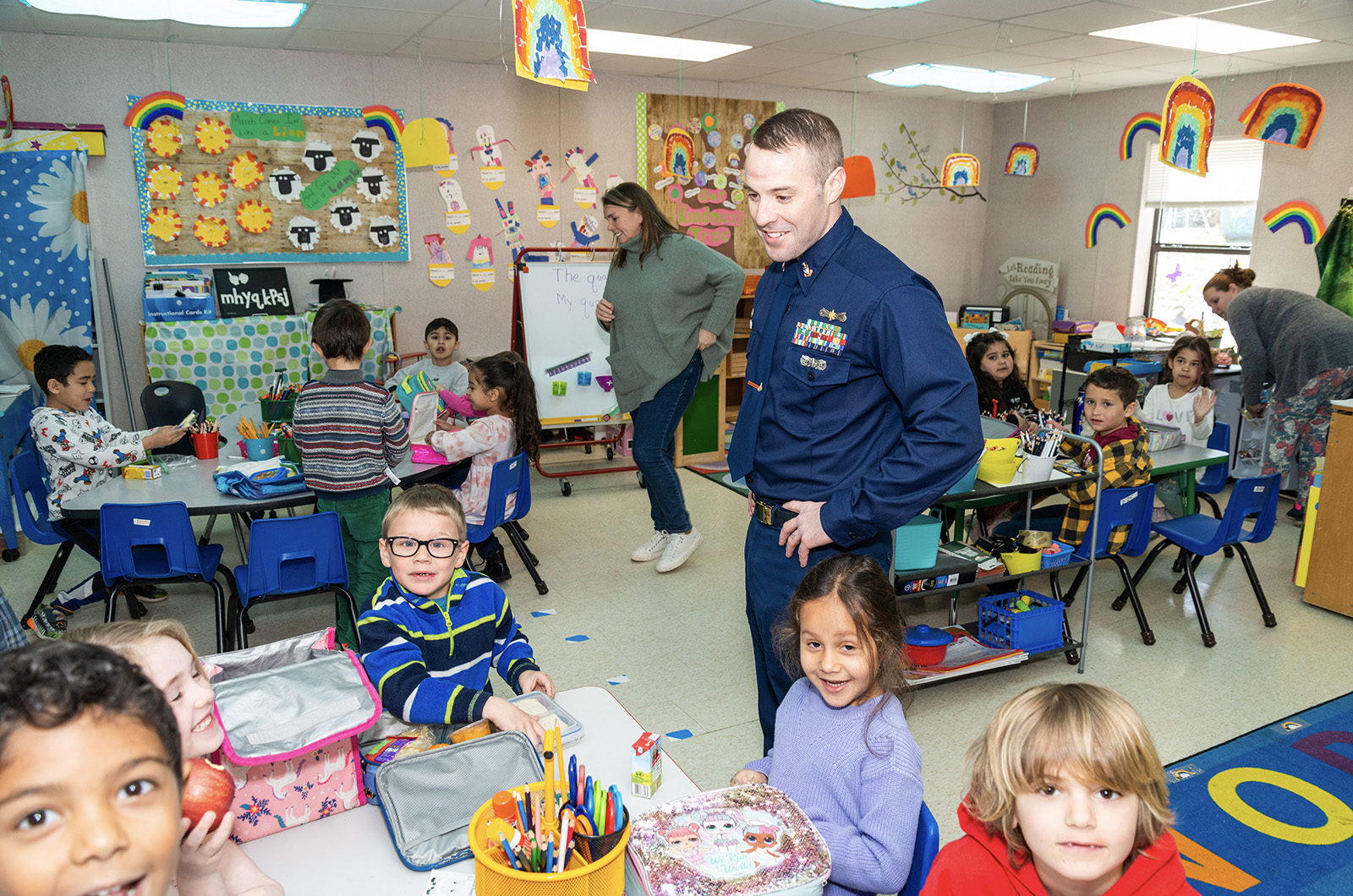 "All the places I grew up, all the places I've been stationed, I've never seen a community so supportive of the Coast Guard as this one . . . from the minute I reported here," Mr. White said, recalling the Fourth of July parade in Edgartown soon after he arrived.
"That blew me away. It was amazing, the support and everybody cheering the Coast Guard boat as it went by. You don't see that in too many places," he said.
The Whites got an extra year on the Vineyard when the station chief's tour of duty was extended in 2022, but they're being transferred back to Hawaii after school ends for the summer, he said.
The family will be missed, Mr. Custer said, but the volunteer program will continue under Mr. Harris, whose tour has more than two years left to run.
Although the Coast Guard is the sixth branch of the United States military, Mr. Harris — who has spent close to half his life in the service since joining as a teenager — said it remains obscure to many people.
"Six months before I joined the Coast Guard, I didn't know the Coast Guard existed," Mr. Harris said.
"I was joining the Army," he recalled. "Then I found out about the Coast Guard and [thought], 'Wow, this is an awesome mission.' So I joined the Coast Guard."
Volunteering helps the Coast Guard engage with host communities and also raises the branch's profile, said Mr. Harris, whose service ribbons include acknowledgments of his volunteer work in the U.S. and overseas.
"When I was in Bahrain, I coached the [international] high school baseball team," Mr. Harris said.
He's also coached football in Mississippi, helped at St. Jude's Children's Research Hospital in Memphis, Tenn. and served as a volunteer firefighter in Louisiana, he said.
"Everywhere I've been, I've tried to do something," Mr. Harris said.