The Martha's Vineyard Regional High School class of 2023 takes the Tabernacle stage in Oak Bluffs for graduation this Sunday, to stand side by side and mask-free.
It is a fitting finale, after spending much of their freshmen and sophomore years of high school taking classes at home by Zoom.
School officials say the class is known for its resilience, exceptional bond and positive spirit in the face of adversity.
"I don't want to be cliche, but the fact that they had their freshman year interrupted by Covid cannot be overstated enough," said John Fiorito, director of guidance and counseling at the regional high school. "They have just come so far."
The class excelled in the classroom, the athletic fields and on the stage.
Student body president Julia Sayre, who heads to Brown University in the fall, said she still grieves the loss of a normal high school career, but that her friendships with other students and trust in her teachers never wavered.
"When anyone falls down for any reason, the people of the Island are there to brush the dust off of your shoulders," she said. "I think that in college that's not always the same. I'm going to dearly miss these connections."
Ms. Sayre said that most school-organized class bonding events happen freshman year. But even without those early community building experiences, she felt the class formed a strong bond, especially during senior year.
"I love seeing the seniors out at things like prom and senior sunrise and field day gathered together," she said. "Friend groups that may not regularly interact come together.... It's all so rewarding."
Guidance counselor Erika Mulvey also noticed a rare closeness among the class that defied common stereotypes about high school cliques. They are not ones to simply follow the crowd, she said.
Ms. Mulvey plays a large role in preparing students for life after graduation. She coaches them through college applications, work study opportunities and, during the pandemic, the transition from online to in-person learning.
"It was maybe a little hard for them to get their feet on the ground," she said. "But I have to say that they really made it all happen for themselves. They hung in there even during all of the uncertainty."
Principal Sara Dingledy echoed her sentiment. She described the class as especially thoughtful, diverse and action-oriented.
"We were all so pleased with how well they adjusted coming back from Covid," she said. "This class really takes the initiative."
This year, a record number of seniors participated in community work studies, she added. Some students spent half the day at work and the other at school. Others would alternate full days.
Senior Nellie Long, who committed to Simmons University, worked at Sea Spa Salon full time while also attending school, playing hockey and lacrosse and babysitting in the evenings.
"I could go to work and get paid, and then run back to school for Spanish class," she said. "After [lacrosse] practice I would sometimes go back [to the salon] to help close."
Even with her planner nearly bursting at the seams, Ms. Long served as captain for both field hockey and lacrosse teams, and earned several awards for her athletic skills, including Massachusetts Student-Athlete of the Month in February.
She credited her achievements to her father and teammates, who supported her even when she was too busy to answer their texts.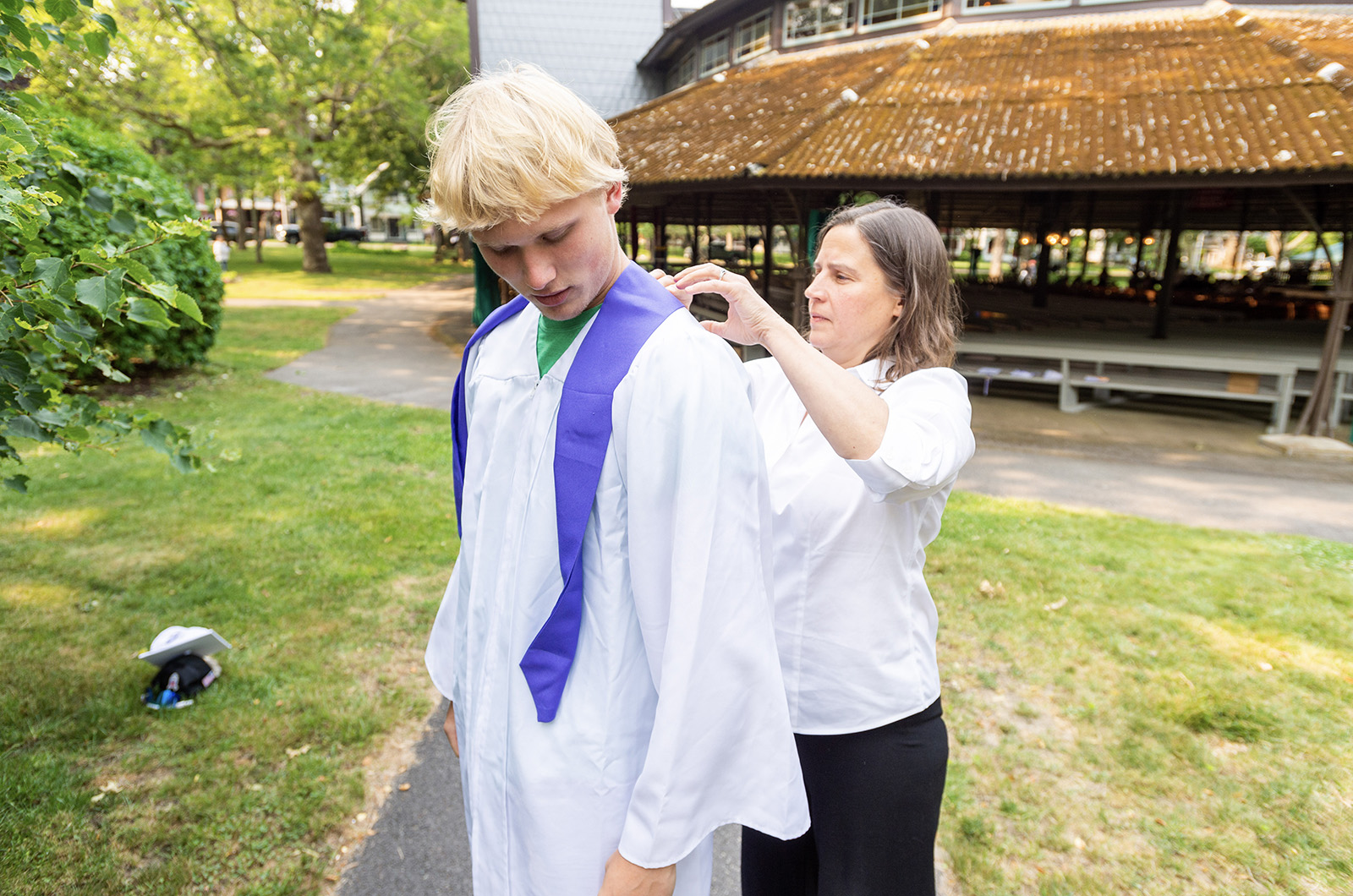 "It helped me to be a part of a team especially when I was struggling," she said. "It gave me something to look forward to on really hard days. It's really the tightest knit community."
While some seniors like Ms. Long shined on the field, others found their passion on the stage.
Senior Madeleine Bengtsson spent much of her high school career in the Performing Arts Center, starring in the school's musicals or performing with the Minnesingers choral group.
After moving to the Island from Copenhagen, Denmark in the fourth grade, she found her confidence and community in theater. She will do dual duties on Sunday, walking across the stage and singing with the Minnesingers. Her first experience with the group was far from perfect.
"We were singing distanced under the tent with masks on in the cold," she said. "I actually think it had rained and there were puddles on the ground soaking our nice shoes."
Ms. Bengtsson will attend Smith College and plans to find her way to the college stage as soon as she can.
Whether on track to attend a university, join a trade program or work on the Island, the class of 2023 will be remembered as powerful and compassionate members of the Vineyard community.
"They just all had their own personal spin on the importance of community and how it's played a role in their life," said senior advisor and civics teacher Brian Roesler. "You look at the country at large and sometimes we seem so divided these days. Their sense of community is a beacon of hope."
The Martha's Vineyard Regional High School class of 2023 graduation ceremony is Sunday, June 11 at 1:30 p.m. at the Oak Bluffs Tabernacle.