Boys tennis coach Nicole Macy said she barely took a breath all day she was so nervous about the quarterfinal match today against Medfield. But after just an hour of play Coach Macy was breathing easily as the boys team swept Medfield to make it into the final four of the division 3 championships.
"They played their best tennis of the season," Coach Macy said after the match. "My team showed up with their A game."
Indeed they did. Jacob Riis at first singles was the first to finish, defeating his opponent 6-0, 6-2. The first singles team of Teagan Myers and Caleb Dubin were next with a 6-1, 6-0 win, and Zak Potter's decisive 6-0, 6-0 showing at third singles sealed the match for the Vineyarders.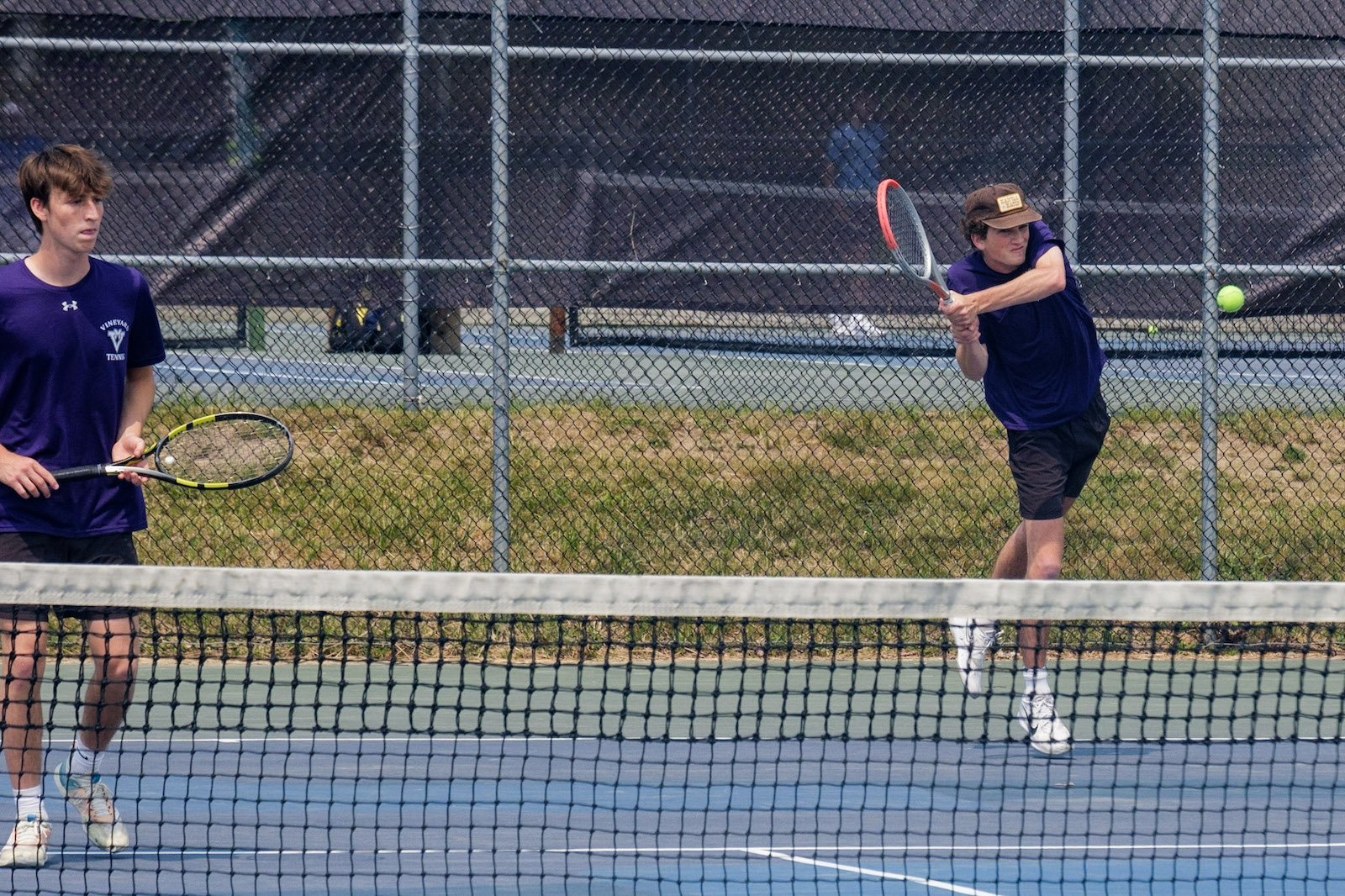 Clyde Smith posted a 6-1, 6-3 victory at third singles, and the second doubles team of Kyle Levy and Volkert Kleeman dug deeply to pull off a come-from-behind victory, 4-6, 6-2, 12-10 (tiebreaker).
The team now prepares for its semifinal match against Dover Sherborn, which takes place Monday at 4 p.m. The match will be played on neutral territory at Somerset Berkeley High School.
The Vineyard squad played Dover Sherborn twice during the regular season, sweeping them 5-0 in the first match and then losing 0-5 in the second match. Jacob Riis didn't play during the second outing but Coach Macy is making no excuses.
"They know they have to play hard to win," Coach Macy said. "And they are salivating for revenge."
This is Coach Macy's first year coaching the boys team, having moved from Medfield last year.
"They were excellent before I got here and I appreciate that they make me look so good," she said.
Last year the team made it to the semifinals of the state tournament before losing to Wayland High School, this year's top ranked team. The memory of the semifinal loss is on every player's mind as they were all part of last year's squad.
As for Coach Macy, she said she will be able to relax for one day and then it's back to holding her breath.
"They are like my kids already," Coach Macy said of the team. "I want it so much for them."