The Martha's Vineyard Hospital welcomed staff and patients past and present Thursday to celebrate the 10-year anniversary of the Cancer Center — the clinic that made on-Island cancer care possible.
The center was created in partnership with Boston's Massachusetts General Hospital, allowing both Boston-based and Vineyard oncologists to provide virtual and in-person care to Island patients. Before, Vineyarders had to commute off-Island for treatment.
"The Vineyard hospital really is different," said Dr. Jeffrey Barnes, the center's medical director. "It's more excellent than it deserves to be, to be honest, for the size and scope of this program."
Gathered in the hospital's research room, attendees heard from several health care providers and a cancer patient on the cancer center's growth, accomplishments and future endeavors.
Sharon Spinney, a cancer center nurse, reflected on past relationships with patients.
"The best thing is when I'm walking the dog in the morning, along the harbor in Oak Bluffs, and I see one of our former patients walking by me, looking fabulous and smiling," she said.
Ms. Spinney has been working at the hospital for over 25 years and joined the cancer center when it opened in 2013. After a decade working in oncology, she has learned to wear many hats.
"[If a patient isn't] taking his meds, then we're a pharmacist," she said. "Sometimes we're beauticians and we need to help them find a hat and a scarf that works well for them. Sometimes we're dietitians when they don't feel like eating."
Ms. Spinney concluded her remarks by welcoming Sibel Suman, one of her patients, to the podium.
Ms. Suman was diagnosed with ovarian cancer in 2017. Her condition is incurable and her cancer returns every six months. But the hospital's staff, whom she now considers friends, can make visits to the clinic enjoyable, she said.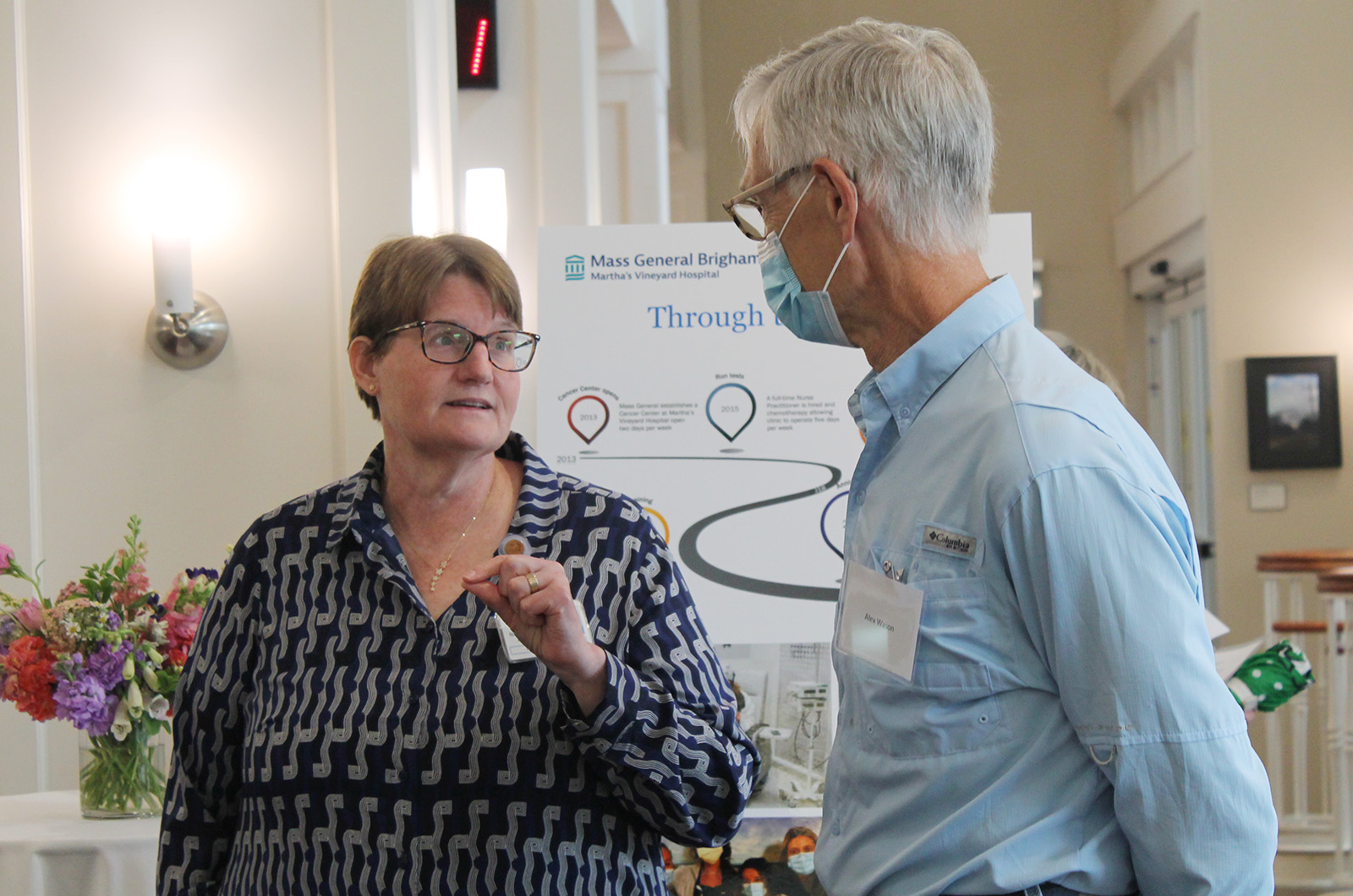 "They are providing me with this unbelievable emotional support," Ms. Suman said. "Even though I'm dreading going in I think, oh, I get to see the ladies."
For Dr. Barnes, being able to provide care to Islanders in the comfort of their own community is what makes his job so rewarding.
Since its opening, the center's number of patients has grown exponentially, as residents discovered the possibility of local treatment, he said. Though not every cancer service is available at the hospital, Dr. Barnes is optimistic that the program will continue to develop as rapidly as it did the last 10 years.
"Right now, [patients] can collaborate virtually with a provider in Boston, but get their infusion care, laboratory care, imaging care and treatment care here," Dr. Barnes said. "We live 60-some miles from a center that has a world expert in anything [medical]... but now you can get it taken care of without having to drive up there."