Coast Guard Station Menemsha said a teary goodbye to its leader Chief Warrant Officer Steven White Friday before welcoming a new hand at the helm.
Moving down a line of misty-eyed crew members dressed in polished black shoes, light blue shirts and Coast Guard caps, Chief Warrant Officer White conducted his final personnel inspection as officer in charge. He shook his crewmates' hands, sharing smiles with each of his team members.
Following closely behind was Senior Chief Nicholas Grim, who was reviewing his crew for the first time before assuming his role as the station's new leader.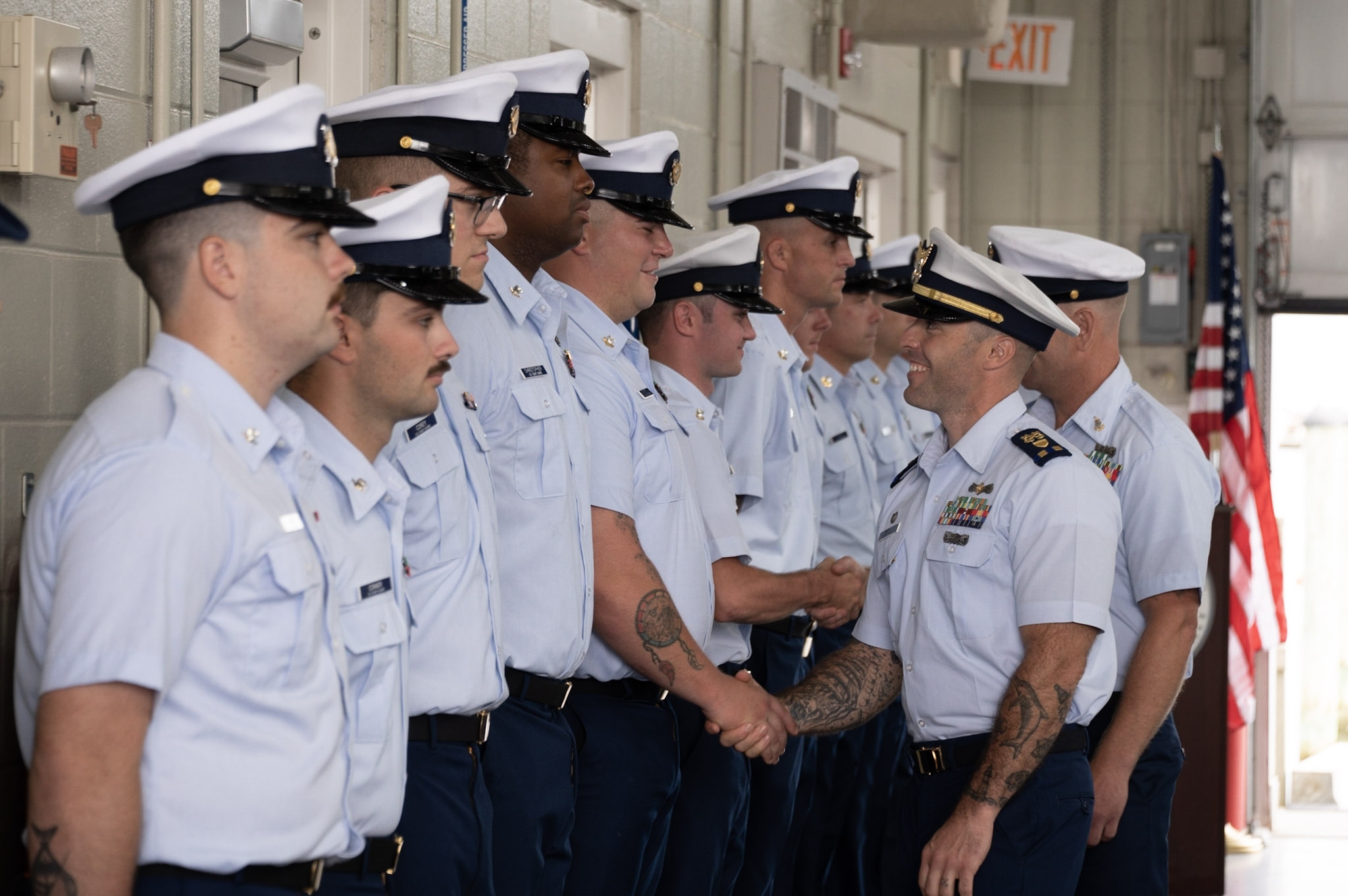 Chief Warrant Officer White served at the Chilmark station for three years and took over command last year. He will continue his service in the Coast Guard in Hawaii.
The region's commander Captain Clinton Prindle thanked Chief Officer White for his service to the Vineyard, weathering the station's isolation, the Island's housing scarcity and tough-to-access healthcare.
"Steve, I know of no one who has done a better job — or even could have done a better job — advocating for your shipmates than you," Captain Prindle said. "You truly are an amazing champion for your crew."
Captain Prindle praised Chief Warrant Officer White's soft-spoken yet measured style and exemplary communication, the likes of which he said he has not seen in his 29 years of service, before awarding him with the Coast Guard Commendation Medal for his "outstanding achievement while serving as officer in charge."
During the ceremony, Chief Warrant Officer White thanked his crew, his wife, Ariel White, two children, Sylas and Phoenix, and the friends he made while stationed on-Island. He recognized his team's commitment to its responsibility and accomplishments, shared memories of rescues made in Vineyard waters and recalled Christmas Eves spent in the station, watching the same bits and pieces of the movie Die Hard with his crew every year.
"Remember, it's better to be a full coffee cup than a half-empty pitcher," he told his team.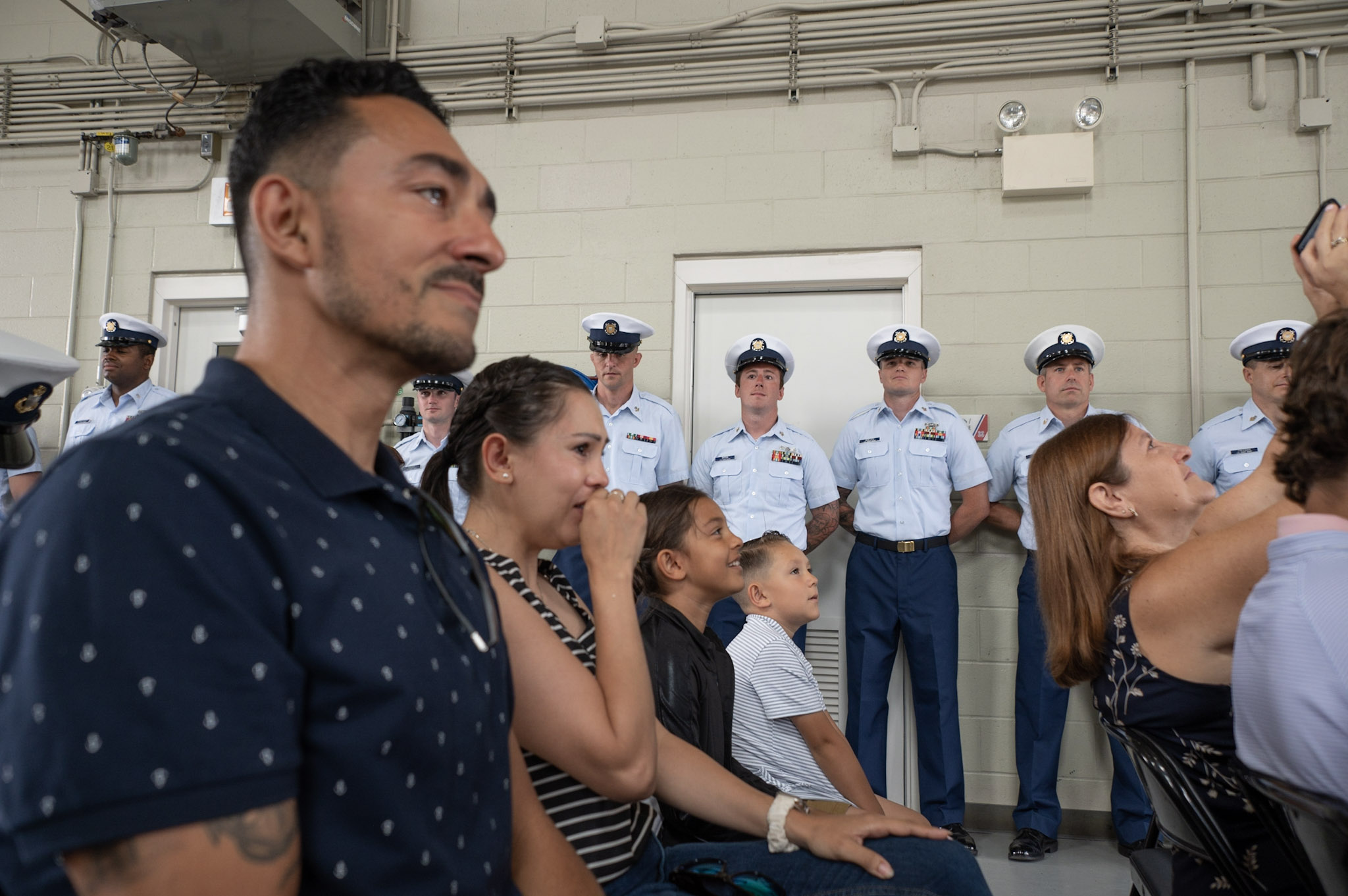 There was not a dry eye in the station as Chief Warrant Officer White thanked members of his community, sharing inside jokes and sincere moments of gratitude with the audience.
"Stop crying," he said under his breath, before repeating the phrase louder, commanding a community experiencing a bittersweet goodbye.
Chief Warrant Officer White finished his address by introducing the station's incoming leader.
"After spending just over a week with Senior Chief Grim," he said, "I am confident that this unit is in good hands. Senior Chief is a compassionate and fair leader, and under his guidance and with your continued teamwork, this station will continue to be a shining star in District 1."
Having received upward of 12 military service, personal and other service awards, Senior Chief Grim joins Station Menemsha from Coast Guard Station Sturgeon Bay, Wis., where he was the Executive Petty Officer. A member of the Coast Guard since 2006, Senior Chief Grim has served on assignments in Arkansas, California, New York, North Carolina and Washington. He comes to the Island with his wife Amie Grim and children Samuel and Benjamin.
Senior Chief Grim addressed the audience, greeting his soon-to-be crew, commending Chief Warrant Officer White for his leadership and dedication and offering gratitude to his family.
"This is, for sure, my dream job," he said. "And I only hope that I can live up to the legacy of all the Coast Guard men and women who came before me and that are currently here … I know this is going to be a great tour."