The Martha's Vineyard Museum held its 100th annual meeting Monday evening, bringing together board of directors, museum members, staff and volunteers, and three guests of honor who received this year's Martha's Vineyard Museum Medal.
The recipients are Lisa Belcastro, Richard Taylor and Craig Dripps.
"The Martha's Vineyard Museum honors three exceptional Island leaders... in recognition of their outstanding commitment to preserving the history, arts and culture of the Island," museum board chair Cathy Weiss said at the event.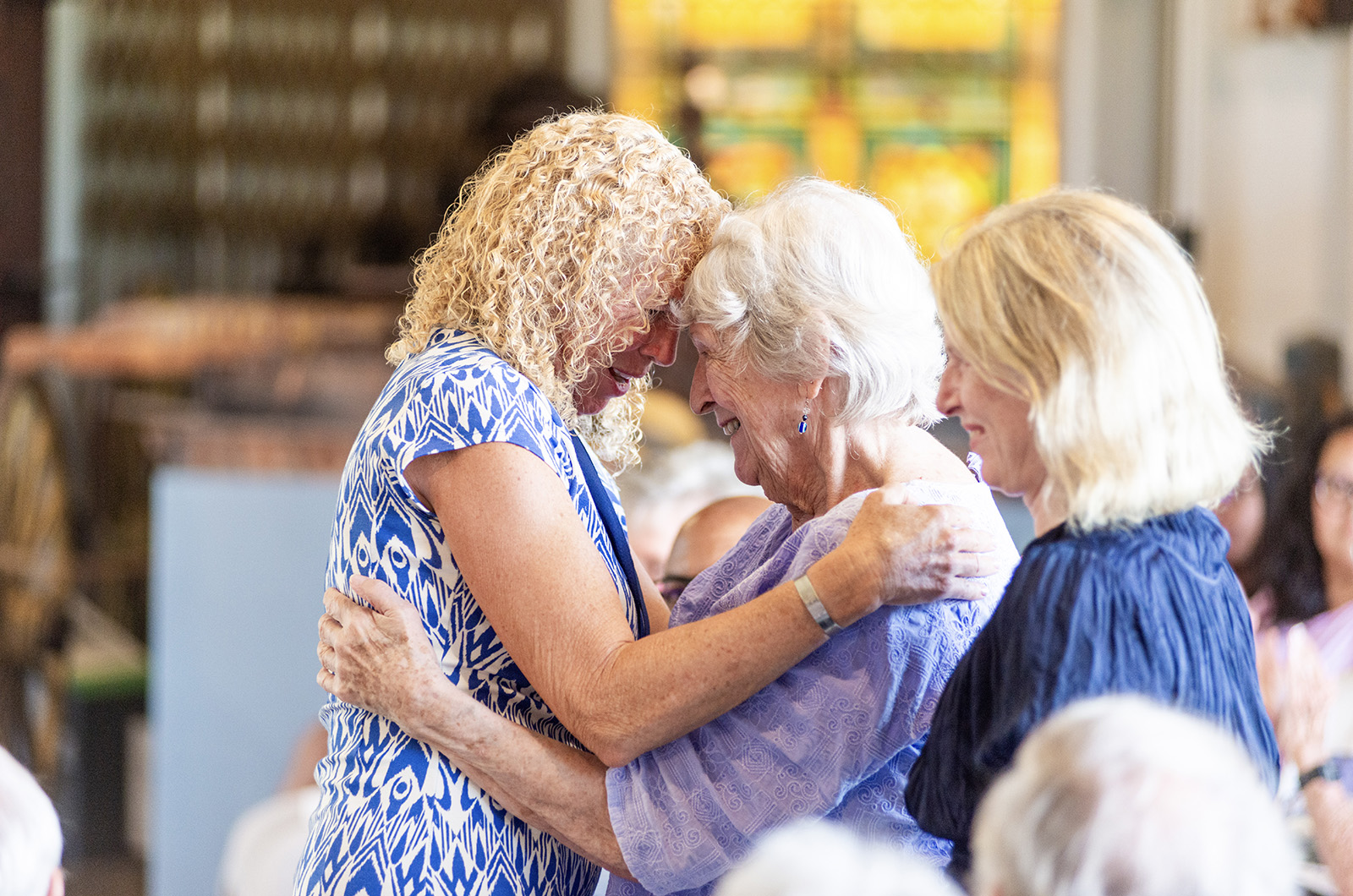 Each of the honorees was introduced by someone of their choice. Ms. Belcastro selected Rev. Cathlin Baker, minister of the First Congregational Church of West Tisbury.
"Lisa Belcastro, you are a woman of faith, moral clarity, service, hospitality, compassion, inclusion and organization," Reverend Baker said. "You bring light and joy and a sense of community to all that you do."
Ms. Belcastro is the Martha's Vineyard regional coordinator for the National Alliance on Mental Illness and the winter shelter coordinator for Harbor Homes, an Island nonprofit that offers housing and shelter to the homeless.
Ms. Belcastro also acted as a point person for the response effort when 49 migrants were sent to the Vineyard in September.
"Lisa rose to this moment exhibiting wisdom, moral character and strategic thinking," Reverend Baker said.
Ms. Belcastro thanked her majority-volunteer staff and Reverend Baker, and spoke about the importance of her advocacy work.
"I am a huge believer that every one of us can change the world," she said. "First and foremost, just being kind and, as Cathlin said, inclusive. Everyone needs love. Every individual who comes into the shelter — they're people. We are helping our neighbors. And I'm just going to throw it out there: we need a permanent shelter, so if you want to help, donate... donate property."
Bennaree (Bennie) Wiley introduced Richard Taylor, a longtime advocate for diversity, social justice and unity. Mr. Taylor was born in Montgomery, Ala. and attended Boston University, where he became the school's first Rhodes Scholar. At Oxford University, he studied philosophy, economics and politics. He then earned a joint MBA and Juris Doctor from Harvard Business School and Harvard Law School.
"He is truly one of the smartest persons I know, and it's not because of all the degrees," Ms. Wiley said. "[He has] greatness in connecting thoughts in a way that records, educates and inspires."
Mr. Taylor also writes the Oak Bluffs town column for the Vineyard Gazette.
Mr. Taylor accepted his medal with a story about his family's history in Alabama. He said his family's sacrifice and commitment informed his own dedication to civic engagement. He told the crowd that food insecurity on the Island currently tops his list of concerns.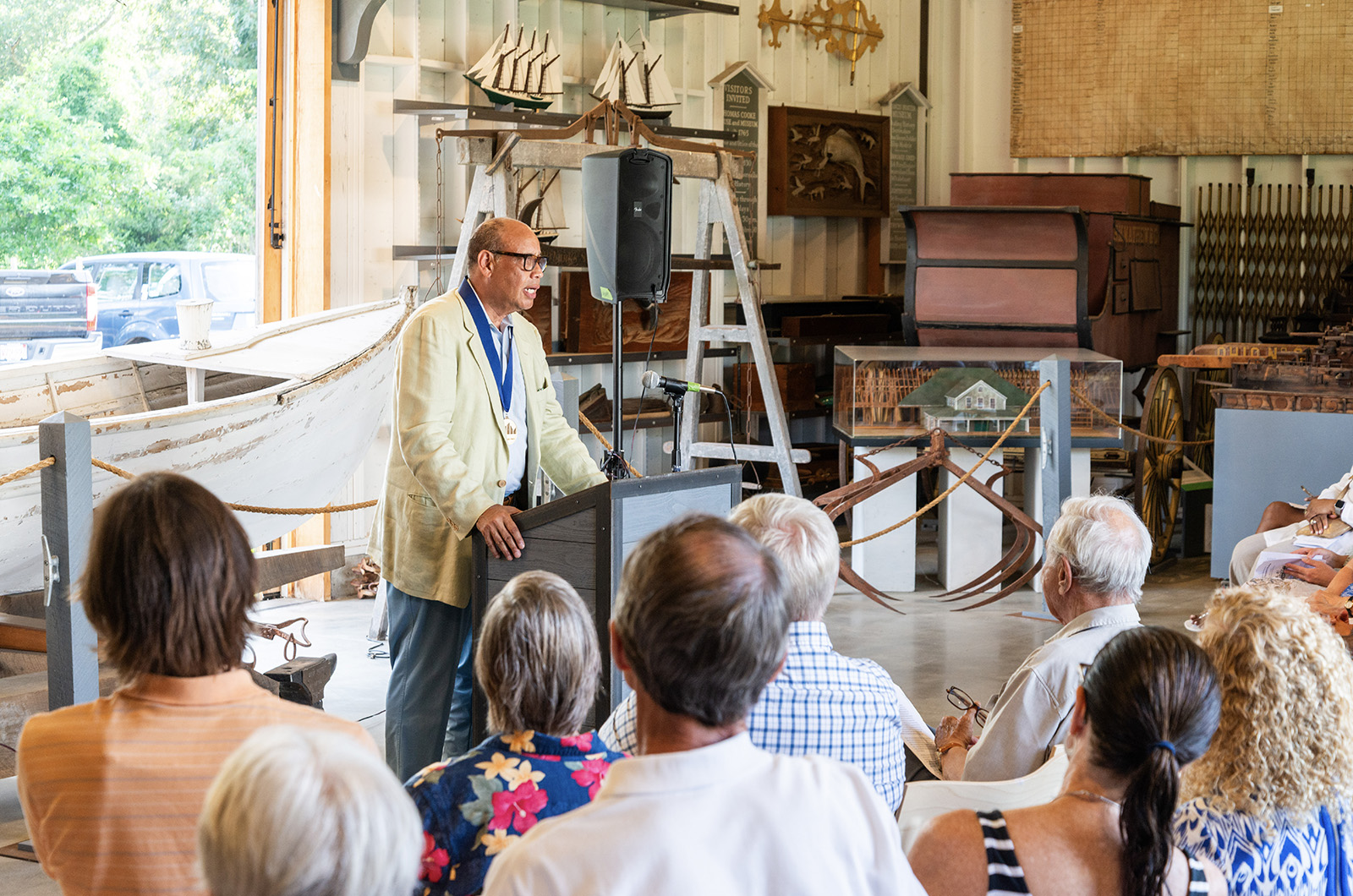 "Nobody should be without food," he said. "Housing is much more complicated, and while I agree with that, we can solve food."
Mr. Taylor has raised thousands of dollars for the Island Food Pantry and urged the audience to join him in the cause, stressing that the issue is far from solved.
"I will use this award as inspiration to continue the work I do," he concluded.
Robert (Bob) Blacklow, Martha's Vineyard Museum board member, introduced the final recipient, Craig Dripps. Mr. Dripps spent his career as a teacher, including many years teaching math at Martha's Vineyard Regional High School. He also managed the East Chop and Edgartown lighthouses, where he spearheaded the Children's Memorial, and served a two-decade tenure as president of the East Chop Association.
As a former board member of the Martha's Vineyard Museum, Mr. Dripps secured grants that ensured the preservation of many of the Island's historic structures. And as a photographer he captures images of the Island he spent a lifetime protecting.
"I came here trying to make a difference," Mr. Dripps said. "I feel very blessed, and I feel extremely honored, and I just want to say thank you."