The annual Charles Ogletree Public Forum Series began Thursday at the Union Chapel in Oak Bluffs with a discussion on Anti-Racism, Allyship and Political Action.
It was also a moment to honor the founder of the series. Mr. Ogletree died the next day, on August 4.
The panel was moderated by MSNBC/Boston Globe journalist Kimberly Atkins-Stohr and featured Congresswoman Ayanna Pressley, D-MA 7th District Mass., activist and author Ibram Kendi and film producer Fred Zollo.
But before answering any questions, Ms. Pressley took a moment to acknowledge Mr. Ogletree. She recalled her introduction to him during his service as legal council to professor and attorney Anita Hill, who accused Clarence Thomas of sexual harassment during his Supreme Court confirmation proceedings in 1991.
"When I first met Professor Ogletree in defense of Professor Anita Hill, he immediately occupied a place in my heart," she said. "I was stunned and overwhelmed by his brilliance and his covering of that Black woman, when historically the pain of Black women is something that has been minimized and delegitimized. I loved him immediately."
The audience gave a loud and prolonged round of applause for Mr. Ogletree. When the applause subsided Ms. Pressley answered Ms. Atkins-Stohr's first question to her, which asked about the view from Washington on the obstruction of racial justice.
"There is an emboldened white supremacy that has yielded an anti-everything," Ms. Pressley said. "Notice I didn't say there is a rise in anti-Blackness, because actually it is never on the rise, because it permeates. It is systemic, it is structural, it is cultural, it is so embedded and people are so complicit in it that they don't even know they're perpetuating anti-Blackness."
Mr. Kendi also discussed the culture of racism that allows racist political policies to pass under the radar and gives way to a more sinister culture of sophisticated racism.
"We are facing a congression of racism," he said. "If it isn't just a backlash, it's also those who are seeking to conserve racism putting new and ever more sophisticated racist policies in place. And they become sophisticated because people aren't able to recognize the racism in the policies."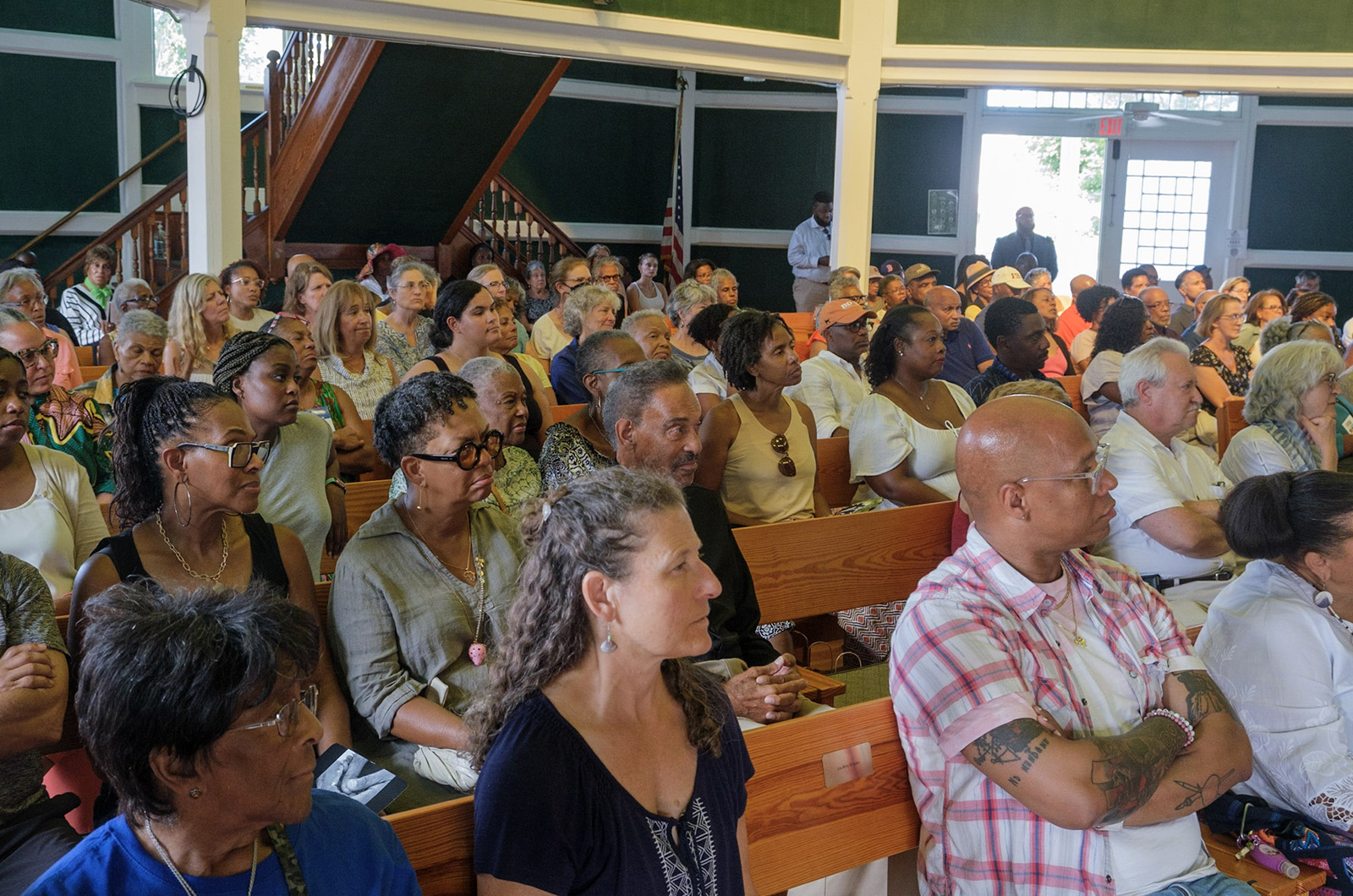 Ms. Atkins-Stohr asked Mr. Zollo, whose 2022 film, Till, tells the true story of Mamie Till-Mobley's pursuit of justice for her 14-year-old son Emmett Till after he was lynched in 1955, how creatives can use film as a change-making mechanism.
She said that while rewatching Till in preparation for the panel, she recalled learning about the history from her mother, who, at 83 (the same age Emmett Till would have turned last week) remembers it firsthand. Without her mother's memory, Ms. Atkins-Stohr said, she never would have learned about the lynching, which was not taught in her school.
Mr. Zollo said that telling underreported stories such as Emmett and Mamie Till's is a key responsibility of contemporary filmmakers.
"There's no more important time than now to tell these stories," Mr. Zollo said. "I really don't want to see another Spiderman movie — it's intolerable to me the stories that have gone untold."
Mr. Zollo gestured to Mr. Kendi, praising his books and highlighting his graduate school dissertation as having done the work to tell undertold stories. Perhaps best known for his #1 New York Times bestseller How to Be an Antiracist, Mr. Kendi is an author, professor, activist, historian of race and discriminatory policy and founder and director of the Center for Antiracist Research at Boston University. He was selected as one of Time's 100 most influential people of 2020.
Mr. Kendi said he writes for the open-minded.
"I write and speak for people who are interested in living in the real world," he said. "Many people enjoy living in the world of make-believe. It's very hard to drag someone kicking and screaming out of their own world, constructed of make-believe."
"However, I do think that it is important to meet people where they are," he continued. "I think it's important for those who live in the make-believe to realize they are being injured by their own constructions."
Ms. Pressley added that she felt changes must be made to relieve some of the federal oppression of Black Americans, including reforming and expanding the Supreme Court, codifying abortion freedom and protecting voting rights.
"This is what's at stake when it comes to the disenfranchisement of Black voices and the diluting of our power," she said.
South African anti-apartheid freedom fighter Themba Vilakazi attended the event and addressed the panel. He expressed his gratitude for Ms. Pressley's advocacy for equal rights and Black representation in American democracy.
"This afternoon, I just wanted to identify myself with great admiration of you, congresswoman," Mr. Vilkazi said. "I've often wished that at the time that I was fighting, that I could have had a congresswoman like you."
Ms. Pressley issued a call to action for the audience: support Black creatives and support Black press. She also encouraged everyone to hold space for Black healing and Black joy.
"What calms me is that I've learned in the algorithm of justice, it is a nonlinear path. We have enough examples through history that gains are not guarantees... I find strength in the power of the movement, in the agitation, the disruption and the vigilance, and we will get to the other side."
The series continues on August 9 at Union Chapel with Truth be Told: Democracy in Crisis.