Charles James Ogletree Jr., law professor and founder of the Charles Hamilton Houston Institute for Race and Justice at Harvard Law School, died on Friday, August 4 after a long struggle with Alzheimer's disease. He was 70.
Mr. Ogletree was a preeminent constitutional law scholar, activist and longtime seasonal resident of Oak Bluffs. Over the course of many summers, he brought intellectual discourse to the Island through a series of public forums that in 2022 was officially named by Union Chapel as the Charles Ogletree Forum.
On Thursday, the first of the 2023 summer forum series was held, featuring a discussion between Ayanna Pressley, Ibram Kendi and Fred Zollo, moderated by Kimberly Atkins-Stohr.
In 2004, Barack Obama, then a state senator of Illinois and a former student of Mr. Ogletree, spoke at a forum held at the Old Whaling Church in Edgartown. A 2011 forum focused on the arrest of Henry Louis Gates Jr. at his home, which Mr. Ogletree wrote about in his bestseller: The Presumption of Guilt: The Arrest of Henry Louis Gates, Jr. and Race, Class and Crime in America.
Charles Ogletree was born Dec. 31, 1952 in Merced, Calif. He earned bachelor and master of arts degrees from Stanford and a juris doctor from Harvard Law School. In 1985 he became a professor at Harvard Law School.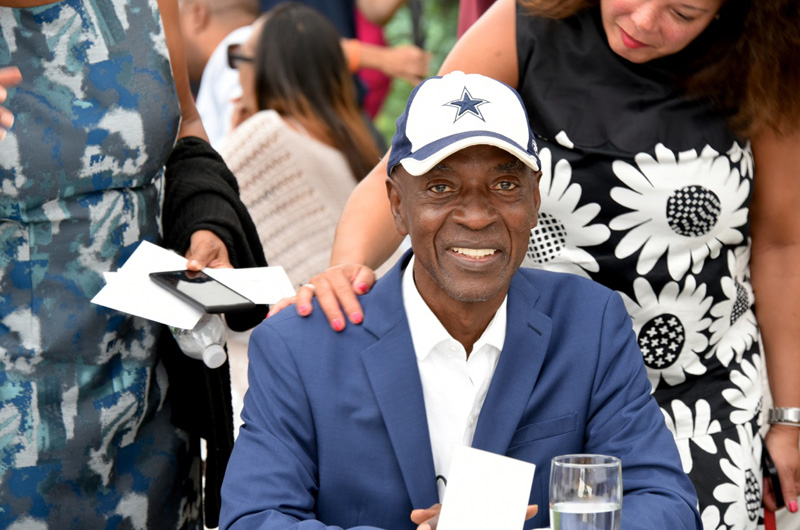 In 2017 he was honored on the Vineyard by Morehouse College at the Oak Bluffs home of Dr. Louis Sullivan. Mr. Ogletree did not attend Morehouse but nevertheless the substantial Morehouse community on the Island made him an honorary member at its 150th anniversary celebration.
At that event, Ronald S. Sullivan Jr., a fellow Harvard law professor and faculty dean at Harvard, and Morehouse class of 1989, praised his colleague on behalf of students he mentored over the years.
"[Students] love you, they cherish you, they thank you for, notwithstanding an unbelievably busy schedule, always being there, always present," Mr. Sullivan said.
"He's made me a better jurist," retired Boston Judge Edward Redd said at the event.
On the Vineyard, Mr. Ogletree also pursued another one of his pastimes: fishing. He often went out with Buddy Vanderhoop as a guide, and on occasion his name sat atop the Martha's Vineyard Striped Bass and Bluefish Derby board.
The Charles Ogletree Forum continues this summer with a talk on August 9 at Union Chapel titled Truth be Told: Democracy in Crisis.