Scrimshaw, the centuries-old art of decorating ivory and bone from sea creatures, is getting a new appreciation at the Carnegie Heritage Center in Edgartown.
On display through early October, the Vineyard Preservation Trust's show Living Landmarks: Scrimshaw is a dual exhibition that highlights both the vintage creations of whalers at sea and contemporary work by Vineyard Haven-based artist Darrel Morris.
"There's been carving on bone from multiple other cultures but this is the only one that had to do with ships and whaling," said historian Matthew Stackpole, who worked with Carnegie program director Sissy Biggers to catalog the preservation trust's collection and curate the historic scrimshaw in the show.
Using by-products from the whale hunt, 19th-century mariners scratched, stippled and inked their designs on teeth and bone to fill off-duty hours on voyages that often lasted years. The craft became known as scrimshaw, and those who practiced it were called scrimshanders.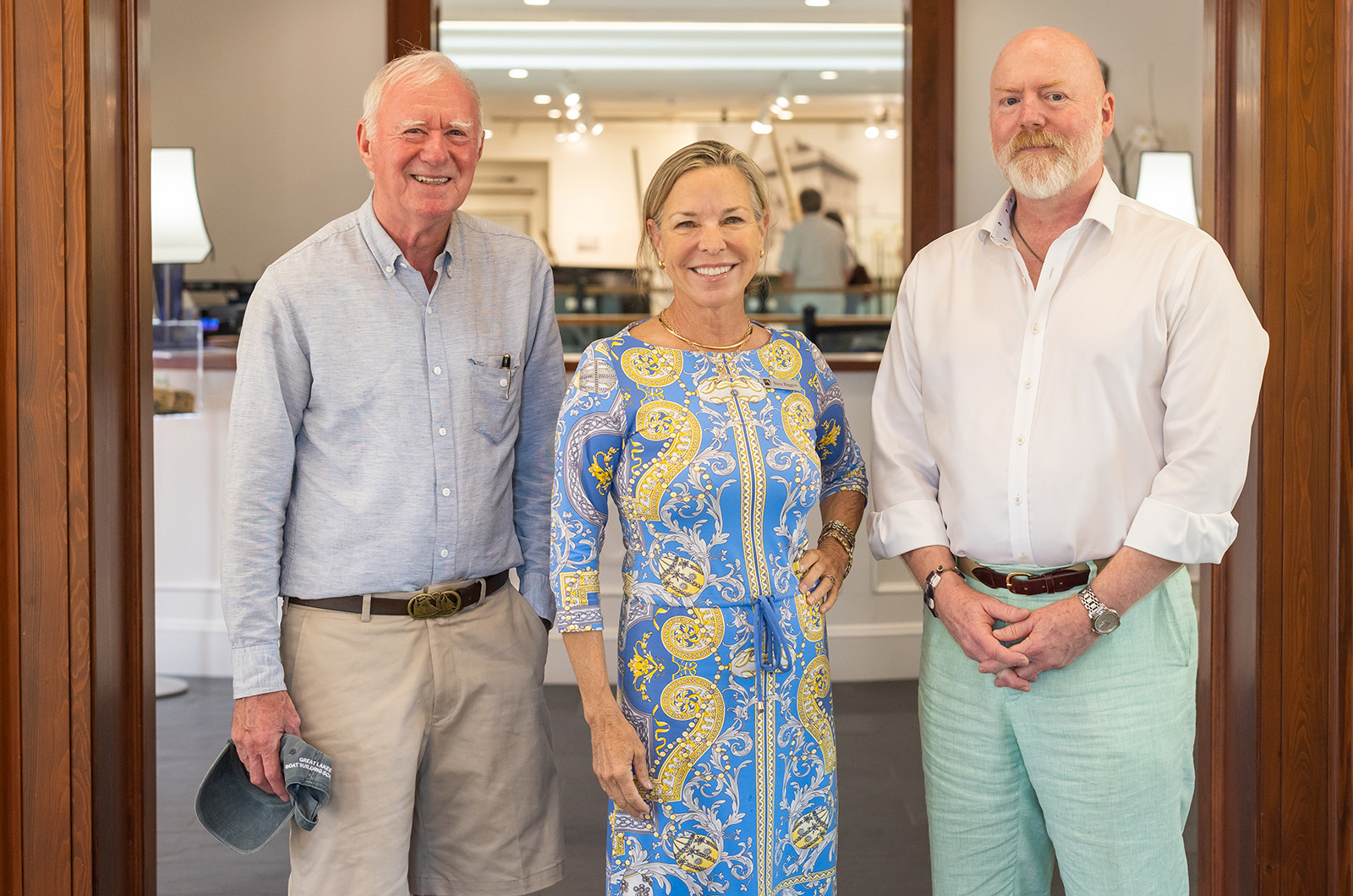 Whaling scenes, patriotic images and portraits of sweethearts were popular themes in the age of sail, and the trust's collection of whalers' scrimshaw also includes useful items like walking sticks, pastry crimpers and a corset busk, similar to a sail batten, for the 19th-century version of women's shapewear.
Some of the more unusual vintage pieces in the show are an Arctic whaling scene, with aurora borealis filling the sky above the ship, and — in a rare example of fantasy scrimshaw — an almost Matisse-like line image of a swimming woman drawn by a harnessed dolphin.
Each piece comes with its own set of mysteries, Mr. Stackpole told the Gazette at Sunday's opening reception.
"These were made by somebody, somewhere, for someone at home. Who was it? Why did they do that, and how did it survive?" he said.
Mr. Morris is showing commissioned work on loan from his clients' private collections, representing scrimshaw in the 21st century,
"He pulled 32 pieces together from his collectors all over the country," Ms. Biggers said.
A lifelong artist who discovered scrimshaw while working in a knife shop in the 1980s, Mr. Morris applies his highly detailed designs to teeth, tusks and horns that he first polishes to a glossy smoothness.
Whale and walrus ivory can be bought or sold in the U.S. only if it dates from before 1972, when the federal government passed the Marine Mammal Protection Act, so Mr. Morris seeks out antique or fossilized pieces. Scrimshaw's tattoo-like technique uses innumerable poke-marks to sketch each design, which then is rubbed with ink. The more densely concentrated the tiny dots, the darker that part of the image will appear.
Many of Mr. Morris's works in the Carnegie show pay tribute to the original age of scrimshaw and seafaring men, with a special focus on Islanders.
Antique sperm whale teeth bear Mr. Morris's portraits of American revolutionary naval commander John Paul Jones, president Abraham Lincoln and Vineyard whalers Amos Smalley and Captain Joseph Belain. Nearby is a portrait of formerly enslaved Islander Nancy Michael, who is remembered with a stop on the Martha's Vineyard African American Heritage Trail near Edgartown's Memorial Wharf.
On fossilized mammoth ivory, Mr. Morris recreated an actual whaler's logbook entry, complete with whale-shaped stamps that indicated a successful hunt. A portrait of Stephen Douglass on an antique sperm whale tooth was loaned for the show by journalist Michelle Norris and her husband, former White House cabinet secretary Broderick Johnson, who are seasonal Island residents.
Other collectors favored more contemporary material, such as the Enterprise from Star Trek and a salute to the 2015 film Jurassic World, both of which Mr. Morris rendered on fossilized mammoth ivory.
Attending the show's opening reception Sunday, scrimshaw collector and preservation trust board member Jonathan Blum called Mr. Morris a "national treasure."
Mr. Blum said that the artist's skill outpaces Nathaniel Sylvester Finney, the best of the 19th-century scrimshanders.
Color photographs of scrimshaw by Mr. Finney (1813-1879) and his contemporaries are included in the large-format book Wandering Whalemen and Their Art: A Collection of Scrimshaw Masterpieces, by Alan Granby, which the Carnegie is selling in place of an exhibition catalog.
Previously a Californian, Mr. Morris moved to the Island six years ago and works out of watchmaker Rubin Cronig's Vineyard Time shop on Main street in Vineyard Haven, where he also engraves Mr. Cronig's watches.
The Carnegie is open to the public Tuesday through Saturday from 10 a.m. to 4 p.m. and Sunday from noon to 3 p.m.