Many art shows on the Vineyard this week are highlighting Black artists, whose work has become increasingly collectible in recent years.
"It's the fastest growing segment of the entire art world," said Ian Grant, chief executive officer and curator of Umoja Fine Arts in Southfield, Mich., one of three Black gallerists from off-Island who are holding pop-up shows over the weekend.
Mr. Grant spoke Thursday during a panel discussion on the roles of art and art collecting in Black culture, hosted by the multimedia company Black Enterprise outside a home near Crystal Lake.
Leading artists Paul Goodnight, Charly Palmer and Candace Hunter also took part in the conversation, moderated by television journalist Ed Gordon. The Black experience is central to all three artists' work.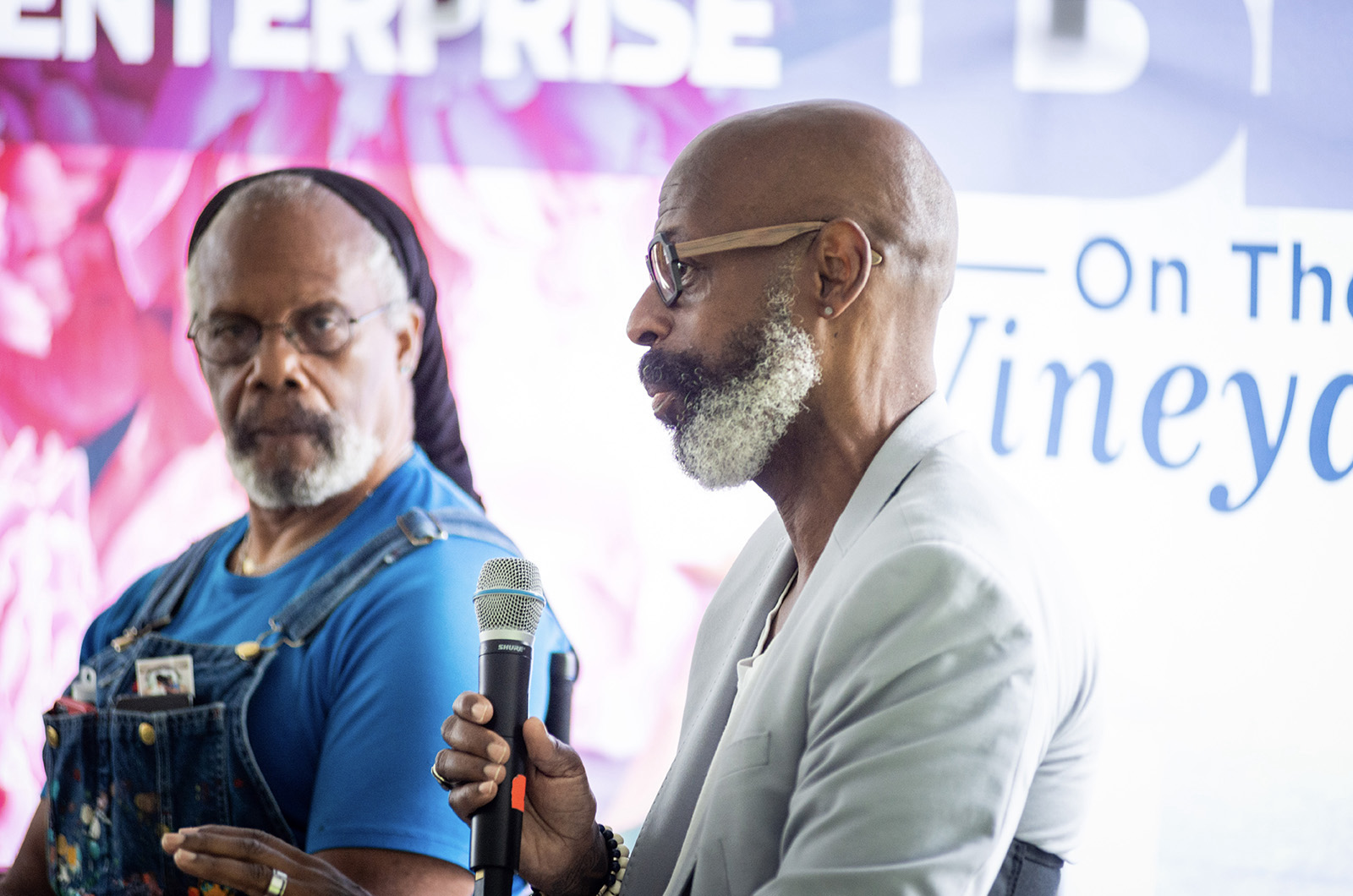 Ms. Hunter's collages and mixed-media works have celebrated the writings of Octavia Butler and commemorated the stupendous losses of humanity during nearly four centuries of slavery in the Americas. Another series of her works takes aim at the inequities of water shortages.
"The people most affected by the lack of clean water are women and girls of melanin," Ms. Hunter told the attentive audience at Thursday's event. "It's corporate and governmental greed. It's not God," she said.
Ms. Hunter's artwork is on display Friday and Saturday at a pop-up in Edgartown (details below).
Mr. Goodnight, whose show at Cousen Rose gallery on Circuit avenue opens with a reception Saturday evening, paints dynamic, often vividly colorful scenes of Black life. The Boston-based artist's work has appeared on the front and back covers of Kool & the Gang's 1975 album Spirit of the Boogie, as well as on the sets of the Cosby Show, Seinfeld, The Preacher's Wife and other television and film productions that have introduced him to an enthusiastic mass audience.
More recently, Mr. Goodnight said Thursday, he has been working with several younger Black artists on a series about youth violence and potential solutions.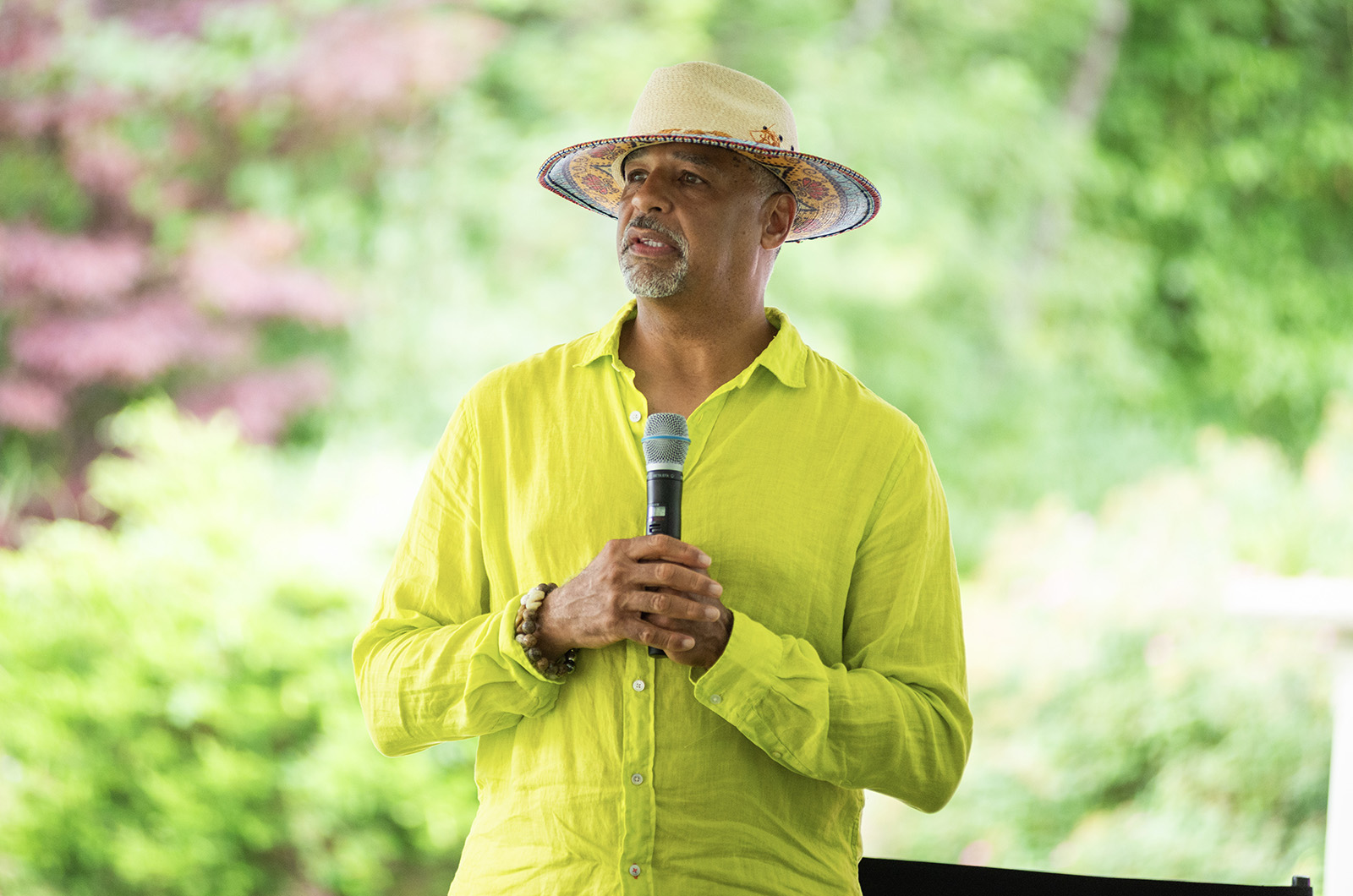 "We all are facing the same problem, and we have to stop it.... We keep shooting, killing people who could be brilliant people," he said.
Mr. Palmer, who considers Mr. Goodnight a mentor, paints allegorical and heroic portraits of Black people, some famous (James Baldwin, Nina Simone) and others archetypal. Black Power shows a woman proudly raising her chin as her hair erupts in fists and flowers, while Fire Next Time depicts a thoughtful man with flames leaping from his head.
"I have been committed since the very beginning to telling our history," said Mr. Palmer, whose earlier work focused on Africa, slavery, the Civil War and its aftermath and the Civil Rights Movement.
"Then I got to a point, probably about 10 years ago, where I said 'I'm preaching to the choir,'... so then it became a celebration period," he said.
"My work now is about glorifying the beauty of blackness, and that's why you see the flowers," he said.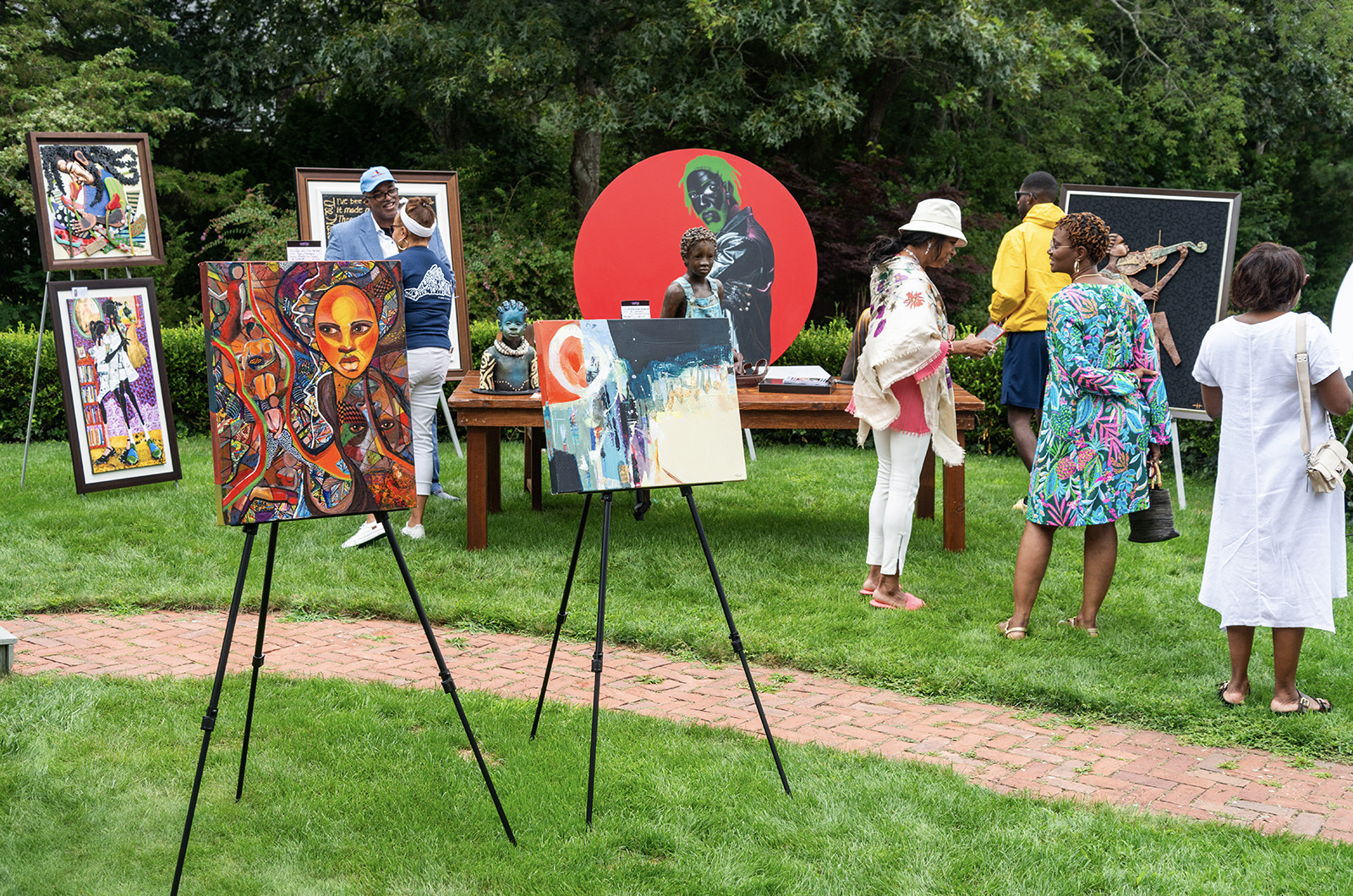 Mr. Palmer is represented on the Vineyard by Nowhere Art Gallery on Dukes County avenue.
The blossoms he paints into his portraits are also a tribute to his mother's death, which left him unable to work for a year, Mr. Palmer said.
"It's me saying 'Mama, I will never forget you,'" he said. "It's not about the struggle any more."
All three artists emphasized the importance of sharing their knowledge and gifts with the next generation.
"Whatever we've learned does not belong to us, and if you do take it as your own ego, then you have failed. You really have," said Mr. Goodnight, who then cited a lesson he learned from his own mentor, the prominent 20th-century Black muralist John T. Biggers.
"Your job is what you get paid for, but your calling is what you're made for," Mr. Goodnight said.
"That seals it. If I'm following my calling, then I'm following my truth," he said. "I want the lessons that I've learned to speak through my work, because those lessons have been passed down."
Mr. Palmer said he insists that anyone he mentors make the same commitment to mentor another artist. He also noted that prominent Black artists run the risk of complacency as their work becomes more popular.
"I don't want people to collect my work because of my name. I want them to be moved and inspired and uplifted by [the paintings]," he said.
Ms. Hunter also aims to inspire others — and not just artists and art collectors, she told the audience.
"I want my legacy to be someone who starts to read because I painted; someone who starts to act because I painted; someone who starts to question because I painted," she said.
Black gallery owners Danny Jenkins of WaterKolours Fine Art in Memphis, Tenn. and Pamela Eatman of Blackbird Gallery in Detroit, Mich. also took part in Thursday's panel discussion. Like Mr. Grant of Umoja Fine Arts, the gallerists have brought a selection of the art they represent to show on the Vineyard this weekend.
WaterKolours Fine Art holds its pop-up inside the MV Salads shop on Circuit avenue from 5:30 p.m. to 9:30 p.m. through Wednesday, featuring artists such as Mosal, of Memphis, who uses vinyl records in his portraits of Malcolm X and Diana Ross.
Umoja Fine Arts is at Island Life Studio on Circuit avenue from noon to 6 p.m. through Saturday, with figurative and abstract works by half a dozen Black artists.
Blackbird Gallery is showing work by Ms. Hunter and others from 1 to 8 p.m. Friday and Saturday at 36 Plain Field Way, a private home.
The reception for Mr. Goodnight's show at Cousen Rose begins at 7 p.m. Saturday and includes live music by jazz violinist Wesley Morris.