After 34 years with Island Theatre Workshop (ITW), artistic director Kevin Ryan recently conquered his biggest musical-related feat yet: shipping several hundred pounds of ex-Broadway show puppets to the Vineyard.
The puppets are the centerpiece of ITW's upcoming production of Little Shop of Horrors, which tells the story of a carnivorous, ballad-belting plant that popularizes an urban flower shop.
Four different-sized puppets of the plant demonstrate the creature's growth, said Mr. Ryan. And thanks to a grant from the Martha's Vineyard Bank Charitable Foundation, he could rent some of Broadway's best. They arrived on the Island earlier this month.
"They're just very, very heavy... and we had some wrenches thrown our way getting them here," Mr. Ryan said. "But I mean, now they're here on Martha's Vineyard, and we'll see our little community theatre company produce a show that has Broadway set pieces."
The puppets and Island cast members, including Ken Romero, Augie Padua, Leslie Stoval Guzman, Brad Austin, Leandra Seward, Lauren Scheffer and Cassidy Look Jackson, take the stage for opening night on Thursday, Sept. 21 at 7:30 p.m. at the Martha's Vineyard Regional High School Performing Arts Center (PAC). Performances run through Oct. 1 and tickets can be purchased online or at the door for $35.
Little Shop of Horrors has been on Mr. Ryan's theatre to-do list for many years. After last summer's production of Rogers and Hammerstein's Cinderella he was looking to direct something vastly different.
"This show has many dark and mature elements," he said. "It's definitely targeted at a different demographic."
In addition to the flesh-eating flora, the show includes scenes of domestic violence — a subject that Mr. Ryan and assistant director Jennifer Knight said that they take only seriously, unlike many versions of the story.
In the popular 1986 movie adaptation of the musical, lead character Audrey, a worker at the flower shop, is physically abused by her boyfriend. The film makes light of it, said Mr. Ryan, and portrays Audrey as helpless and ditzy.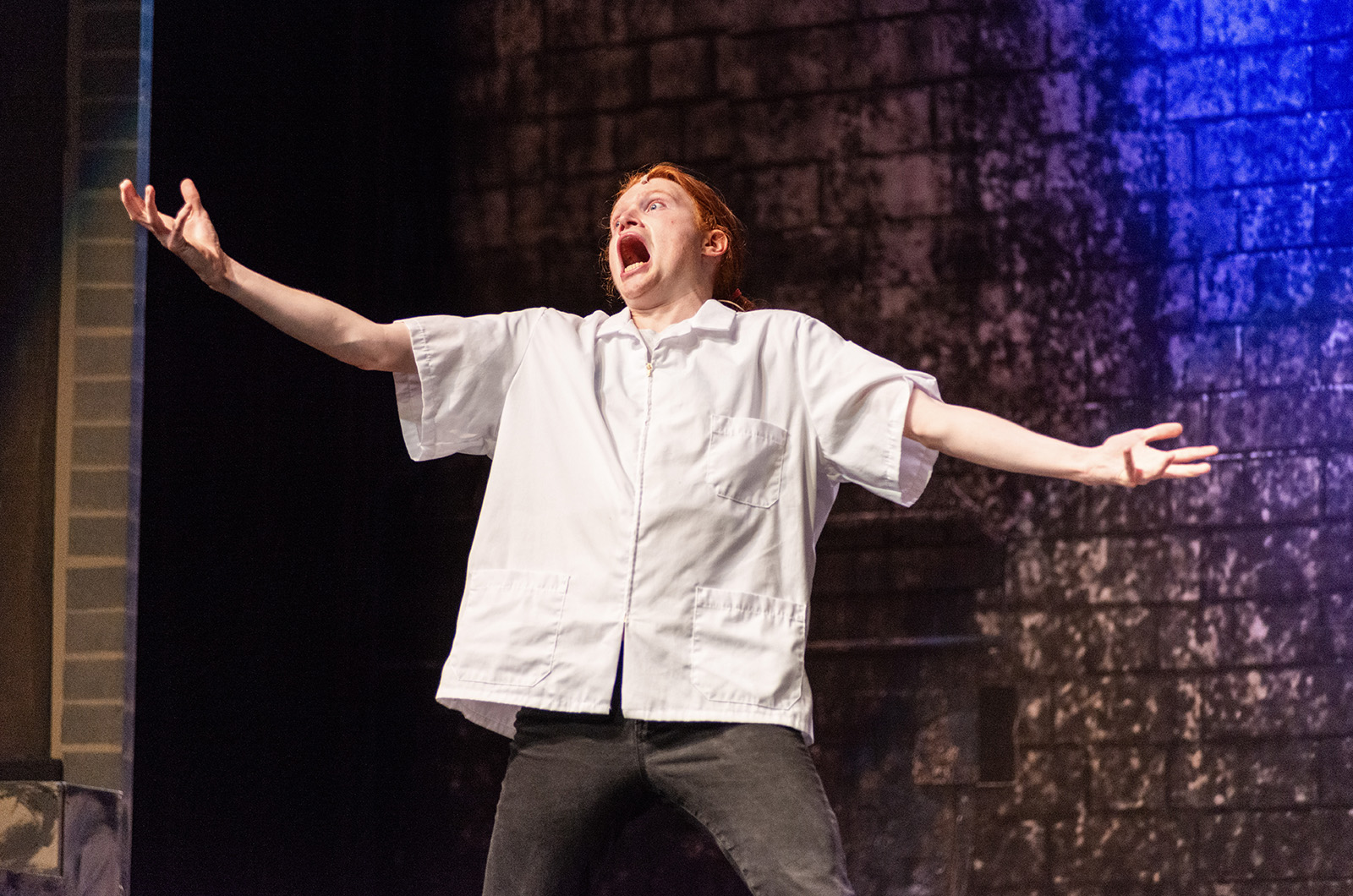 "I personally said to our board and our cast right at the beginning that is not our show," he said. "It's wrong to play this thing up in any way that there's a single thing funny about domestic violence."
Instead of sticking to the decades-old script, Mr. Ryan and Ms. Knight encouraged the actress playing Audrey to give the character greater depth. They also plan to use the show to spread awareness about domestic violence by partnering with Connect to End Violence, the Martha's Vineyard Community Center's domestic and sexual violence resource center.
At its third performance on Saturday, Sept. 23, representatives from Connect will join the cast onstage after bows for a discussion about domestic abuse. The center will also take home 50 per cent of the evening's proceeds.
October is also Domestic Violence Awareness month, said Ms. Knight, so the musical's timing is opportune.
"Doing this show has really opened up a chance for us to talk about this and connect with Connect," said Mr. Ryan. "It didn't take [the board] three minutes to say 'let's give them this platform.'"
After three months of practicing songs and dances and running lines with an imaginary plant, the cast finally met its puppet costars and rehearsed under the PAC stage spotlight last week. The final step, said the directors, is to master puppeteering the plant.
"A specific actor has to actually be inside two of the puppets for extended amounts of time," said Ms. Knight.
"He's really been a trouper about the heat," added Mr. Ryan. "And I was surprised because I was expecting there to be a horrible smell inside of them, but no, they're absolutely lovely."
Mr. Ryan and Ms. Knight are confident that, when the curtain rises Thursday, audience jaws will drop at the sight of the Island's thespian talent.
"We were in rehearsal one night sitting there, and at one moment the two of us looked at each other, and you could see the goosebumps and hair standing up on our arms," said Mr. Ryan. "It was a crystal clear moment of what the show will be."
For more information on Island Theatre Workshop's Little Shop of Horrors and to purchase tickets, visit itwmvy.org.